How to Download World Cup Theme Songs from Deezer
In recent days, the 2022 Qatar world cup is going on hot. The FIFA world cup is a worldwide tournament. Being held every four years, the event catches not only the great attention of football players but also the eyes of people from all over the world. The 2022 world cup attracts people's attention especially. On one hand, it is the first time that the world cup is held in the Middle East and held in winter. On the other hand, this world cup is the last play of both Cristiano Ronaldo and Lionel Messi. Anyway, every world cup is always spectacular.
However, in this article, we are not going to talk about football players. Instead, we tend to talk about world cup songs. As we all know, world cup songs are a hit before, during, and after the football event. The world cup theme songs always evoke our right emotions and strike our chords. Here, we will list the top ten popular world cup songs and present with you how to download world cup songs to your computer. Although FIFA is held every four years, you can re-experience the exciting event at any time by listening to the world cup theme songs.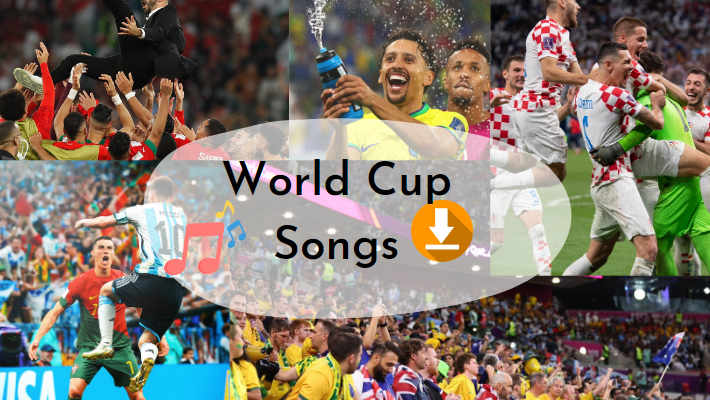 Part 1.

Top 10 World Cup Theme Songs

In this part, we list the ten most popular world cup theme songs in recent years. Let's see what they are.
⚽ 1. Waka Waka (2010, South Africa)
Performed by Shakira featuring Freshlyground.
⚽ 2. Hayya Hayya (Better Together) (2022, Qatar)
Performed by Trinidad Cardona, Davido and AISHA.
⚽ 3. The Cup of Life (1998, France)
Performed by Ricky Martin.
⚽ 4. World Cup Willie (1966, England)
Performed by Lonnie Donegan.
⚽ 5. Un'estate italiana (1990, Italy)
Performed by Edoardo Bennato, Gianna Nannini.
⚽ 6. Mundial '82 (1982, Spain)
Performed by Plácido Domingo.
*Note: No source song was found on Deezer, the sharing is from YouTube.
⚽ 7. Gloryland (1994, USA)
Performed by Daryl Hall, Sounds of Blackness.
*Note: No source song was found on Deezer, the sharing is from YouTube.
⚽ 8. Live it Up (2018, Russia)
Performed by Nicky Jam featuring Will Smith, Era Istrefi.
⚽ 9. We Are One (2014, Brazil)
Performed by Pitbull featuring Jennifer Lopez and Claudia Leitte.
⚽ 10. The Time of Our Lives (2006, Germany)
Performed by Il Divo, featuring Toni Braxton.
---
Part 2.

How to Download World Cup Theme Songs to Computer

As we all know, Deezer offers music download services to its paid users and allows them to enjoy the offline mode. However, the users are only allowed to use the download feature to save their favorite music as cache files stored within the Deezer app itself. Besides, to listen to the downloads, the users are required to keep their Deezer subscriptions active, or they will lose the rights.

Fortunately, these restrictions can be broken now. DeeKeep Deezer Music Converter is a professional and powerful tool to help you download Deezer music in a real sense. It applies advanced decoding technology to export Deezer music files to your computer. With the help of this program, you can save all your favorite songs to your local computer, including the exciting world cup songs, and listen to them even if your Deezer subscriptions expire.

Step 1.Run DeeKeep Deezer Music Converter on Computer

First of all, your computer should have the program installed. Select the version matching your computer system from above, download, and install it. Then run the program on your computer. Hit on the "Open Deezer Web Player" and log in to Deezer with your paid account.

DeeKeep works by accessing the official Deezer web player. So you are not required to install the Deezer desktop app on your computer.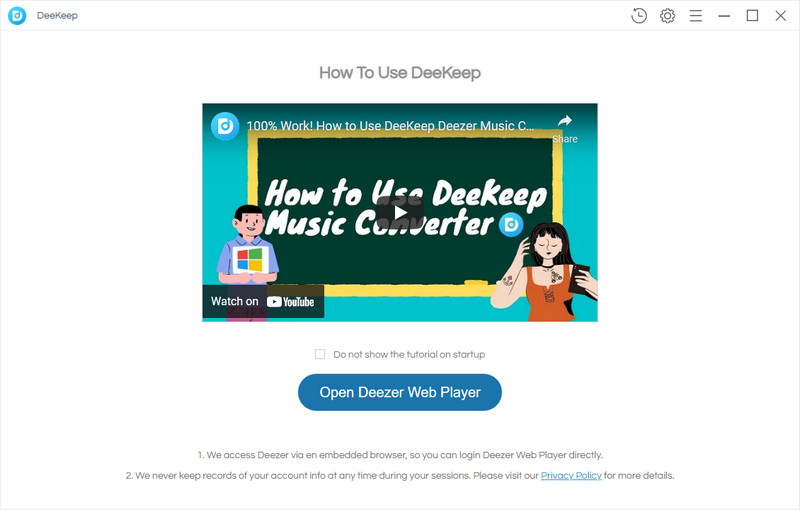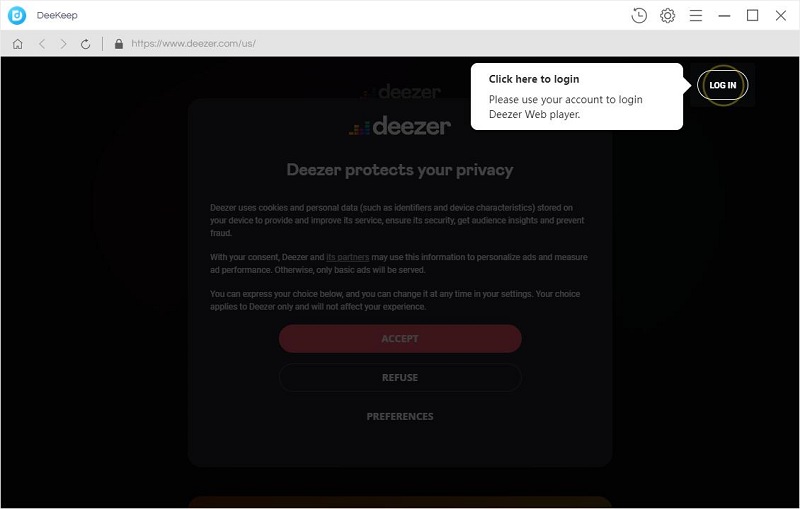 Step 2.Finish Output Settings on DeeKeep
After the successful login, it is not time to download world cup songs. Instead, go to the top right corner to click the "Settings"

button. A panel will occur. Here select an output format and output path. You can select bit rate and sample rate to get different audio qualities. Edit the output file name as you wish and select a classification with the Output Organized option. Here are the detailed options.
Output Format: MP3, AAC, WAV, AIFF, ALAC, FLAC, AUTO.
Bit Rate: 128 kbps, 192 kbps, 256 kbps, and 320 kbps (depending on the format selected).
Sample Rate: 44.1 kHz, 48 kHz, 96 kHz, 192 kHz (depending on the format selected).
Output File Name: Track Number, Title, Artist, Album, Playlist Index, Year.
Output Organized: Playlist, Artist, Album, Artist/Album, Album/Artist, None.
Selecting AUTO as the output format will output songs in the original format and quality. If you would like to get HiFi quality, select FLAC.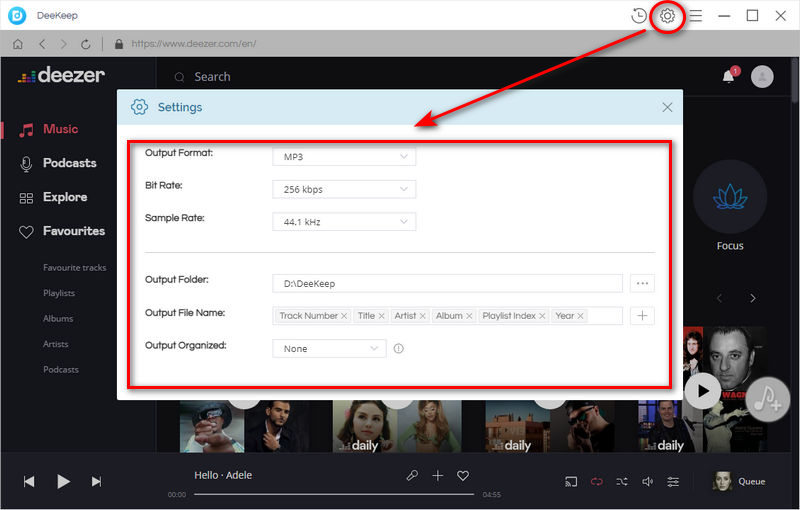 Step 3.Download World Cup Songs
It is time to download songs now. Search any one of the world cup songs in the search bar, or just go to the playlist or album with the world cup songs you want and open it. Click the blue icon "Add to list"

on the right-hand side. A panel pops up. All the available songs on the Deezer page are selected by default. If you are not going to download them all, undo it and select the specific songs. Next, click the "Convert Now" button to start the conversion.
When the world cup songs are listed in different playlists or albums, but you want to download them in a batch, just click "Save to list" after the previous picks, select more world cup songs as before, and save them to the list. Click the "task list"

icon and hit on "Convert" to begin the batch conversion at once.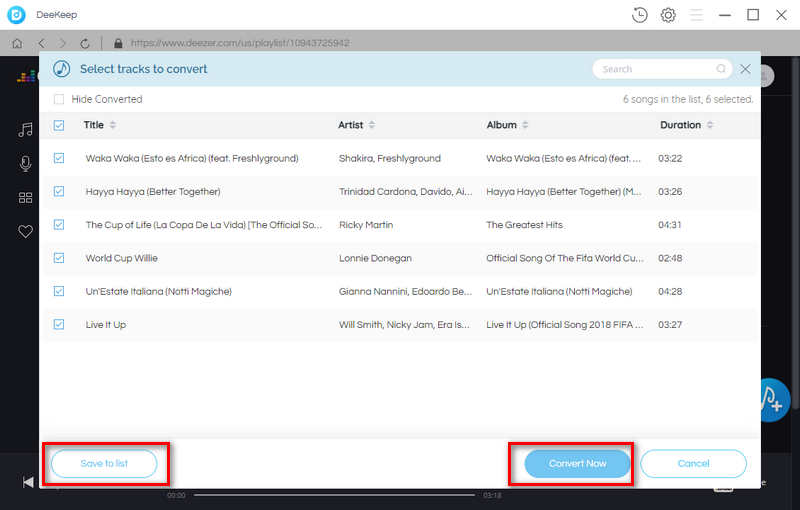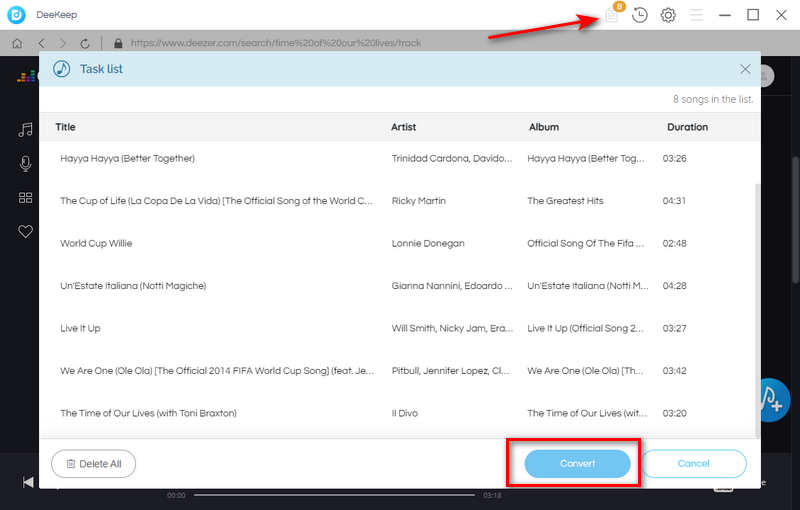 Step 4.Check Downloaded World Cup Songs on Local
A window will pop up once the conversion is finished. You can check the downloaded world cup songs here. Play them with any music player, you can listen to them as with Deezer. To this step, the world cup songs are successfully saved to your computer. You can play them at any time and don't have to worry about your Deezer subscription. Besides, you can play them on Apple TV, Samsung TV, Google Nest, and other music devices. You can experience this exciting event at any time.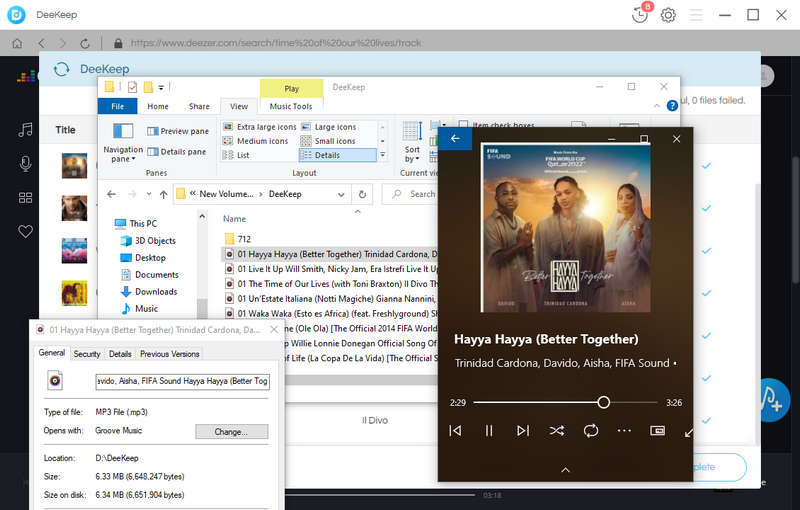 ---
Summary
After reading this article, you can get the list of the top 10 popular world cup theme songs. They are so exciting. Saving the songs is the best way to preserve the excitement. Thus, try to use DeeKeep Deezer Music Converter. It is so helpful a tool to get rid of Deezer music download troubles. You can save the world cup songs to your devices permanently and transfer them to other devices. So do not hesitate to try it. It is free to download.
---