How to Download Deezer Music Songs to ALAC
We all know that in daily life, music helps to refresh the mind and focus on work, so with more than 73 million songs, Deezer Music that supports you to get the songs you want through different types of accounts is a good one for you choose. While Deezer Music isn't as popular as some mainstream streaming services, it's a music streaming app that lets you enjoy CD-quality music with FLAC sound for over 73 million songs. And with 16-bit/44.1 kHz FLAC encoding for the best listening experience.
But unfortunately, if you are an Apple user, you will not be able to play Deezer Music songs in FLAC format. If you want, you'll need to convert the song to ALAC for playback on Apple products. What is ALAC? What is the difference between ALAC and FLAC? How to download Deezer Music songs to ALAC format? Continue reading this article and your questions will be answered one by one.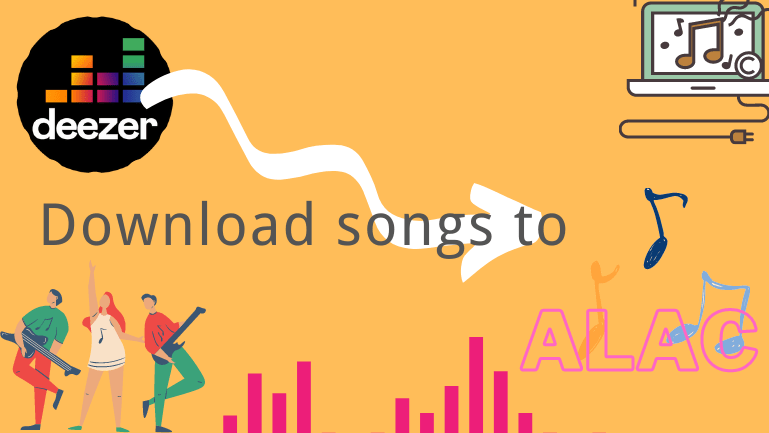 Part 1. ALAC vs FLAC
1.What is ALAC, or FLAC?
ALAC: This lossless compression format is a lossless codec introduced by Apple that can compress uncompressed audio formats (WAV, AIFF) to around 40% to 60% of their original capacity, the codec is fast and can Play on Apple products without installing any OS.
FLAC: Like the ALAC format, it is a lossless compression format that supports high-resolution sample rates. But it is not supported by Apple(so not compatible with Apple Music).
2.ALAC vs FLAC
Sound quality: Both are lossless formats, and both retain almost all audio data and maintain the original sound quality.
Decoding speed: ALAC's decoding speed is its strongest asset, and ALAC files are not hindered by tagging limitations. FLAC is asymmetric, which is good for decoding speed. Decoding requires only integer operations and is much less computationally intensive than most perceptual codecs.
Compatibility: ALAC can be played on Apple products such as Mac, iPhone, iPad, and iPod, while FLAC can be played on devices with operating systems such as Microsoft Windows, macOS, Linux, android OS, iOS, and more.
Part 2. Download Deezer Music songs and convert to ALAC format
If you want to download Deezer Music songs in ALAC format, you must need a powerful music converter - DeeKeep Deezer Music Converter, to help you realize this idea. DeeKeep Deezer Music Converter is a useful tool that preserves the original audio quality, ID3 tags after downloading songs. And it supports downloading Deezer songs to not only ALAC format, but also MP3, AAC, FLAC, WAV, AIFF and ALAC formats. Next, we will show the specific steps for you.
Step 1. 1.Install the Deekeep Deezer Music Converter and run it on your computer.
First of all, you need to install the DeeKeep Deezer Music Converter on your computer.100% clean and it supports 25+ languages, you can choose the language you like. Finish installing, click the "Open Deezer Music Web Player" button to run it on your computer desktop.
Step 2. Log in with your Deezer Music account.
After that, log in with your Deezer Music account. The process is 100% safe, trusted by million.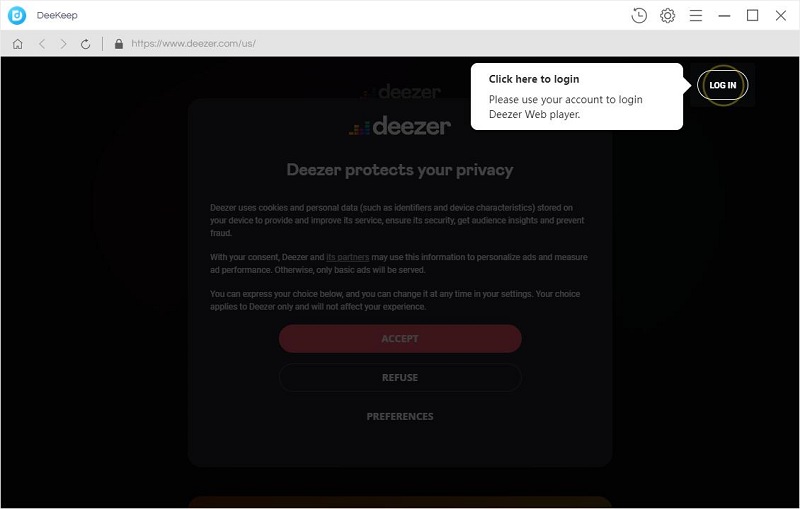 Step 3. Setting your desired output format
Before downloading Deezer Music songs, click the "Setting"

button to custom the output format as ALAC on the upper right. Then all the downloaded songs will be stored as ALAC format with keep the original sounds quality. Besides, you can set bit rite, output folder, output file name, and output organized manner on the upper right. Click it then a setting window pops up. Here you are able to set the output format, bit rate (output quality), output folder, output file name and output organized manner.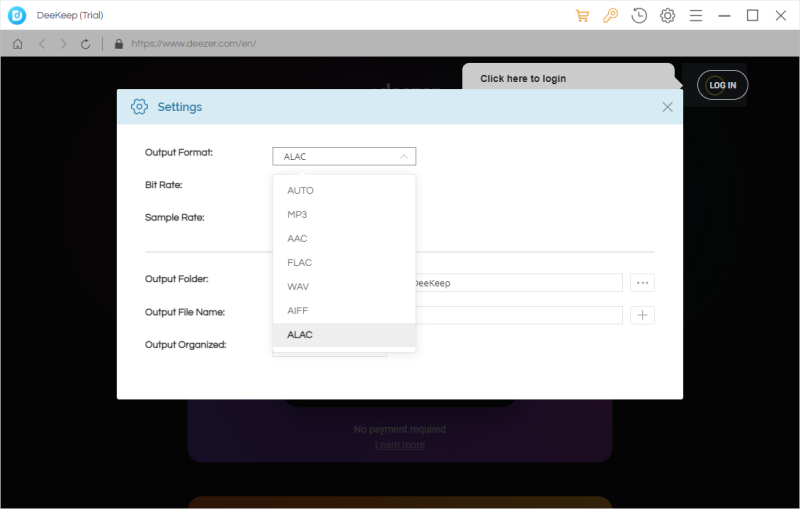 Step 4. 4.Select the songs or playlist to download
Behind setting the output format, choosing a playlist, album, or artist you like, then tap the "Add to list"

button to choose songs you want to download. Finish that, Click the "Convert Now" button to convert songs which you selected.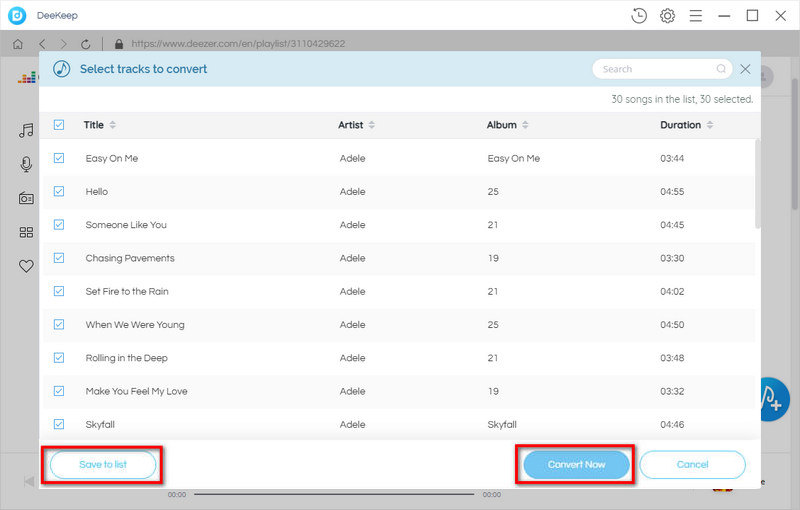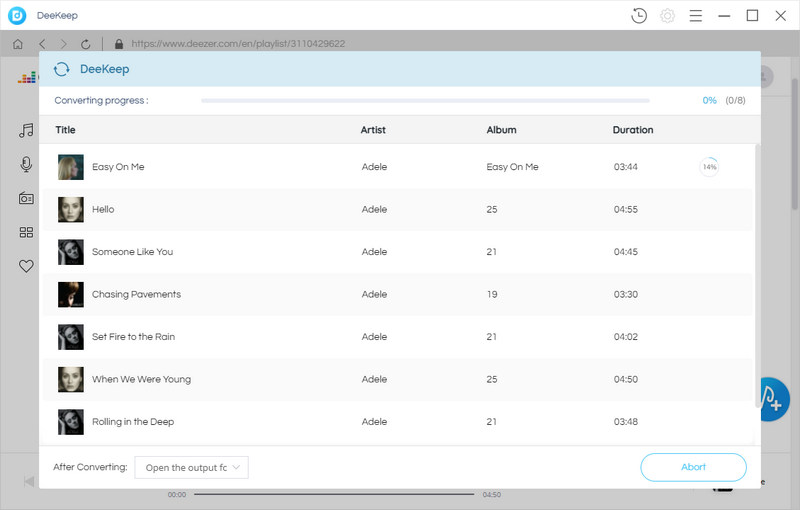 Step 5. 5.Check the songs
After all steps had completed, you can click the"History"

icon to check all songs you downloaded. Moreover, the folder will also pop up automatically after the conversion, you can move the downloaded songs to any device you want, and can keep them forever until you don't need them anymore.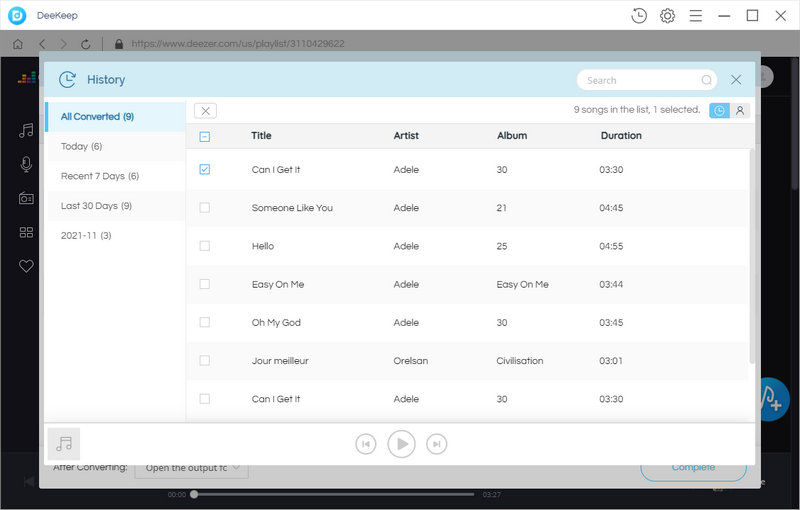 ---
Summary
The FLAC format retains the original sound quality of the song, allowing users to have the best music experience, but the only disadvantage is that it is not supported by Apple. The ALAC format can also save the original sound quality of the song, and it is supported by Apple. DeeKeep is specially customized for users who need to download Deezer songs in MP3, AAC, FLAC, WAV, AIFF, ALAC formats, and can preserve the original sound quality and complete song tag information to the greatest extent. Download it for free trail and use it to start your own music journey.
---