How to Download Music from Deezer
As you know, Deezer was launched in 2007 and owns 16 million active users in over 180 different countries. Its CD Quality streaming service was launched in 2015. Compared to Spotify's whopping 271 million users, Deezer seems to have a smaller market. However, recently some users leave messages to us and would like to know how to download Deezer Music. So today we cover an overall tutorial on how to download Deezer Music onto computers and mobile phones.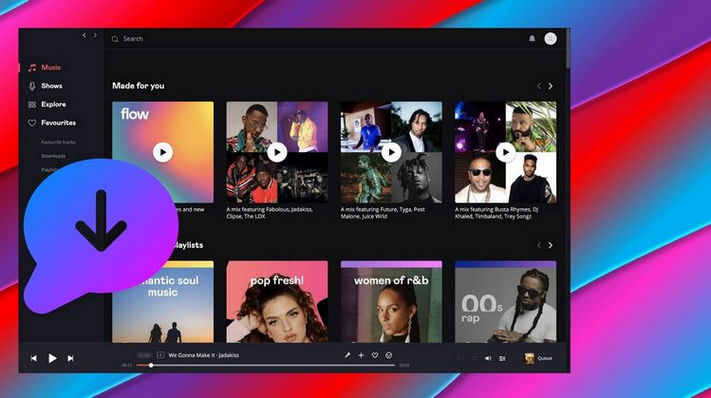 Part 1. Download Deezer Music on Mobile Phones/PC
Points for Attention:
1. To download your favorite content and use the offline mode, you should be a subscriber of Deezer. The types of accounts include Deezer Student, Deezer Premium, Deezer Family, and Deezer HiFi.
2. You are allowed to download albums, playlists, audiobooks, podcast episodes, but you can't download individual tracks unless you add them to a playlist.
3. For a Deezer HiFi user, he or she can stream FLAC quality on Desktop App, Deezer Web Player, iOS, Android, and more supported devices.
4. Your computer system should be Windows 7, 8, 8.1, 10, or macOS 10.10 or later.
5. The default setting of the Deezer app is to download music under the Wi-Fi network environment. If needed, you can change the settings at any time.
Download Deezer Music via Mobile App
Step 1Run Deezer Music on your phone. Sign in with your account.
Step 2Tap on the Favorite > Music option to view and download your favorite playlists or albums.
Step 3Turn the Download slider onto the green to enable wanted content available for offline listening.
Step 4Enable the Offline Mode and start listening to Deezer Music offline on your smartphone.
Download Deezer Music via Desktop App
Step 1Launch Deezer Music app from your computer and then log in with your account.
Step 2Find out what you want to download and choose the Download button to download all the songs on the selected album or playlist.
Step 3Then you will see a green check icon beside one downloaded music track.
Don't have a paid Deezer account? Sign up for one now! You can get a three-month free trial if you are a new user.
Part 2. Export Deezer Music in MP3 Format
You probably have some questions and comments about the official way to download Deezer Music. Can't we download a single track from Deezer? Can't we keep the Deezer playlists playable after unsubscribing? Can't we move playlists from Deezer to other music streaming platforms? Can't we download Deezer Music in MP3 format? DeeKeep team managed to find a solution to the problems above. DeeKeep Deezer Music Converter is the secret weapon for getting away from the limitations.
DeeKeep Deezer Music Converter is our flagship software, which is designed for Deezer Music users. This converter can break up the tie of the rules of music streaming services. You can get real music files from Deezer Music and these files will be saved onto your computer. The songs will not cease to be effective after your subscription ends. It enables to convert Deezer Music in MP3, AAC, FLAC, WAV, AIFF or ALAC. Furthermore, the converter will recognize track title, album title, artist name, track number, disc number, year (download songs from album only), and other metadata of every song.
Let's see how to export music from Deezer Music together. Since the converter is based on the Deezer Music web player, you don't need to install any extra apps. We will take how to download MP3 files from Deezer Music as an example.
Step 1 Log in to Deezer Web Player
Open DeeKeep. The Deezer web player will open at the same time. Go to the web player and type in your account information to get access to the Deezer Music library. If needed, you can log out of your account after finishing the conversion.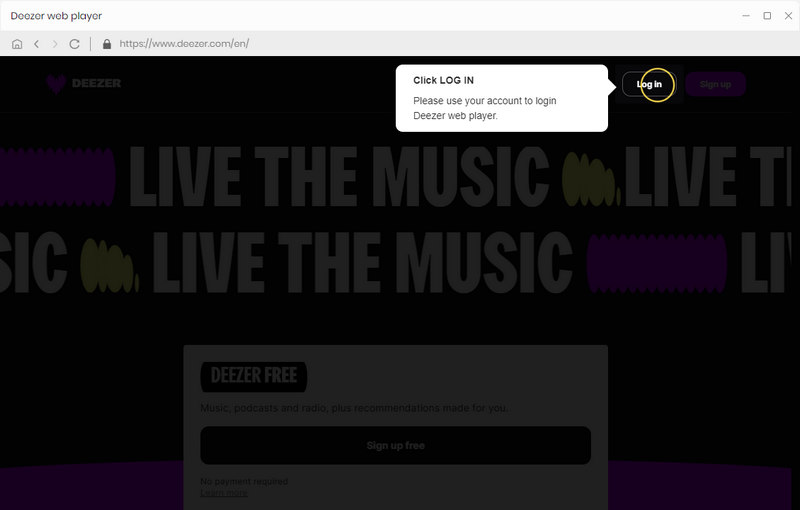 Step 2Customize the Output Settings
Tap the "Settings" tab from the lower left corner, you can select the output format (choose Auto if you want HiFi sound quality and faster conversion speed.), bit rate, sample rate, output folder, and more parameters by yourselves.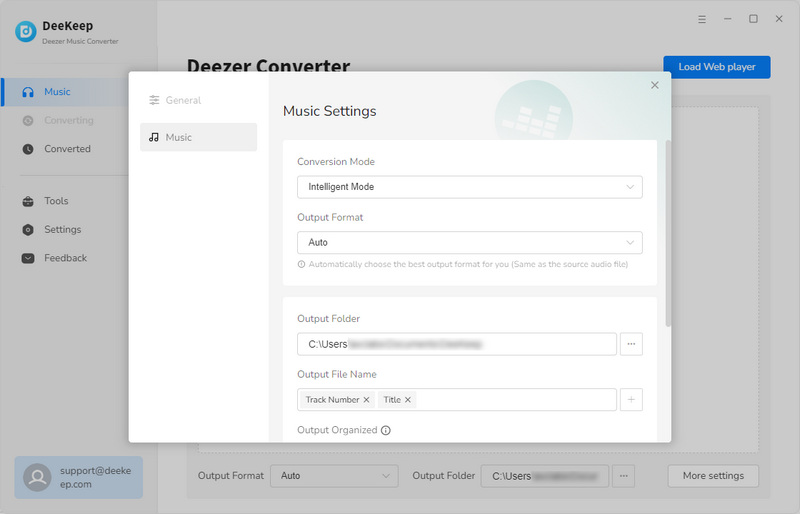 Step 3 Select the Songs
Navigate to the songs you would like to convert and click on the "Click to add" button to load. Tick off the songs you want one by one and click "Add" to add them to download list. If you also want to download songs from other albums or playlists, just repeat the step to add wanted songs to the list.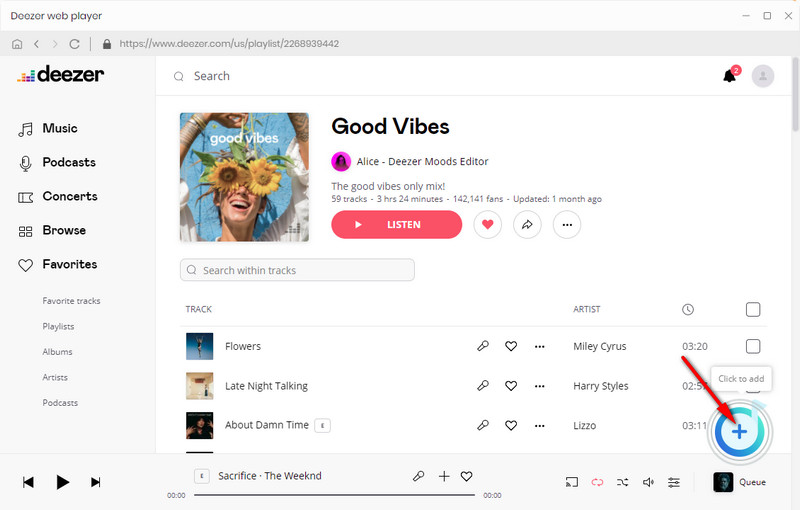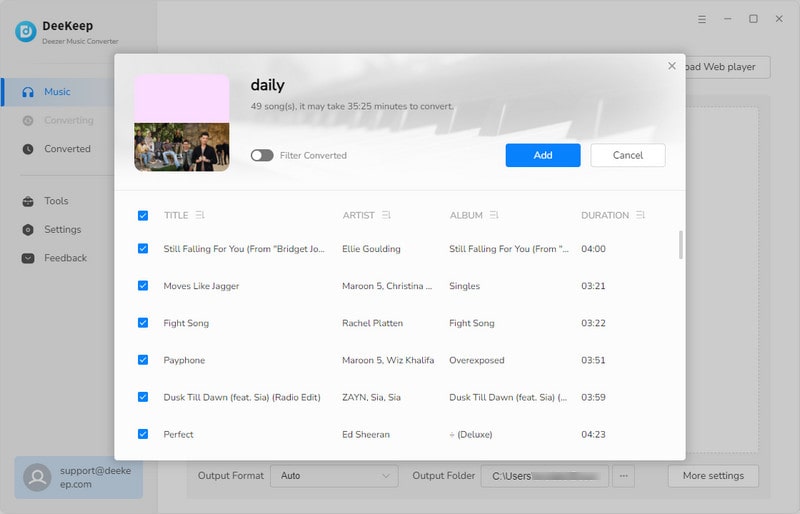 Step 4 Convert Deezer Songs And Check the Songs
Finally, hit on "Convert" and wait patiently for the conversion.
All the converted songs can be viewed on the Converted module and the local folder. You can share the songs with your families or friends at any time and anywhere this time.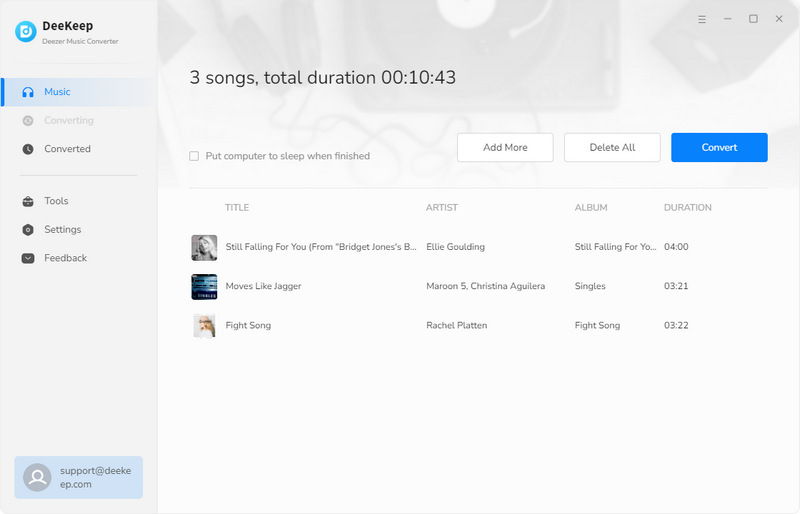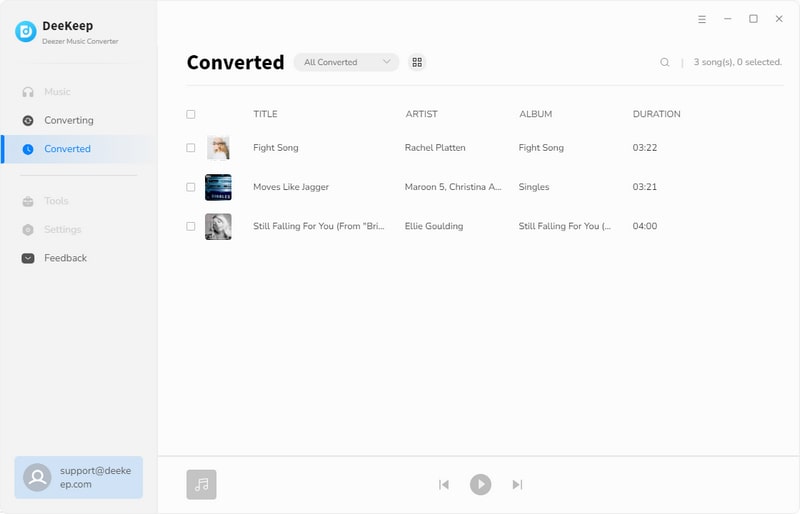 ---
Part 3. Record Deezer Music & Save Onto Computer
There is no doubt that DeeKeep Deezer Music Converter is your top choice to convert Deezer Premium and HiFi music. But if someone prefers a music recorder, here we recommend you to try AudiCable Audio Recorder. It's a smart recording software to record music from many hot music streaming services, like Deezer Music, Spotify, Amazon Music, Tidal Music, etc.
Do you worry about losing good audio quality and important ID3 tags of the songs after recording? It might be the universal feature of some traditional audio recorders. AudiCable is an exception. It can intelligently identify and label the music name, author, album title and other information of the music tracks.
Step 1 Download AudiCable onto your computer. Run it and find the Entrance of Deezer from the interface. Click on it and you will be guided to the Deezer Music web player. Log into your account by tapping Log in option on the Please play music on the Deezer window.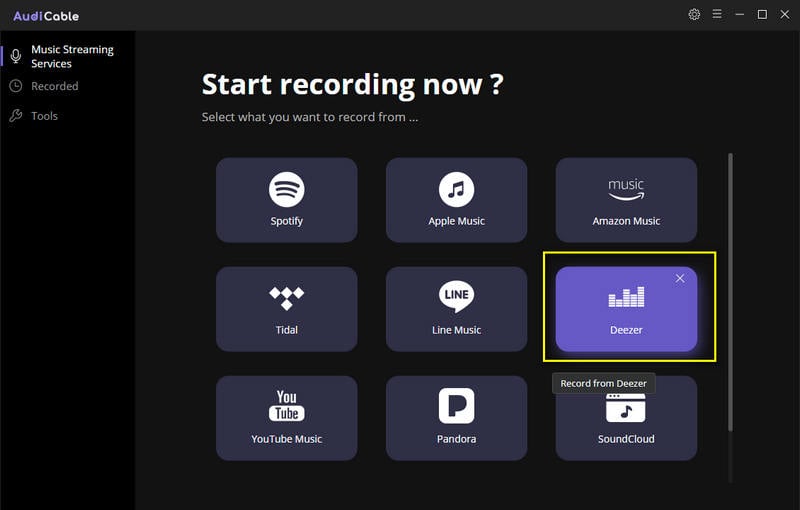 Step 2Before downloading music, you should go to the top-right corner of AudiCable. Click the Settings icon. Then you will find a smaller pop-up and you can customize the output parameters there, including output format, output quality and output folder.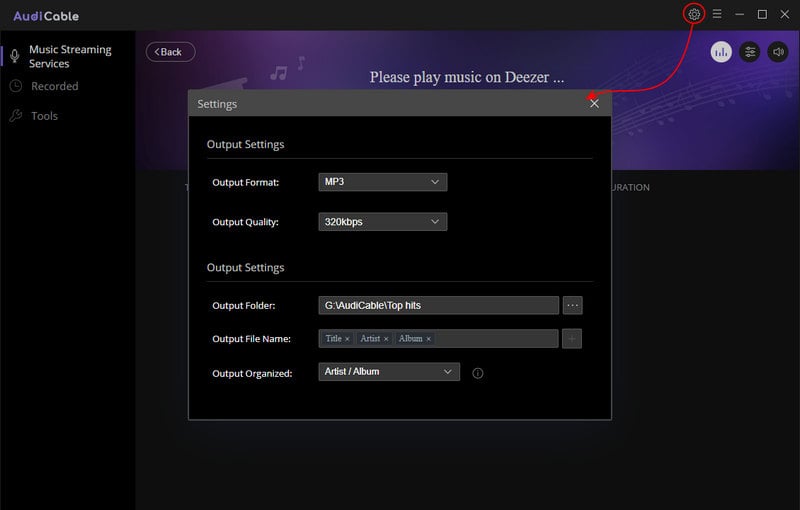 Step 3 Select the Songs to Convert
Find the song you want to download. Start playing the songs and then AudiCable will record the songs on the album or playlist one by one automatically. If you wish to record the songs quietly in the background, you can click the Sound icon and turn it off.
Wait until AudiCable finished recording the songs. And now your recorded Deezer Music can be played on your computer or transferred to other devices.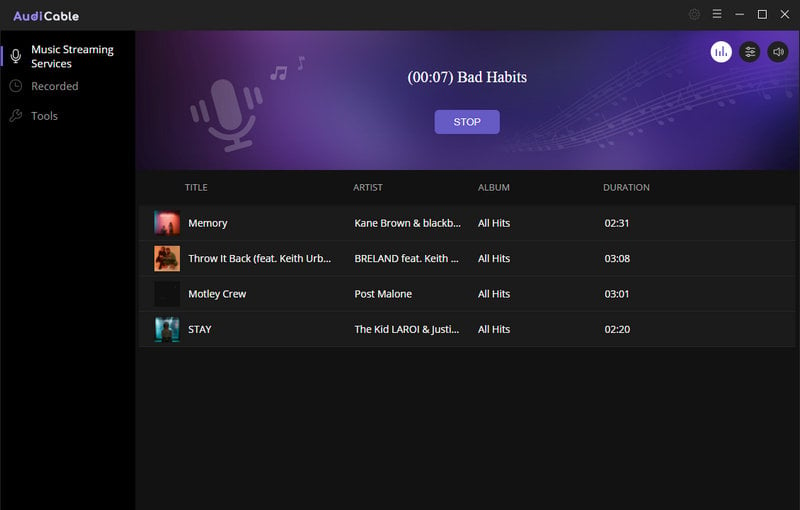 ---
Summary
In a word, it's never difficult to download Deezer Music for listening offline. If you use the official method to download music from Deezer to a mobile phone, a tablet or a computer, you will be subject to some restrictions. We introduce other two more flexible ways. You can use DeeKeep Deezer Music Converter to download what you want at a fast speed or install AudiCable to record the playlists you like.
---