How to Download Deezer Music to Fitbit Watch
Deezer is a music streaming platform that allows its listeners access to more than 73 million music tracks. Deezer is one of the fewest music apps that are available for Fitbit Versa and other Fitbit smartwatches. With Deezer on Fitbit, you can listen to millions of songs, playlists, and podcasts on your Fitbit watch. It offers New Fidelity sounds for an extraordinary music listening experience.
With Deezer Premium/HiFi subscription, you can directly listen to Deezer music on your Fitbit Versa or other Fitbit series. Equipped with 2.5GB of storage, Fitbit also allows you to download Deezer music for offline listening. However, these Deezer downloads will be no longer available once your subscription ends. If you want to keep Deezer music on Fitbit for offline listening, you need to download and convert Deezer music to normal Fitbit-compatible formats such as MP3/FLAC. Check the following guide to find out how to play Deezer music on Fitbit online or offline.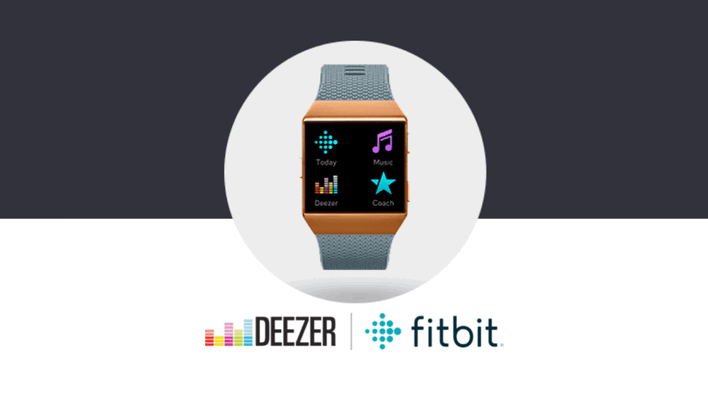 Method 1. Play Deezer Music on Fitbit Watch Online
With the Deezer app on Fitbit Ionic, Fitbit Sense, and Fitbit Versa series, you can download your Deezer playlists and Flow directly to your watch. After you downloaded music, connect Bluetooth headphones or speakers to listen to your music.
How to Download Deezer Songs to Fitbit Watch
Step 1 On your Fitbit watch, open the Deezer app. If you don't have the Deezer app, download it from the Fitbit Gallery.
Step 2 Using a web browser on your phone, tablet, or computer, open fitbit.com/deezer.
Step 3 Enter the activation code shown on your watch. Follow the on-screen instructions to log in to your Deezer account or create a new account.
Step 4 In the Fitbit app, tap the Today tab > your profile picture > your device image > Media > Deezer.
Step 5 Tap Add Music to see your Flow, featured playlists, and any personal playlists you've created on Deezer.
Step 6 Tap playlists to queue them for download.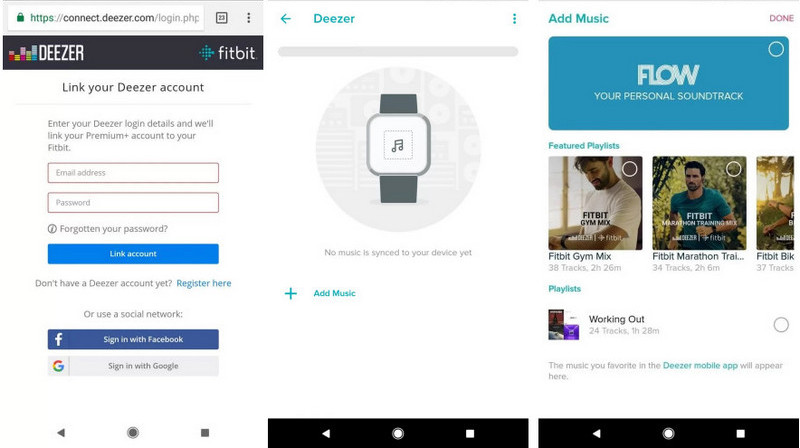 Step 7 Plug your watch into the charger. Music downloads automatically when the watch is charging and in range of your Wi-Fi network, or tap the menu icon then Force Sync Now in the Deezer section of the Fitbit app to add the playlists to your watch. Depending on the amount of music being downloaded, this process may take several minutes or more. You can listen to and download music from Deezer on your phone or computer while waiting for your download to complete. (Wi-Fi won't work on your watch when the battery is 25% or less.)
Step 8 After you download your playlists, connect a Bluetooth audio device, such as Fitbit Flyer headphones or a Bluetooth speaker, to your watch.
Step 9 Open the Deezer app on your watch and tap the play button next to a playlist to start playing the music in that playlist. You can also tap the name of the playlist to see the list of tracks. You may need to scroll down to see all of your playlists.
Step 10 In the list of tracks within a playlist, tap Shuffle All or tap an individual track to play it. The equalizer icon indicates which track is currently playing.
Note: The Deezer app is available to Ionic, Sense, Versa, Versa 2, and Versa 3 customers who have a paid subscription to Deezer. This feature isn't available on Fitbit Versa Lite Edition.
---
Method 2. Play Deezer Music on Fitbit Watch Offline
Part 1. Download Deezer Music to Local Computer
With Deezer on Fitbit app, your can directly listen to Deezer music on Fitbit and even download Deezer songs. However, these Deezer downloads will be no longer available after your Deezer subscription expired. If you want to keep Deezer downloads forever on your Fitbit for offline listening, the best solution is to download Deezer songs as normal Fitbit-compatible format and remove the DRM protection. For that, we need the help of a professional Deezer music downloader tool.
DeeKeep Deezer Music Converter, a well-designed Deezer music downloader and converter which can help you download any Deezer songs, albums, playlists or podcasts. Adopting the most cutting-edge techniques, DeeKeep can download Deezer songs at 10x speed and preserve 100% original audio quality. Furthermore, the ID3 tags will be preserved after conversion.
Step 1 Login Deezer Web Player.
Download and install DeeKeep on your Windows or Mac computer. Click on the Open Deezer Music Web Player on the main interface to visit the official Deezer website. And you will be guided to log in to your Deezer account.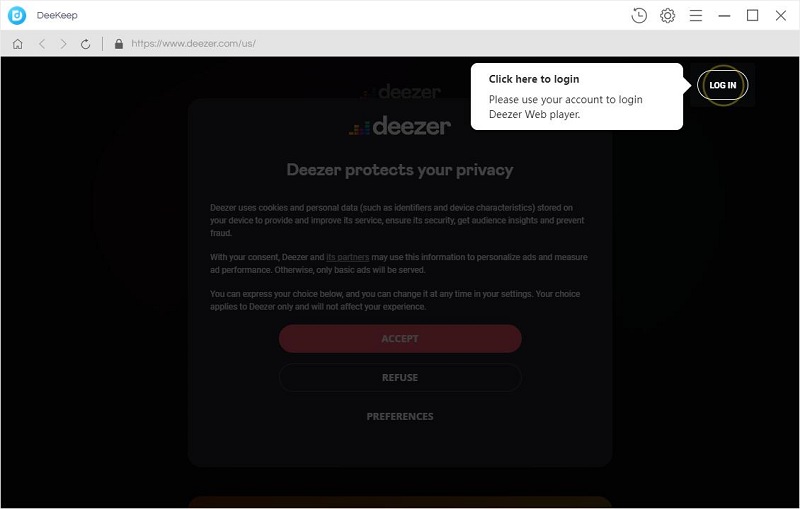 Step 2Customize the Output Settings
Hit the Settings icon in the upper-right corner. Here you can customize the audio format, audio quality, output folder and more as your requirements. If you wish to keep the HiFi audio sound of the songs (you need to have a Deezer Premium or HiFi account) and pursue faster conversion speed, you can choose Auto under Output format, which is also the default choice. And of course, the MP3 is the most widely used and can be supported by almost all the media players and devices. If you prefer lossless output, then FLAC or ALAC are also good choices.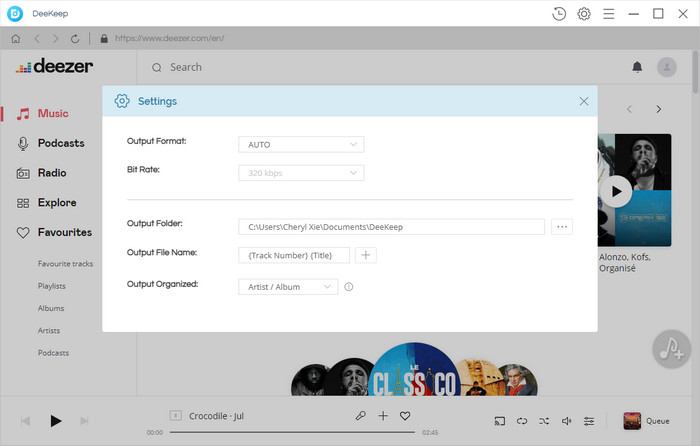 Step 3 Download Deezer songs
Now open a playlist or album you want to download, click on the Add to list button to add them to the convert list. From the convert list, you can selectively choose the songs you want to download and click "Convert Now" button to start downloading. Or tap "Save to list" to choose more songs from other playlists or albums.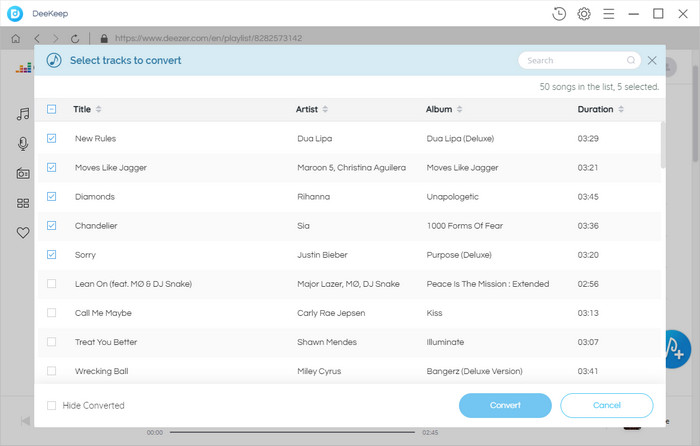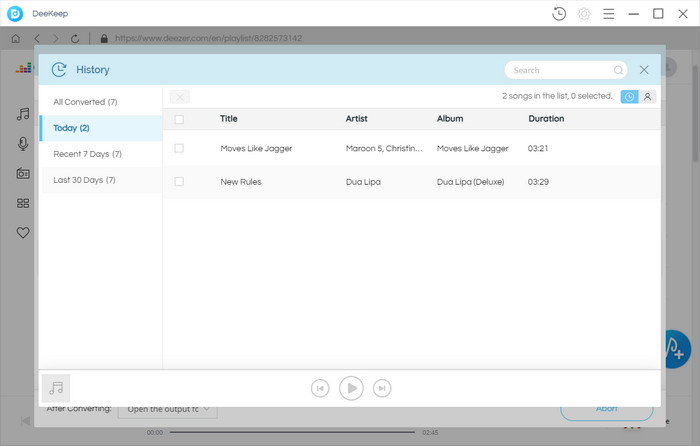 Once the Deezer tracks are downloaded, the download folder will pop up automatically. You can also click the History module to view and play the converted Deezer songs. Move your mouse over the Folder icon beside the converted song to jump directly to the download folder.
Part 2. Sync Downloaded Deezer Songs to Fitbit
Step 1 Make sure your Fitbit watch and PC are connected to the same Wi-Fi network.
Step 2 Install Fitbit Connect on your computer. It allows you to download music and podcasts from your iTunes Library or Windows Media Player to your watch.
Step 3 On your computer, open Fitbit Connect and then choose Manage My Music > Personal Music.
Step 4 On your watch, open the Music app and then tap Transfer Music. Note that you may need to scroll down to see the transfer button.
Step 5 Wait a few moments for your watch to connect. When prompted, follow the on-screen instructions on your computer to choose the playlists you want to download to your watch. After you choose a playlist, the download starts automatically.
Now you can freely enjoy the downloaded Deezer songs on your Fitbit watch offline.
---
Summary
With the help of DeeKeep Deezer Music Converter, you can download any Deezer songs to local computer and sync to Fitbit for offline listening. You can save the Deezer tracks forever even after Deezer subscription ends. The converted Deezer songs are fully compatible with MP3 player, mobile phone or any compatible device. You can easily break the device limitation for Deezer music.
---