How to Play Deezer Music on Google Home/Google Nest
With the development of science and technology, things are more and more intelligent and automated. In the past several years, when we wanted to listen to music, we had to play it manually; to heighten the music sound, we needed to connect the sound equipment with our computer or others. But since the 2010s, things have changed. Google announced that it designed smart speakers, Google Home (later known as Google Nest), and produced them successfully. Just with a network connection and voice command, we can play music on a piece of wireless sound equipment. It seems so novel.
But this is not the topic that we are going to talk about here. Instead, we tend to think that, with such an intelligent device, how can we play our favorite music and share them with our family and friends? So in this article, we summarize and list ways of playing Deezer music on Google Home/Google Nest. Read it to get the concrete steps to play your favorite music on the devices.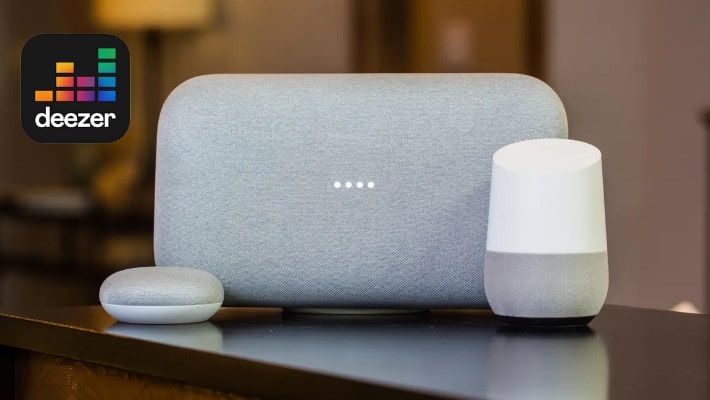 Part 1.

Play Deezer Music via Google Home App

It is the easiest and simplest way of playing Deezer music on your Google Home/Nest smart speakers. Just with the four steps, you can play any Deezer music you like on your Google devices.

Step 1.Install the Google Home app on your mobile phone, open it and go to the Home tab.

Step 2.Under the Media section, tap on Music.

Step 3.In the More music services part, tap on the blue link icon

on the Deezer bar.
Step 4.Confirm the Link account, enter your Deezer premium account information, and hit on Done.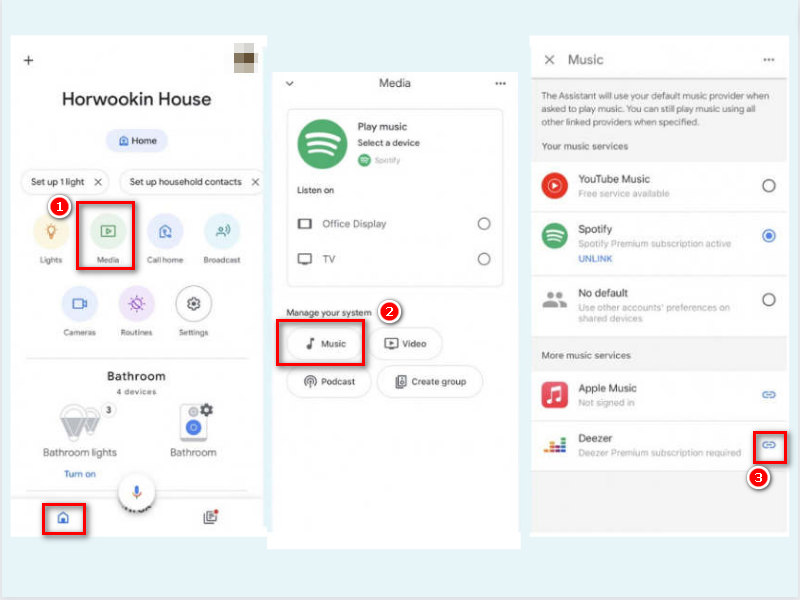 However, nothing is perfect. If your Deezer premium subscription expires, or you have no available network to connect to, you cannot enjoy the music on your Google devices. But don't worry, the next part is going to make you feel released.
---
Part 2.

Play Deezer Music on Google Home/Google Nest Offline

To play Deezer music on your Google Home/Google Nest smart speakers offline, you need to download the music to your mobile device. And you are required to use a tool - DeeKeep Deezer Music Converter. Relatively speaking, DeeKeep is the most outstanding converter among massive Deezer converters. It is a more stable, full-featured, and simple design tool. Let's take a look at what DeeKeep is and how to use it for playing Deezer music on Google Home/Google Nest devices.

Step 1.Launch DeeKeep on Your Computer

If you have never used DeeKeep Deezer Music Converter before, click the blue buttons to download it, then install and launch it. On the main page, click the button "Open Deezer Web Player" to enter the program. And login to Deezer with your premium/family/HiFi account via the built-in Deezer web player. The player is official, you don't need to worry about that.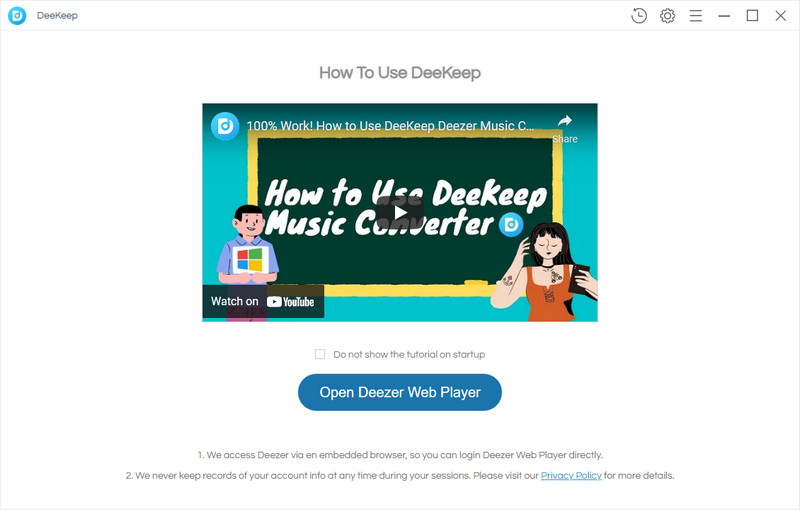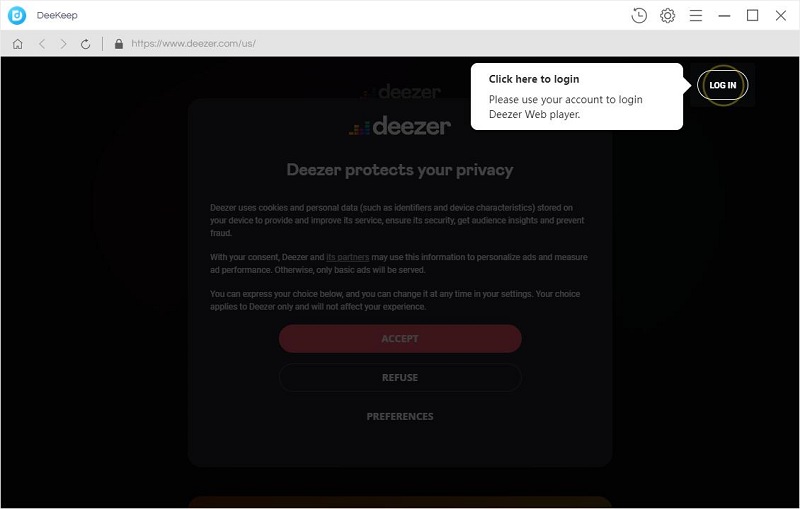 Step 2.Customize Output Settings
How can we prove that DeeKeep is full-featured? The step is going to show you the evidence. After logging in to Deezer, hit on the gear button "Settings"

in the top right corner. On the pop-up window, manually choose the Output Format, Bit Rate, and Sample Rate, select a folder on your local computer by clicking the three dots

as the Output Folder, and edit the Output File Name by clicking the add icon to choose one or more of them and then the Output Organized.
Output Format: MP3, AAC, WAV, AIFF, ALAC, FLAC, AUTO.
Bit Rate: 128 kbps, 192 kbps, 256 kbps, and 320 kbps (depending on the format selected).
Sample Rate: 44.1 kHz, 48 kHz, 96 kHz, 192 kHz (depending on the format selected).
Output File Name: Track Number, Title, Artist, Album, Playlist Index, Year.
Output Organized: Artist, Album, Artist/Album, Album/Artist, None.
DeeKeep can preserve up to HiFi audio quality, just choose the FLAC/ALAC as the output format with your Deezer HiFi account logged in. If you just want to keep the original audio quality, please choose AUTO as the output format. Besides, DeeKeep can preserve up to seven ID3 tags, facilitating your view of the information on the tracks.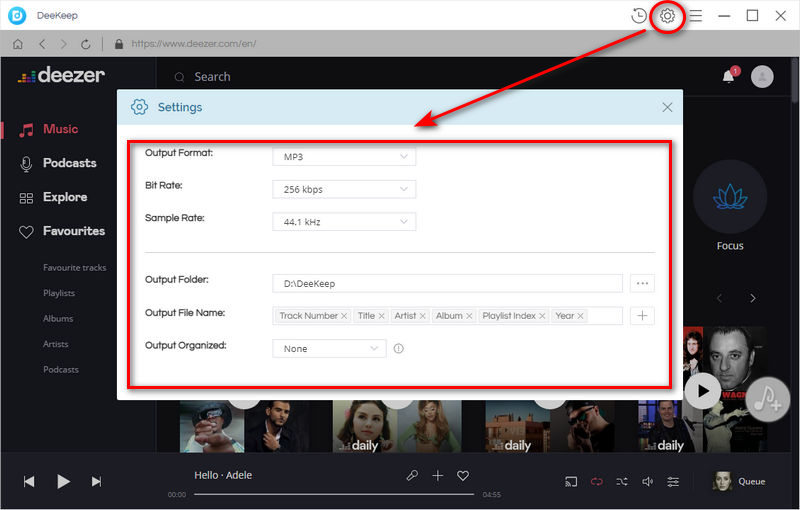 Step 3.Download Deezer Tracks
When all the output settings are done, search for the song you want to download and convert on the Deezer web player. Or you can go to your Favorites on Deezer, and open your favorite tracks, playlist, album, or podcast. On the right side is a blue button "Add to list"

, click it to open a popup.
All the tracks are selected by default. If you just want to download several of them, pick and click "Convert Now". If you have downloaded tracks with DeeKeep before, click "Hide Converted" to avoid downloading tracks that exist on your local computer already. If you have lots of tracks to download, after picking the first batch, click the "Save to list" button, find more tracks to pick, and save them to the list. Then click the "task list"

icon to check them and click "Convert" to convert all of them at once.
As DeeKeep runs under a stable system, most of the selected tracks can be successfully downloaded and converted. And you don't need to wait too long, the program proceeds at ten times the speed.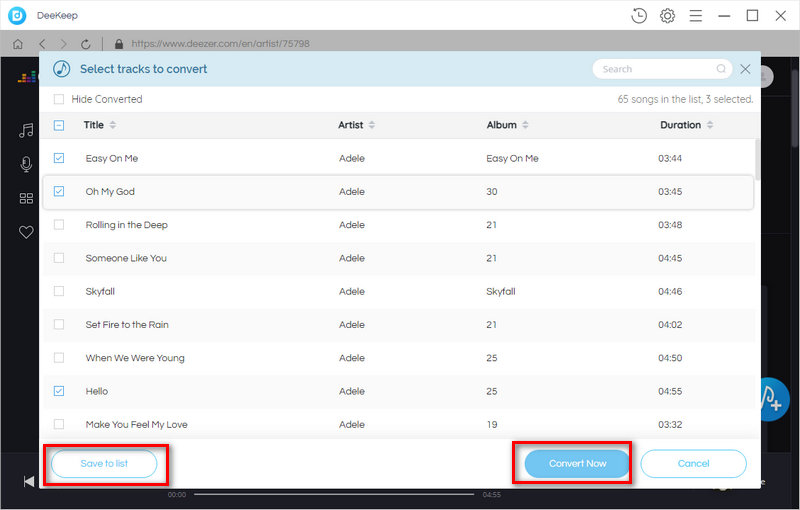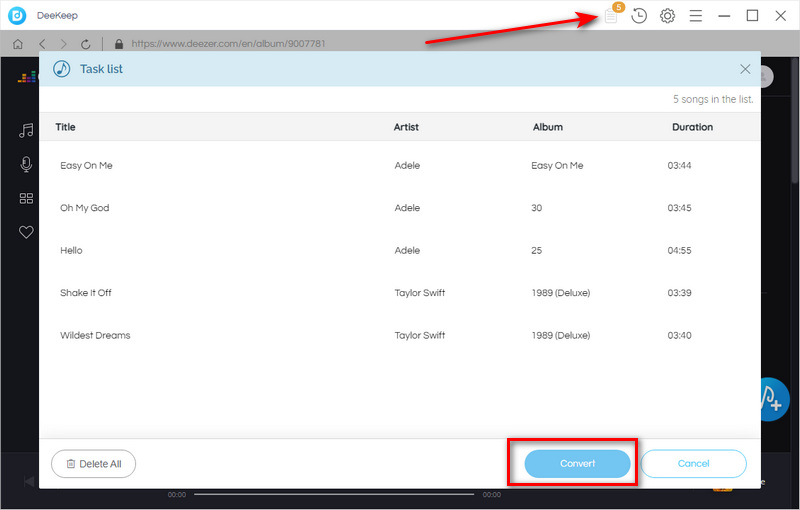 Step 4.View Downloaded Files
Once the conversion is finished, the window containing the output folder will occur. Check the files. You will find all of them are output based on your settings. Now you can play them on your computer with any portable music player. To check your conversion history, click the "History"

icon. Here you can also check the downloaded Deezer music files. You can also play them with DeeKeep by clicking the triangle icon

.
To this step, Deezer music has been successfully downloaded to your local computer and converted to the audio you want. As all of them are common files, you can store them on your device permanently, transfer them to other devices like Sony Walkman, and play them with any portable music player for offline listening.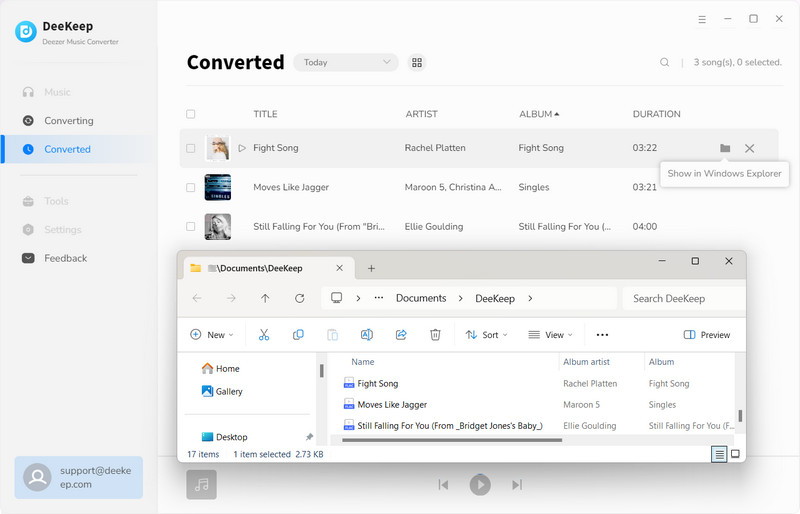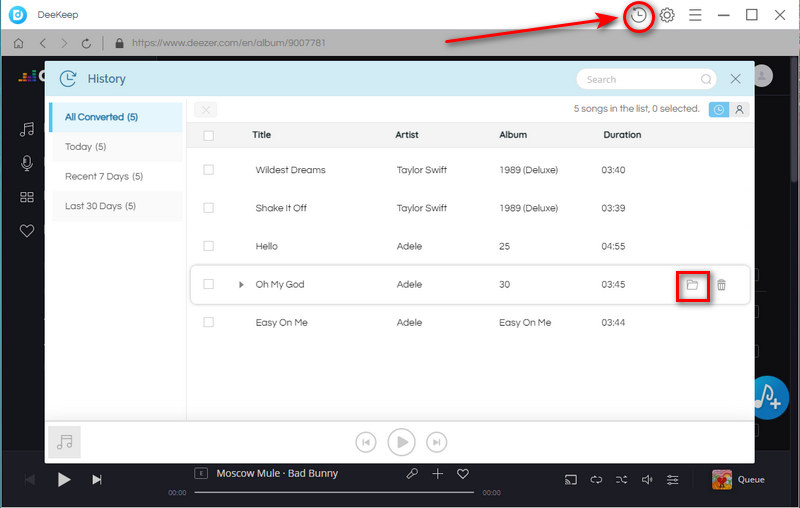 Step 5.Transfer Deezer Music to Mobile Phone
To easily control the music playing on your Google devices, you can transfer the downloaded music files to your mobile phone with a data cable. After the successful transfer, you can go to the folder on your phone to open them with a music player app and add them to your playlist. Or you can open one of your music player apps with the feature of scanning local audio files, and then import them to the player.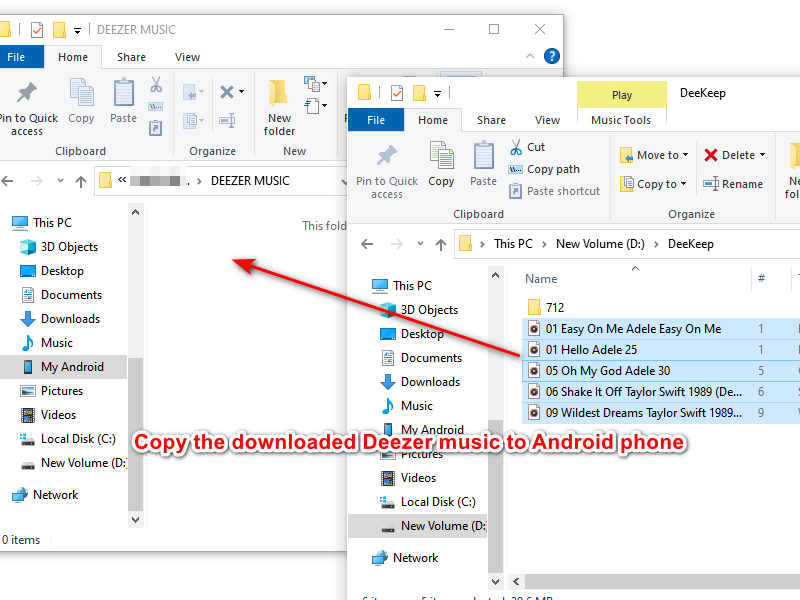 You may need: How to Download Deezer Music to Android phone >>
You may also need: 3 Top Ways to Download Deezer Music/Playlists to iPhone >>
Step 6.Play Deezer Music on Google Home/Nest via Bluetooth
At last, build up a Bluetooth connection between your mobile device and your Google Home/Nest devices. The music will play on your Google devices when you play them on your mobile phone. Even if your Deezer subscription expires or your mobile phone is without a network, you can play music with your Google smart speakers.
---
Summary
Above are the two ways of playing Deezer music on Google Home/Google Nest smart speakers. The first part introduces the simplest way, but the second method is more reassuring. And it is doubtless that DeeKeep Deezer Music Converter is absolutely an outstanding tool for downloading and converting Deezer music. Having cleared all the obstacles in Deezer music with DeeKeep, you can enjoy them in your way.
---