4 Top Ways of Adding Deezer Music to Instagram Stories
Our lives are growing to be influenced by videos. Maybe they are YouTube videos and maybe are Instagram videos. And it is not so surprising that there are over 1 billion active users on Instagram, with half of them using or watching Instagram Stories. As for a video, music or sound is an essential part. And that is we'll talk here.
In this article, we're going to show you several ways how to add Deezer music to Instagram Stories. It can be said a complete collection of ways of adding music to IG stories. If you are finding the ways, read it to find your types!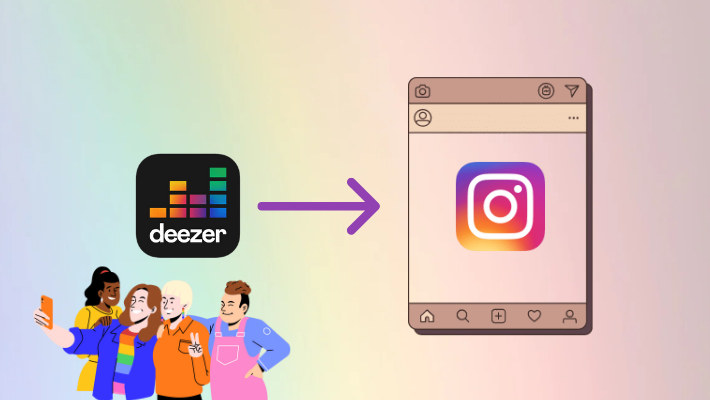 Part 1.

Add Music to Instagram Story

In this part, we will show you the general way of adding music to Instagram Stories. Most IG story makers add music or sound in this way. If you still don't know, read it.

Step 1. Open Instagram and tap on the plus icon

on the screen, and choose Story in the popup. Or swipe from left to right to open the Story camera. You can see that in the bottom bar it says Story.
Step 2. Record a video (or take a photo) and tap the Sticker

icon. On the popup, tap the sticker labeled Music, or type "music" in the search bar to search.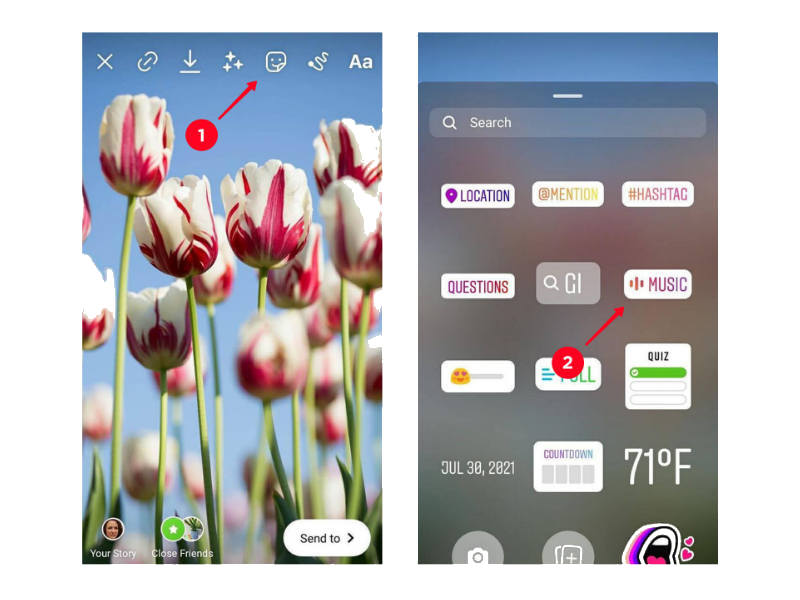 Step 3. Choose the music you want to add. After adding, you can edit the length and the color of the music sticker, the size and the type of sticker, and the color and font of the lyrics.
Note: If you cannot find the Sticker feature in your Instagram, it could be that your version is not the latest one (and please update), or the feature is not available in your country (currently, it is only available in a small part of countries and regions).
---
Part 2.

Add Deezer Music to Instagram Story with Deezer

In this part, we are going to present you with two methods of adding Deezer music to Instagram Stories. Undoubtedly, you are required to use the Deezer app on your mobile phone.
Part 2.1 Play Deezer Music While Recording Video
Step 1. Launch the Deezer music app on your phone, log in with your account, and find the track you want to add.
Step 2. Open Instagram, tap the plus icon

, choose Story, and be ready for recording.
Step 3. Play the Deezer track to the part you want to add, then start your recording at the same time. The sound will be integrated into your video.
Part 2.2 Add Deezer Music to Instagram with the Share Feature
Step 1. Install the Deezer app from the App Store on your mobile phone.
Step 2. Log in to Deezer with your premium account.
Step 3. Go to the track you want to add and open it. Tap on the three dots

in the upper right corner, choose Share and select Instagram Stories. Or after opening, tap on the Share

icon to share the track.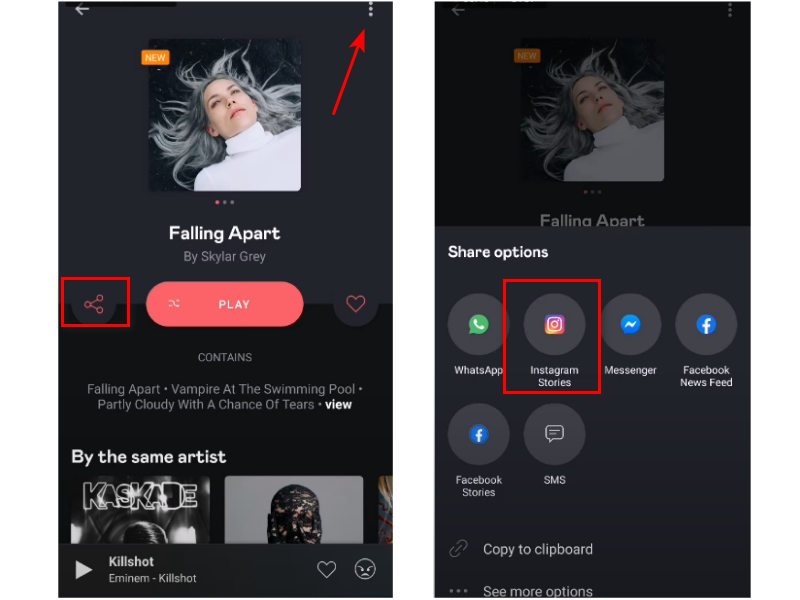 Step 4. After selecting the share feature, your Instagram will be opened automatically. It will be updated to your story with the cover art attached. Then you can edit the track and the lyrics.
By this method, the Deezer track will not play directly on Instagram. Instead, there is a link in the top left corner that says "Play on Deezer". Your followers need to hit on the link to listen to the track.
---
Part 3.

Add Deezer Music to Instagram Story via DeeKeep

Of course, there is another way to add Deezer music to your Instagram Stories, which is to use a tool-DeeKeep Deezer Music Converter. Currently, it is the most powerful converter for Deezer music downloading and conversion. As it runs stably and has rich features, DeeKeep is more and more popular.

Step 1.Install DeeKeep Deezer Music Converter on Computer

The first thing to do is to download DeeKeep Deezer Music Converter by clicking the blue button above. Install and launch it on your computer. The Deezer web player will start at the same time. Then log in to Deezer with your premium account.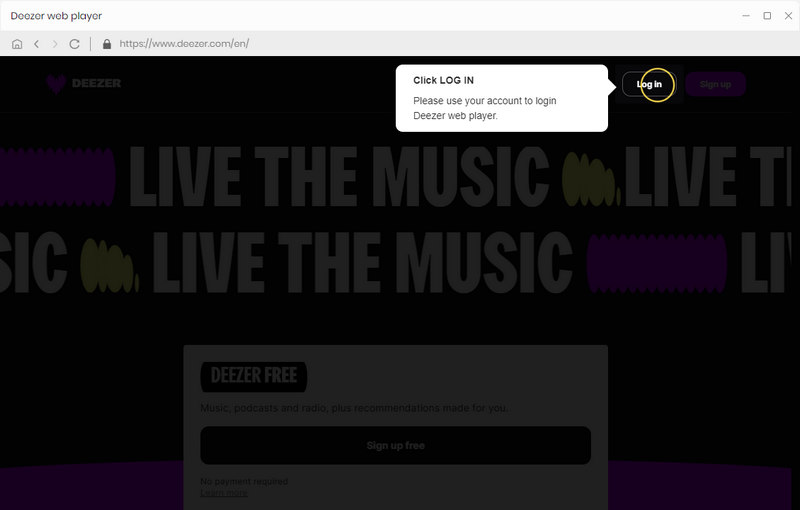 Step 2.Choose Output Parameters
After entering the program, do not hurry to find tracks to download. Click the tab "Settings"

in the lower left corner of the screen. Next, in the interface, set the Output Format you want from options of MP3/AAC/WAV/AIFF/ALAC/FLAC/Auto, choose Bit Rate and Sample Rate, choose an Output Folder, and edit the Output File Name from options of Track Number/Title/Artist/Album/Playlist Index/Year and the Output Organized.
Choose Auto as the output format will download the tracks in the original audio quality. Besides, DeeKeep supports preserving up to 7 ID3 tags and keeping up to HiFi audio quality.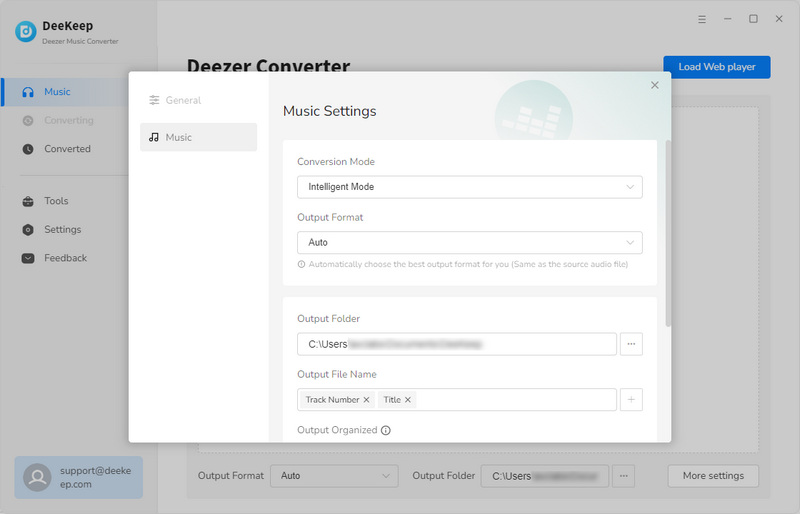 Step 3.Select Your Favorite Deezer Tracks to Download & Convert
In this step, navigate to the Deezer tracks you want to download for Instagram Stories. Click the blue button "Click to add". In the popup window, pick the track and click "Add".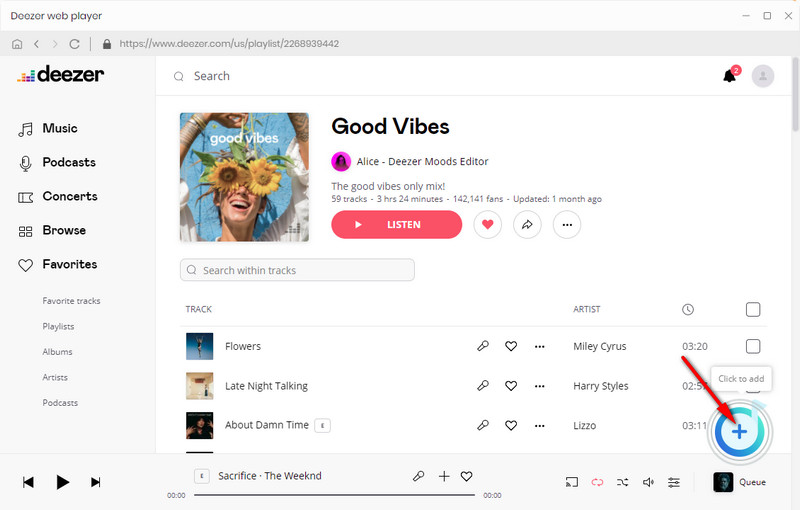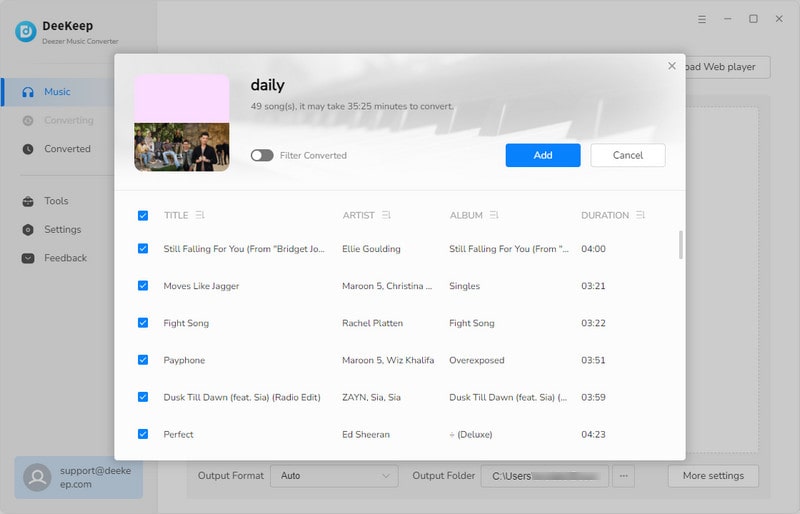 Step 4.Download Your Favorite Deezer Tracks to Download & Convert
If you want to download more tracks in a batch, click "Add More" after the first pick, pick more tracks in another playlist and convert Deezer tracks in a batch by then clicking "Convert". Then wait for the conversion to finish.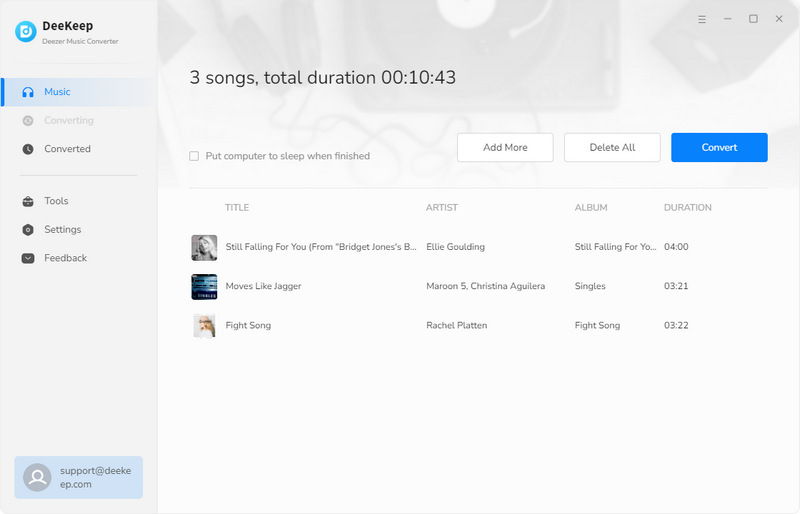 Step 5.Check the Downloaded Deezer Tracks
Once the download and conversion are finished, the chosen output folder will occur. And you can check their properties. Or you can click the "Converted" section to check the music file one by one.
To this step, you own Deezer tracks in a real sense, which means you can play them at any time, and store them on your computer permanently as common files.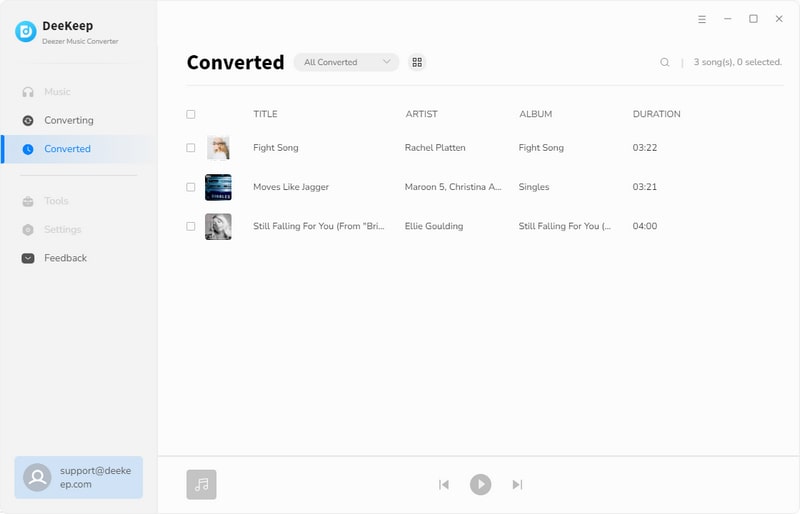 Step 6.Transfer Deezer Music Files to Your Phone
To use the downloaded Deezer music files on your mobile phone, connect your mobile phone to your computer with a data cable, then copy the music files to your phone.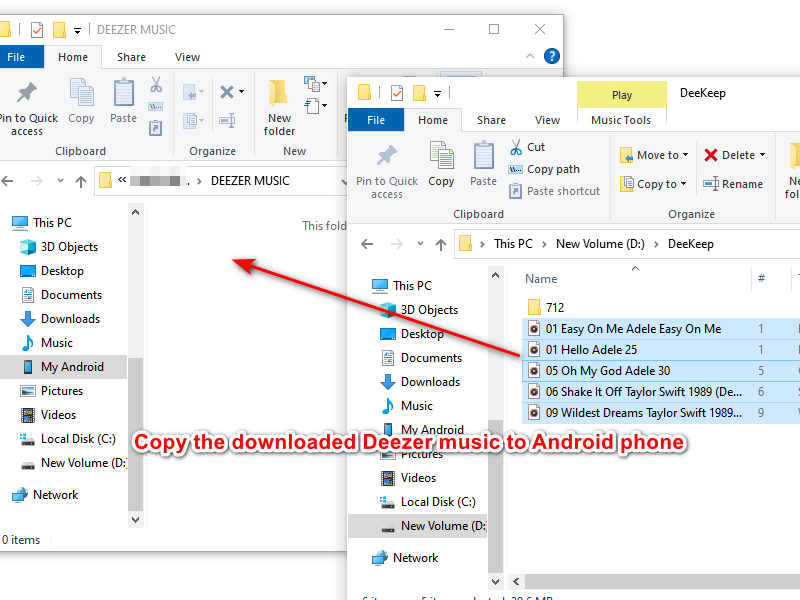 You may need: How to Download Deezer Music to Android phone >>
You may also need: 3 Top Ways to Download Deezer Music/Playlists to iPhone >>
Step 7.Add Deezer Music to Instagram Stories
Install the app Videoshop from the App Store on your mobile phone. Open it. After recording or importing a video, tap Music to open a new page. Then choose My Music to find the downloaded Deezer music file. And confirm to use. Next, you can edit your video with other features and functions. When you finished the editing, hit on Share to share your video to Instagram Stories.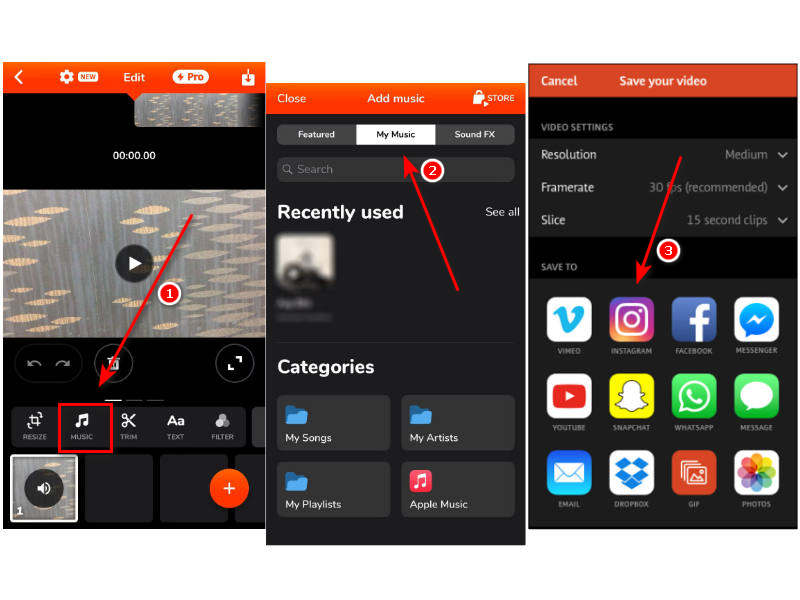 ---
Summary
Having read the three parts of adding Deezer music to Instagram Stories, you must have a clear understanding of them. And you can easily add music to your IG stories by following the methods step by step. But it should be specially mentioned that DeeKeep Deezer Music Converter is a quite professional and powerful tool for downloading and converting Deezer music. Except for helping add music to IG, DeeKeep also plays roles in your other purpose like playing Deezer music on Samsung TV, setting Deezer music as an alarm, etc. So take action right now to unlock more wonderful plays!
---