How to Play Deezer Music on Samsung TV
Deezer in recent years has gradually become one of the music streaming giants in the world, shouldering to Spotify and Apple Music. We can listen to Deezer music on our computers and our mobile phones. But in November 2021, Deezer reached cooperation with Samsung, allowing us to enjoy music with a big screen and high-quality sound equipment.
In this article, we will present two ways of playing Deezer music on Samsung TV. Their focuses are different, the former focuses on simplicity while the latter focuses on permanency. Take a look at the two ways and select the one you need.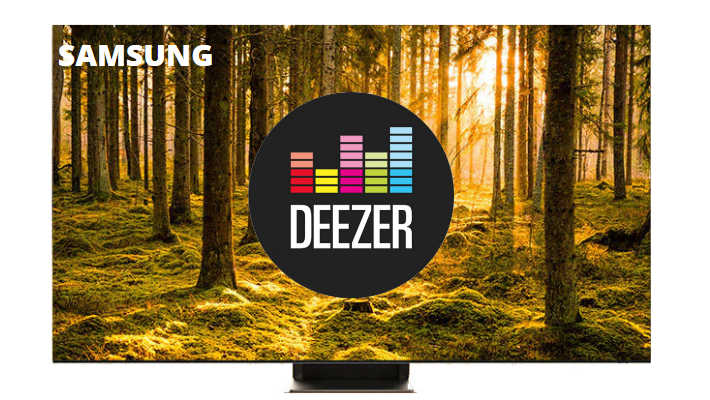 Part 1.

Play Deezer Music on Samsung TV with Deezer App

The Deezer app has not been available on Apple TV yet, but it has been available on Samsung TV since November 2021. So read this part to get the easiest way to play Deezer music on Samsung TV.

Step 1.Open your Samsung TV. Press on the "Home" button on your smart remote and navigate to "Apps".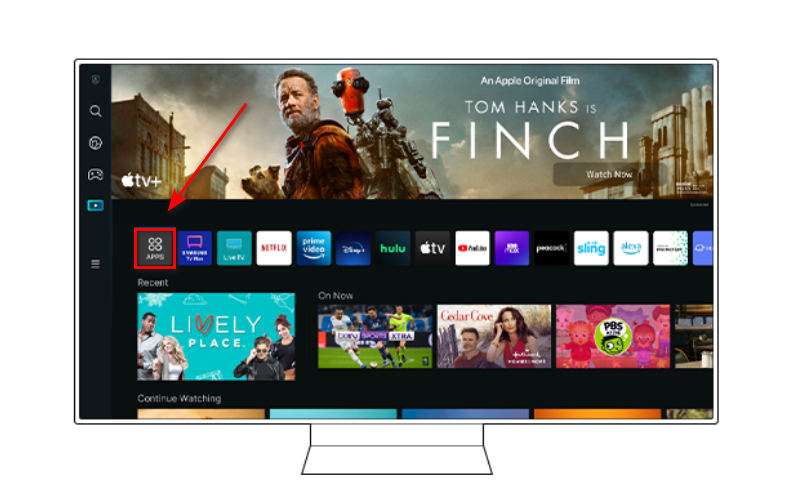 Step 2.On the new page, choose Deezer and press the "Select" button. Then move to the detailed information. Or you can search the Deezer app through the search option.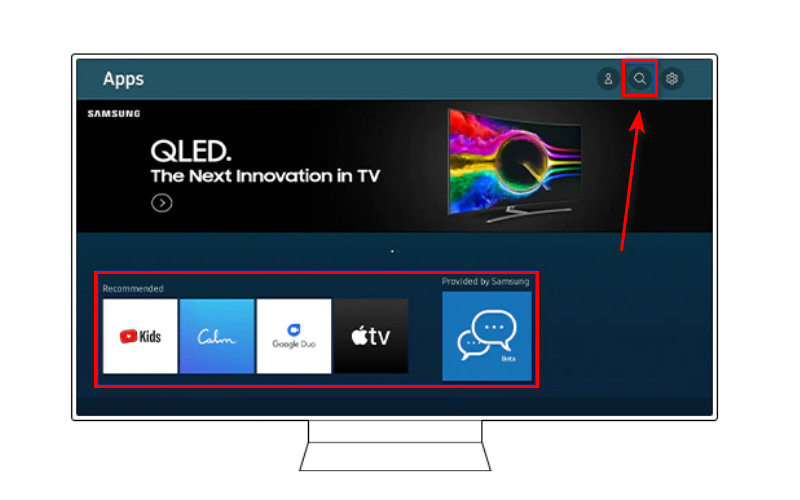 Step 3.On the information page select the "Install" button to start the installation.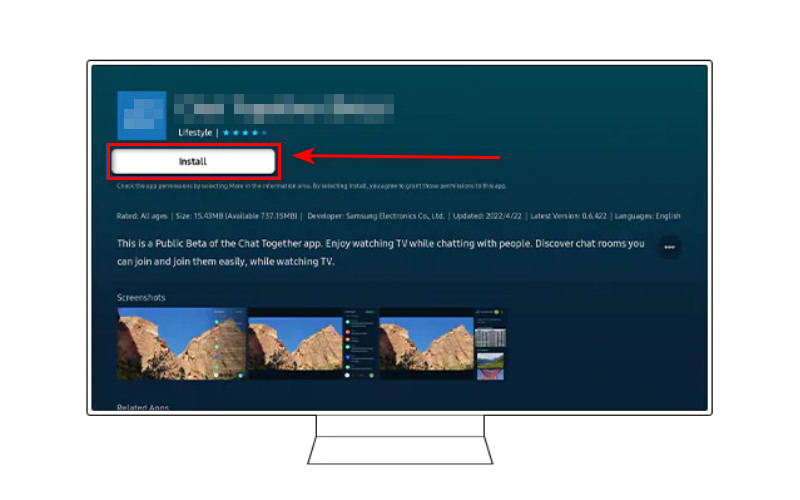 Step 4.There are two options listed as soon as the installation is completed. You can choose "Open" to launch Deezer app at once or choose "Add to home" to add this app to the Home Screen.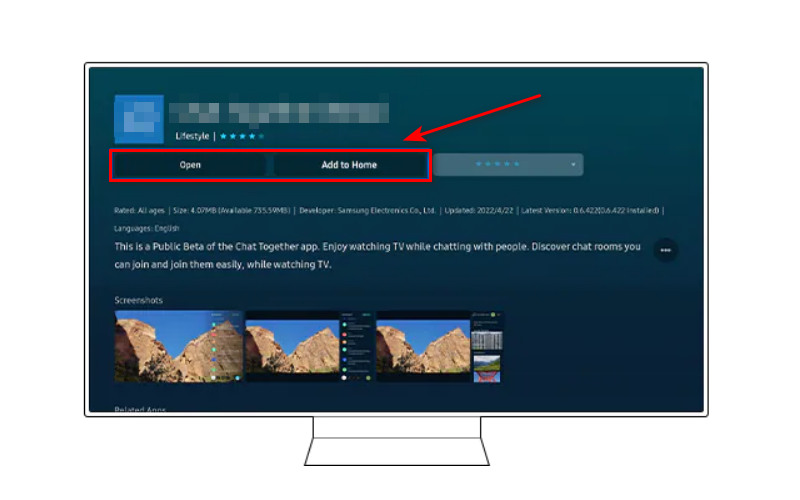 Step 5.Launch the Deezer app and log in with your premium account to enjoy more tracks. Then you can enjoy Deezer music on your Samsung TV freely.
This is the easiest way of playing Deezer music on Samsung TV. However, it has a shortcoming that when your premium account expires, or when you cancel the subscription to Deezer, you will not be able to listen to Deezer music at more, even though you have downloaded them. Because once you cancel the subscription, you are deprived of the right to access the downloaded music. But don't worry, the following part will tell you the other way.
---
Part 2.

Play Deezer Music on Samsung TV via DeeKeep

This way may cost you more mind, but it can solve the problems and troubles existing in the first part.

DeeKeep Deezer Music Converter is said an expert in downloading and converting Deezer music to a computer. It had been praised by many users and software evaluators for its humanized design, convenient operations, and rich features. And it has a stable system, ensuring that it can download and convert all your favorite Deezer tracks successfully.

Step 1.Launch DeeKeep Deezer Music Converter on Your Computer

First, you need to download and install DeeKeep on your computer. Just choose a Win/Mac version and click the button above to download it. Next, launch it and click "Open Deezer Web Player". As DeeKeep works through accessing the official Deezer web player, you don't have to install the Deezer app on your computer. Then log in to Deezer with your account.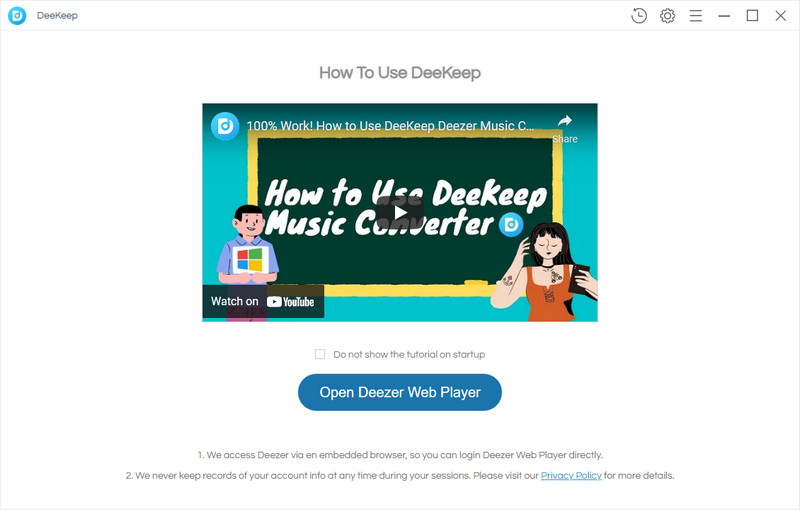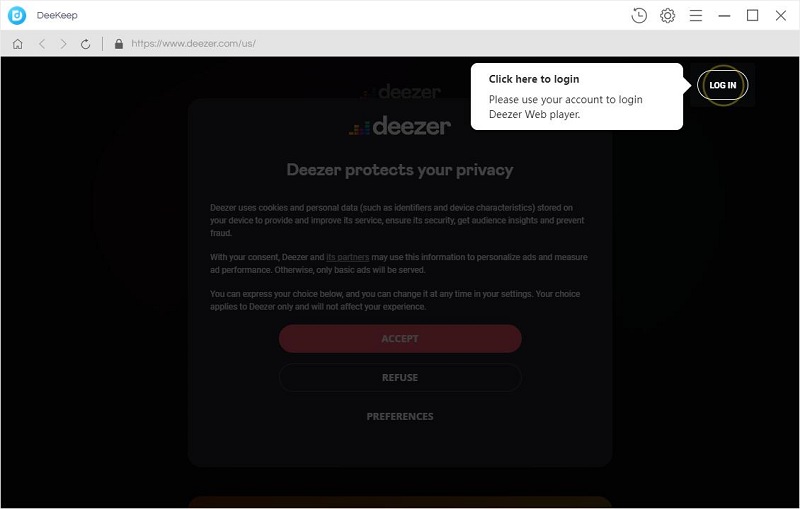 Step 2.Set the Output Parameters on DeeKeep
One of the reasons why DeeKeep is so popular is that it provides a series of settings for its users to adjust manually, giving choice freedom to its users.
On DeeKeep, click the "Settings"

button in the upper right corner.Then on the pop-up window, you can set the Output Formats as MP3/WAV/AAC/AIFF/ALAC/FLAC, Bit Rate, and Sample Rate, designate an Output Folder, edit the Output File Name from a series of options like Track Number, Title, Artist, Album, Playlist Index, Year, and decide how the output files are classified with the feature Output Organized.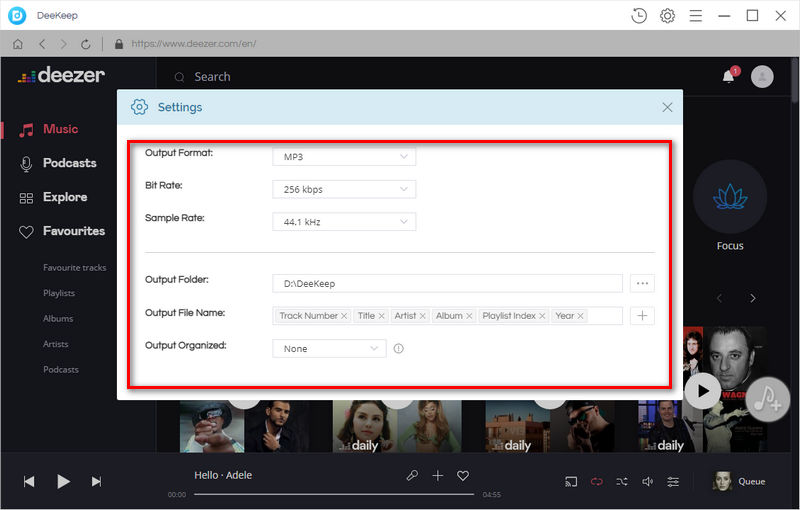 Step 3.Choose Deezer Music to Download & Convert
In this step, open the playlist/album/podcast you want to download, or you can search for a single song. Then you will see the button "Add to list"

gets blue, which means they are available. Click it to open a pop-up window "Select tracks to convert". Tick the tracks and click the button "Convert Now" to start the conversion right away.
If you want to download more tracks, click "Save to list" after ticking and open a new playlist or album, tick them. Then click the "task list"

icon in the upper right corner, and click "Convert" to convert all the selected tracks at once. Next, you just need to wait for the conversion to be completed. But the process won't keep too long, as DeeKeep proceeds at 10X speed.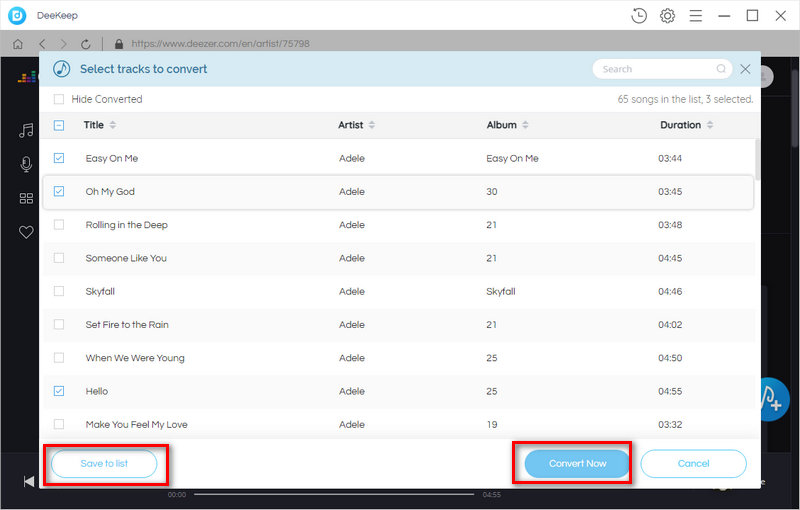 Step 4.Check the Downloads
The output folder opens once the conversion is finished. Here you can see that Deezer music has been downloaded to your local computer folder and converted to the corresponding formats you set. Now you have owned Deezer music in a real sense. You can play them on your computer or transfer them to other portable devices.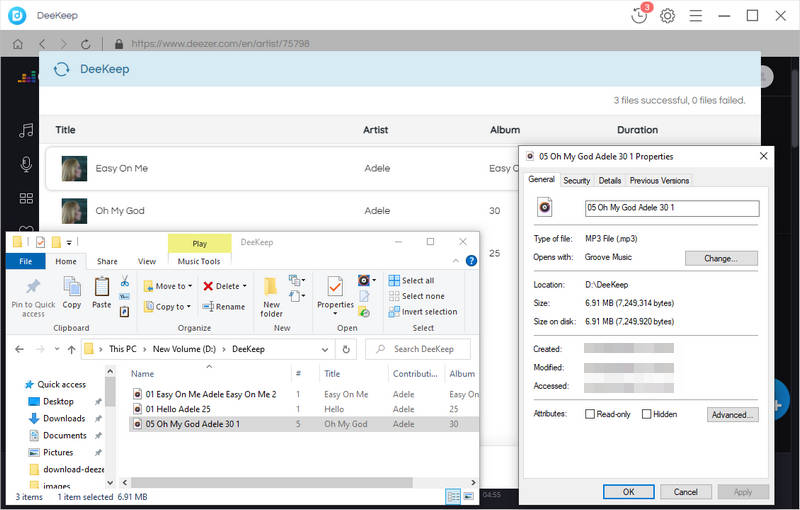 Step 5.Play Deezer Music on Samsung TV
Connect your USB flash drive to your computer, and copy the downloaded music to the drive. Stick it to your Samsung TV. Your TV then will read the data. And you can play them. Or copy the downloaded Deezer music files to your mobile phone. Connect your phone to your TV with Bluetooth, stream Deezer music and they will be displayed on your TV. Finally, you will successfully play Deezer music on your Samsung TV.
---
Summary
Having read the two parts, you must get the ways how to play Deezer music on your Samsung TV. And it is believed that you have got the pros and cons of the two ways. But DeeKeep Deezer Music Converter is undoubtedly professional and powerful in the field of music download. Except for helping play Deezer music on Samsung TV, DeeKeep also helps in importing Deezer music to DJ software, downloading Deezer music to Android Phones, etc. In a word, DeeKeep can solve many troublesome things in your process of enjoying music. So what are you waiting for? Try DeeKeep right away!
---