How to Play Deezer Music on Android TV
TV is a necessity in our homes and lives. Which family does not have a TV? And in the 21st century, TV can do far more than we can think. We used TV to watch teleplay, get news, or shop. But we were arranged. We can only watch what the TV station plays. But things changed a lot. We can do what we want with TV nowadays, such as watching movies and playing our favorite music.
So in this article, we are going to show you how to play Deezer music on Android TV. After reading, you are believed to get how to enjoy millions of tracks on your Android TV, play them at your party and sing songs following lyrics shown on the big screen.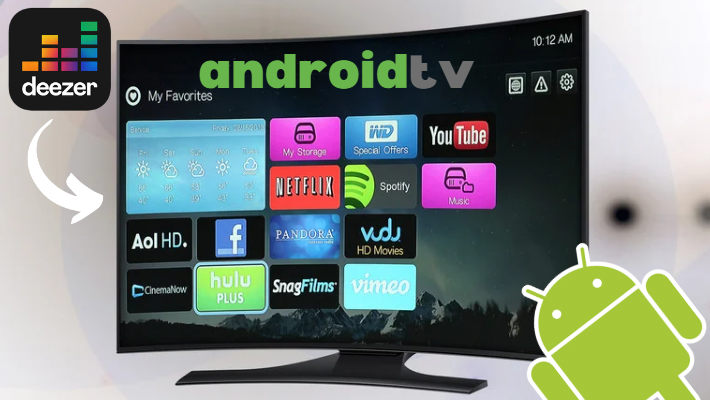 Part 1.

Play Deezer Music on Android TV via Deezer App

Since 2018, Deezer has reached cooperation with Google, you can easily play Deezer music on your Android TV with the Deezer app installed on your devices.
Part 1.1

Install Deezer on Android TV to Play Music

If your TV has enough space, you can install the Deezer app to stream music on your Android TV. But the TV app is only available for paying users.

Step 1.Turn on your Android TV and connect it to WiFi.

Step 2.On the Google Play Store, find or search for Deezer and click on the Install button. When succeed, open it to get a four-digit code.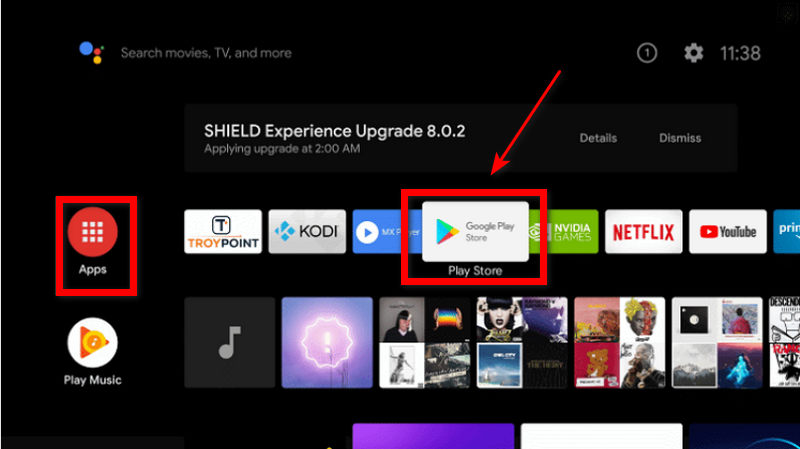 Step 3.Open the Deezer on your smartphone or PC, go to the Deezer activation website, enter the code, and hit on the continue button.
Step 4.Verify your Deezer account and finish the activation. Then you can listen to your favorite Deezer music on your Android TV.
Part 1.2

Install Deezer on Smartphone to Cast Music on Android TV

When you think it is too complicated to install the Deezer app on your TV, you can use the cast feature to play Deezer music on your TV.

Step 1.Download and install the Deezer app on your Android smartphone. And make sure your phone and TV be connected to the same WiFi network.

Step 2.Log in to your Deezer account on your phone. If possible, log in with a paid account.

Step 3.Play your favorite music and on the play page, hit on the Cast icon.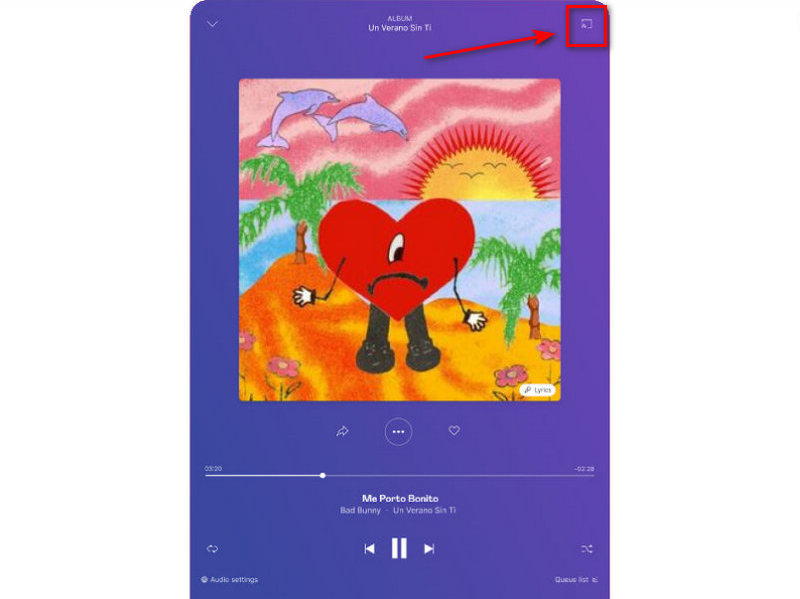 Step 4.On the list of all available casting devices, choose your Android TV. And then you can listen to Deezer music on your Android TV.
There is another way to play Deezer music on your Android TV that is using DeeKeep Deezer Music Converter to download Deezer music to then play on the TV. In this way, your TV doesn't have to connect to a network and you don't have to pay for Deezer streaming service. Read the next part.
---
Part 2.

Download and Play Deezer Music on Android TV via DeeKeep🔥

DeeKeep Deezer Music Converter works by accessing the built-in official Deezer web player, it can download all the Deezer tracks to your local computer. Besides, it allows you to change the output format to MP3, AAC, FLAC, etc. Follow the steps to get it.

Step 1.Start DeeKeep Deezer Music Converter

After downloading the correct version by clicking the button above, install and launch DeeKeep on your computer. You will see a blue button "Open Deezer Web Player" in the middle of the page, click it to enter the software. Enter your Deezer premium credentials by clicking the "LOGIN" button.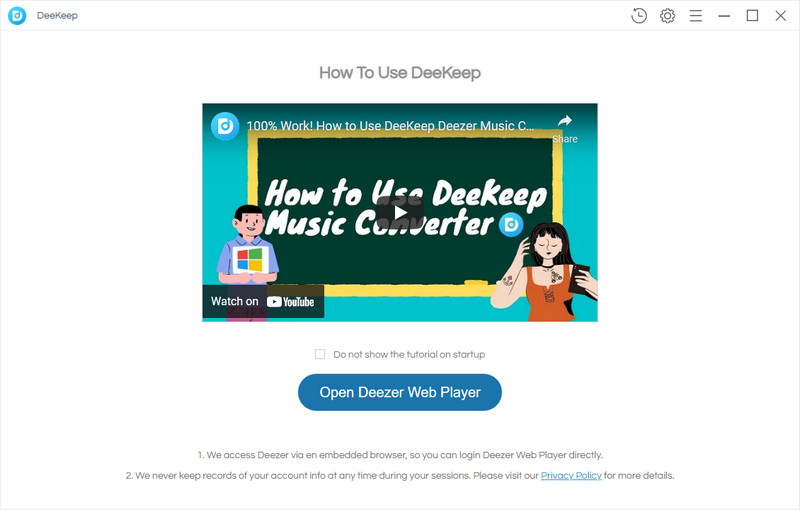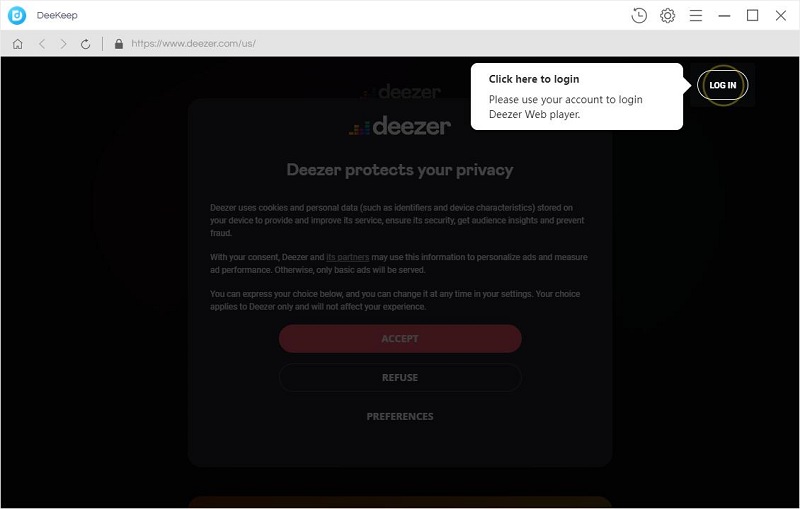 Step 2.Change Output Settings on DeeKeep
Move your sight to the top right corner of the screen to click the "Settings"

button. At once, a window will pop up. Here you can change the Output Format, Bit Rate, and Sample Rate, decide where the output files go by designating an Output Folder, edit the Output File Name and classify the output files by the option Output Organized. Below are the details.
Output Format: MP3, AAC, WAV, AIFF, ALAC, FLAC, AUTO.
Bit Rate: 128 kbps, 192 kbps, 256 kbps, and 320 kbps (depending on the format selected).
Sample Rate: 44.1 kHz, 48 kHz, 96 kHz, 192 kHz (depending on the format selected).
Output File Name: Track Number, Title, Artist, Album, Playlist Index, Year.
Output Organized: Playlist, Artist, Album, Artist/Album, Album/Artist, None.
Choose AUTO as the output format to output the tracks in the original audio quality. If you would like to get HiFi audio quality, choose FLAC. You should not worry about the ID3 tags, DeeKeep can preserve up to seven of them.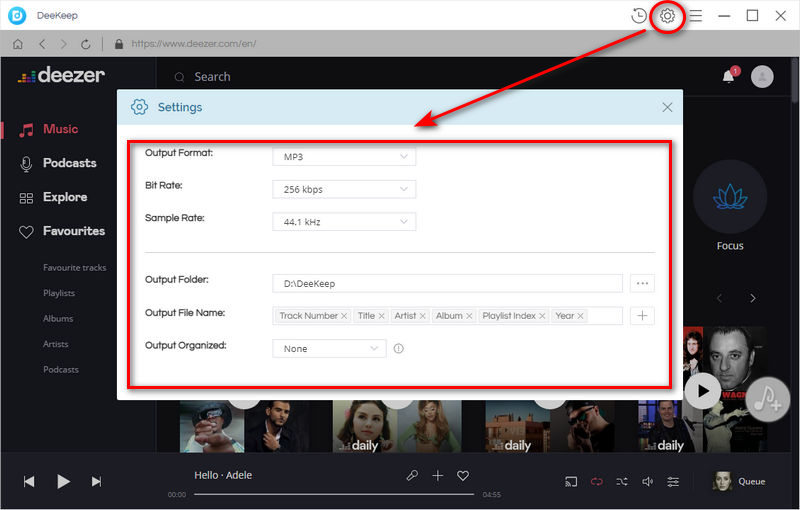 Step 3.Select Deezer Tracks to Download
Find or open the songs, playlists, albums, or even podcasts you are going to download. And you will find that the button "Add to list"

gets blue from gray. Click it. On the popup pick the tracks you want and click "Convert Now" to download them immediately. Or click "Save to list" after pickings. Then choose more tracks on other playlists. Click the "task list"

icon to hit on "Convert" to start the conversion at once.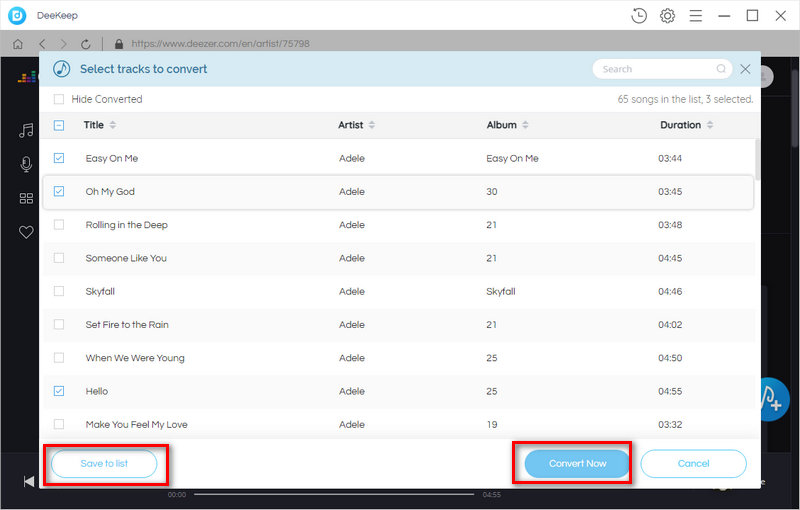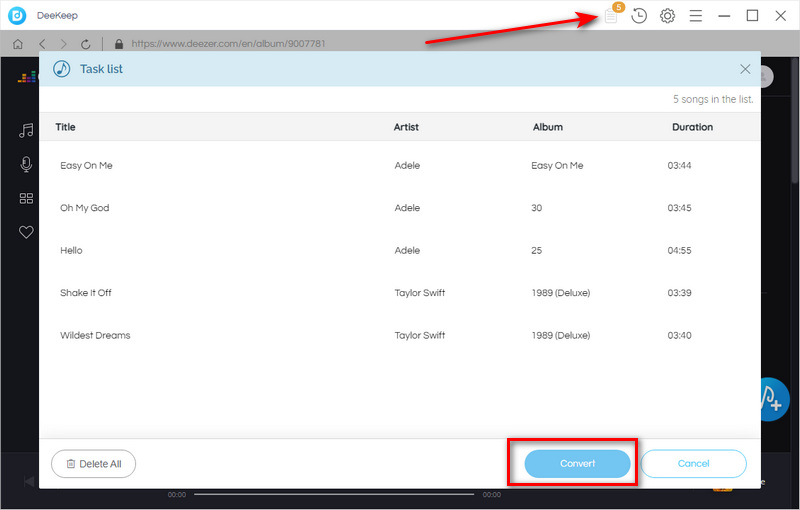 Step 4.Check Music Files on the Local Computer
After the conversion is completed, the output folder will occur by itself. You will find that the music has been downloaded to common music files, which can be stored on your local computer all the time.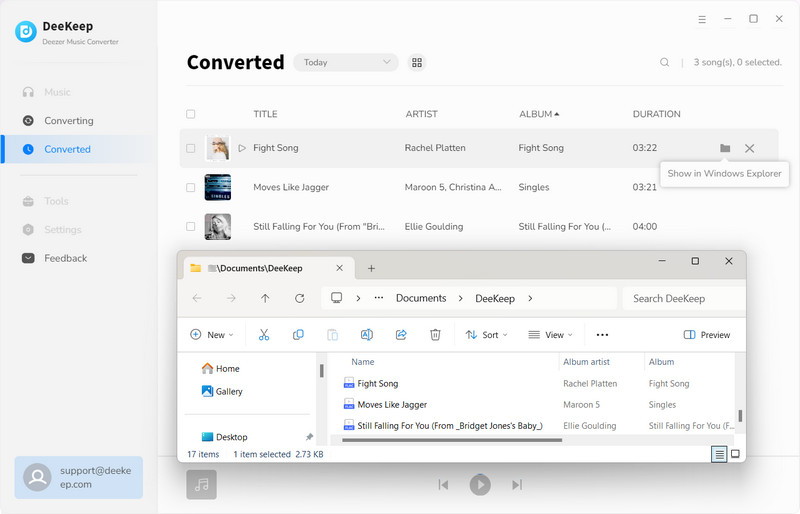 Step 5.Play Deezer Music on Android TV
Plug your USB drive into your computer, and copy and paste the music files to the drive. After the transfer, insert the USB drive into your Android TV USB port. Open the music player on your TV to play Deezer music. As it requires no internet connection, you can still play them offline.
---
Summary
These are the methods and steps for how to play Deezer music on an Android TV. You can install the Deezer app on your TV, or cast music to your TV from your phone or PC, besides, use DeeKeep to download Deezer music to play on your TV. What should be mentioned is that DeeKeep Deezer Music Converter allows you to play music without a network or a Deezer paid account, since you have owned the music files on your devices. So try DeeKeep right away, it will be out of your expectations.
---