How to Play Deezer Music on Apple TV
For most of us, music has become an integral part of our daily life. Whenever we laugh or cry, eat or drink, have a party, or drive on road, we usually listen to music. There are many popular music streaming services in the world. Each of them has its features. And Deezer, as a huge music database with over 90 million licensed tracks, takes up a big part of the music market for its high music quality. It has become a good friend to most of us.
TV is now a household necessity. Apple TV is a good choice for many people and many families. As Apple said, you can turn your living room into a concert hall and a theater with Apple TV. With such powerful functions, it will be more wonderful if combined Deezer. In this article, we will help you find out the solutions to play Deezer playlists, albums, and podcasts on Apple TV. We believe most of you also want to know how to. So what are they? Take a look. And if your friends have the same question, share the article with them.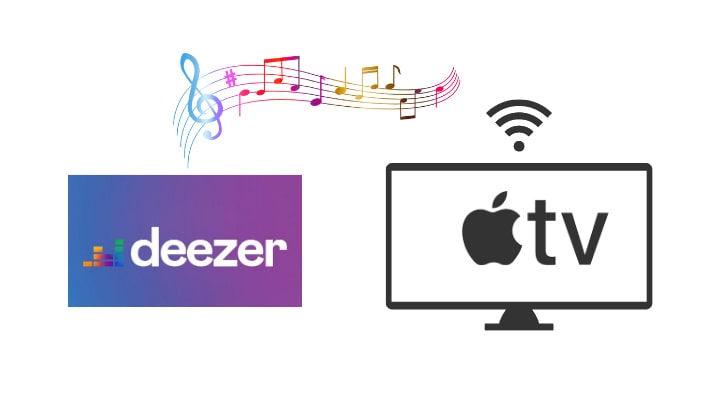 Part 1.

Stream Deezer Music to Apple TV by AirPlay

As the Deezer app isn't available for Apple TV, you have to install Deezer on your iOS devices and stream your music to Apple TV using the AirPlay function. The steps on other iOS devices are the same as those on iPhone, so we will take iPhone as the example.

Step 1.Download and install the latest Deezer from the App Store.

Step 2.Register and log in to Deezer.

Step 3.Make sure your iPhone and Apple TV are connected to the same available Wi-Fi network.

Step 4.Go to the AirPlay option on your iPhone and connect to Apple TV.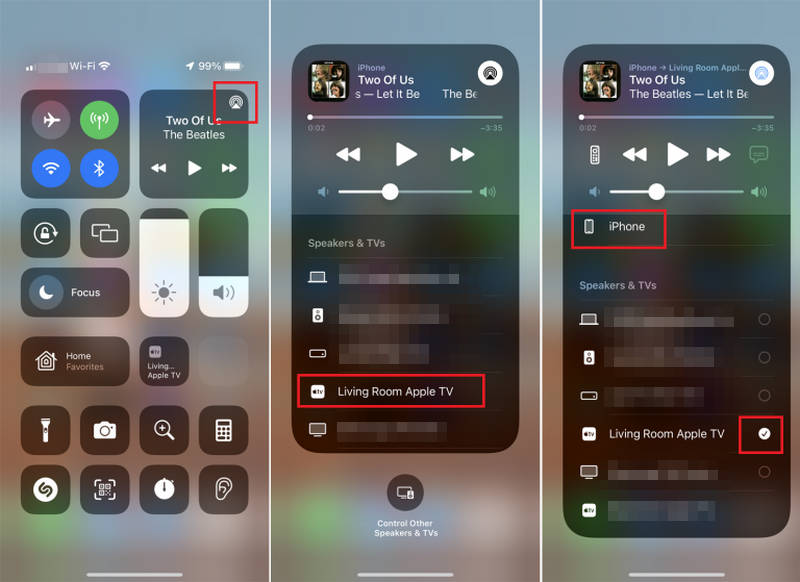 Step 5.Play your favorite Deezer song or playlist on your iPhone and it will be played on your Apple TV.
It should be noticed that the free plan of Deezer only allows users to listen to a small number of songs, and if you want to listen to more songs, you have to subscribe to Deezer. Most of you usually download your favorite songs when you are still a subscriber. However, it is believed that you have found you cannot get access to some downloaded Deezer songs when you unsubscribe.
So here's the question, will you be a subscriber all the time, or are you still a subscriber when you want to play Deezer music on Apple TV? If you want to do so after unsubscribing, then read the following part carefully.
---
Part 2.

Stream Deezer Music to Apple TV with Home Sharing

The previous part has shown you how to stream music to Apple TV with Airplay. In this part, we will present you with the other method to play Deezer music on Apple TV. If you are interested in it, read carefully.
Part 2.1 - Download Deezer Music with DeeKeep
DeeKeep Deezer Music Converter is a tool that allows users to download the songs of Deezer without installing the desktop Deezer app. The songs/playlists/albums/podcasts downloaded through the software can be permanently stored on your devices. In other words, the downloaded songs can still be played even if you are not a Deezer subscriber anymore. With DeeKeep, you can enjoy the following features and functions:
Step 1.Download and Install DeeKeep
If you have never tried DeeKeep before, please download it through the blue button above. Next, launch it and click "Open Deezer Web player". Then log in to Deezer with your premium account.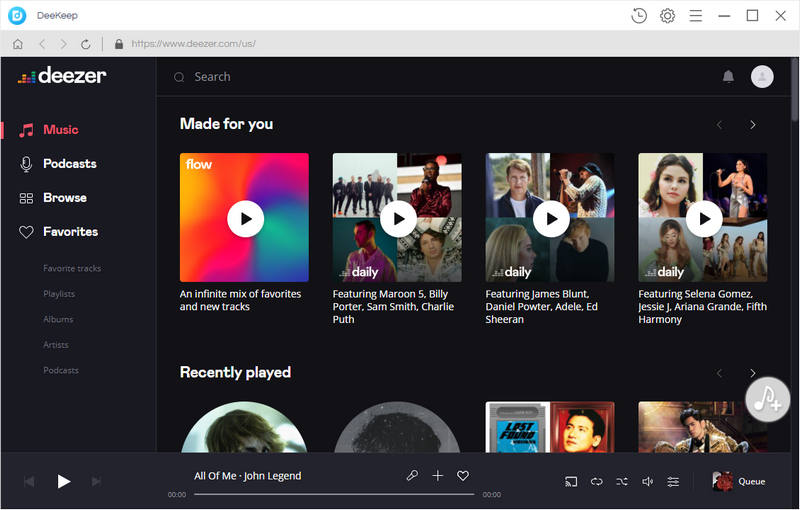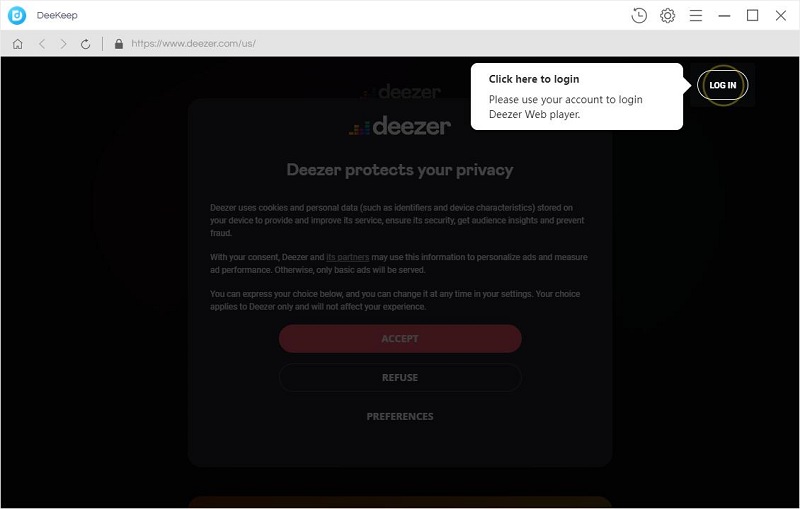 Step 2.Customize Settings in DeeKeep
What DeeKeep attracts users most is that it allows them to make their preference settings. Click the "Settings"

button in the upper right corner. Then a window pops up.
You can choose the output format from MP3, AAC, FLAC, WAV, AIFF, and ALAC, set the output file name from options including track number, title, artist, album, playlist index, and year, and organize output from options including artist, album, artist/album, album/artist and none. It is important to note that you should select the output folder, which decides where the downloaded music files will go to.
Pay attention, as Apple TV only supports AAC, MP3, AIFF, WAV, MP3VBR, and Apple Lossless, you should choose the output formats from AAC, MP3, AIFF, and WAV.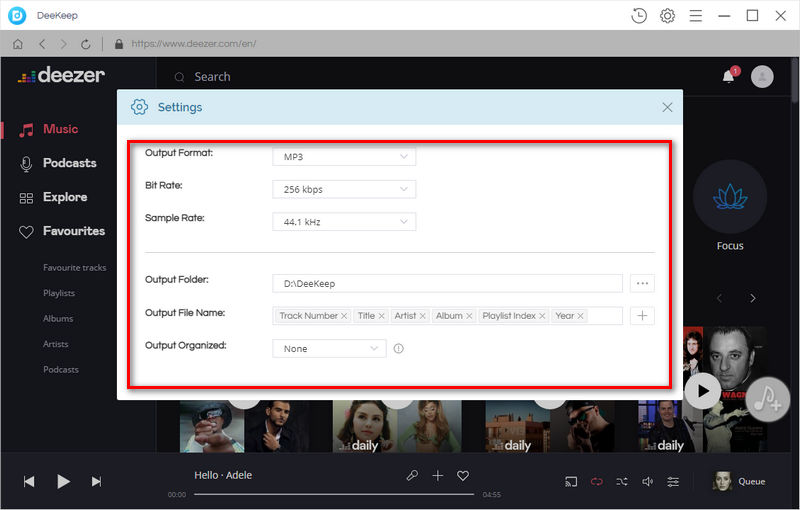 Step 3.Download Deezer Playlists/Albums/Podcasts
After settings are finished, choose the playlist that you want to download, and open it. Next, you will see a button on the right side of the page "Add to list"

becomes blue, which means these tracks are available to download, click it. Then a pop-up window "Select track to convert" appears, choose the tracks that you want.
In this step, you can click the "Save to list" button to add them to the "task list"

, and select songs in other playlists, then click "Convert". Or you can just select songs in one playlist and then click the "Convert now" button to immediately convert the songs of a playlist. It's up to you. Finally, you just need to wait for them to convert. But it won't take too long, as DeeKeep converts at a quite fast speed.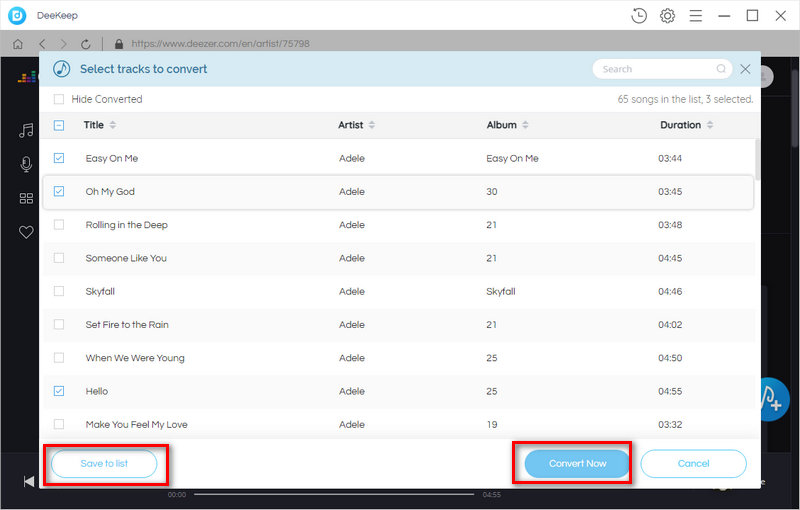 Step 4.Check Deezer Music on your Computer
Once the conversion is completed, the output folder window usually pops up by itself, where you can check the converted songs and check their properties. Up to this step, the downloaded Deezer tracks have become common files and can be permanently stored on your computer. You can listen to them at any time.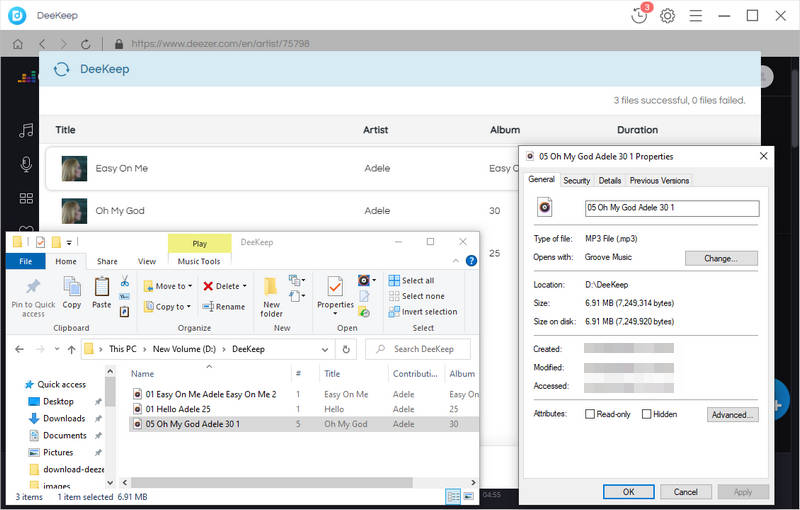 Part 2.2 - Stream Deezer Music to Apple TV
After successfully downloading Deezer music on your PC, it comes to playing them on your Apple TV.
Step 1.Add Deezer music to the iTunes library. Open iTunes on your computer. Then move to the upper left corner. Then click "File" and choose "Add File to Library" or "Add folder to Library". Next, choose the converted music files or folders. And finally, the added music will be listed on your iTunes.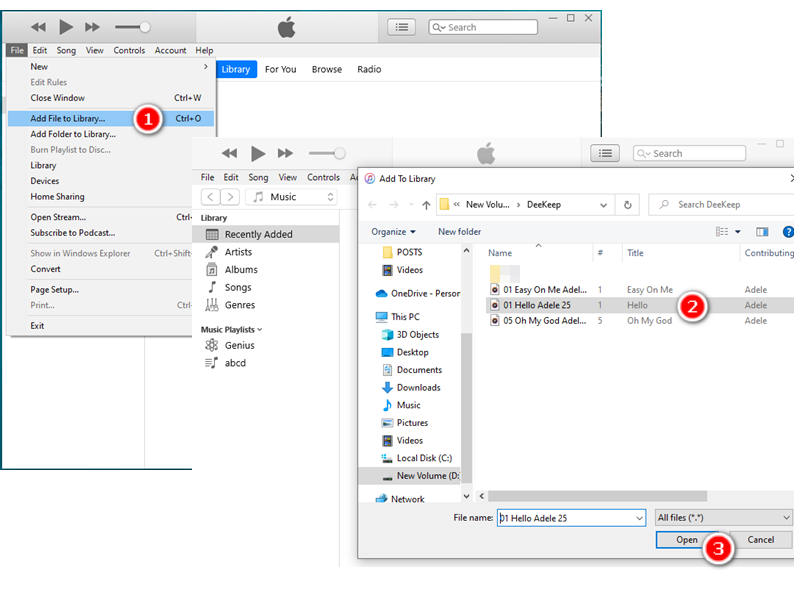 Step 2.Set iTunes. After successfully adding, stay in iTunes. Click "File", choose "Home Sharing" and "Turn On Home Sharing". Then type your Apple ID and password.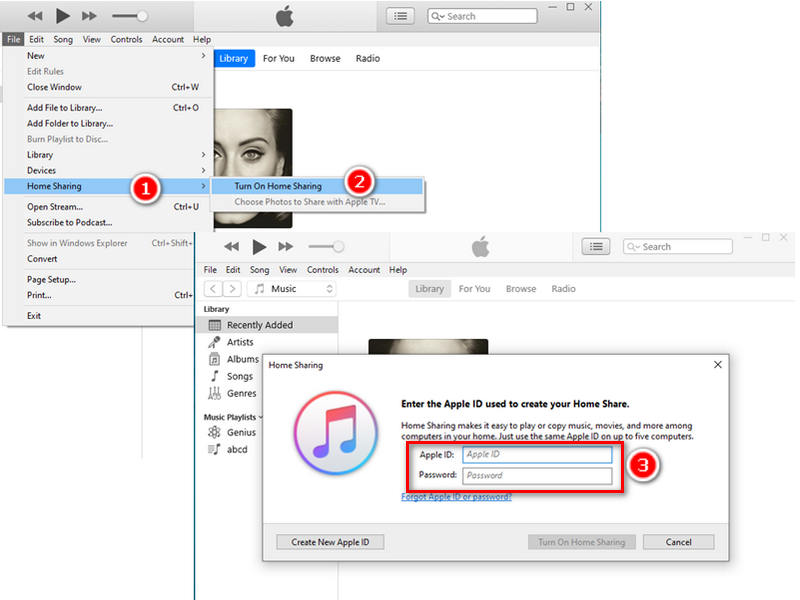 Step 3.Set Apple TV. Open your Apple TV. Go to "Settings", choose "Account" and "Home Sharing". Then enter your Apple ID and password.
Step 4.Play Deezer Music on Apple TV. Choose the computer in the main interface, and select the library which is home to the downloaded Deezer music files. The music files are listed on your Apple TV. Play them.
---
Summary
From the two methods mentioned above, you may have known how to play Deezer music on Apple TV. You can apply the second method to other apple products which have iTunes. It does work, too. It can be concluded that DeeKeep Deezer Music Converter is an excellent tool for downloading and storing music. So, try it now, it will bring you surprises. Enjoy music.
---