Offline Download Hi-Fi Deezer Music on Mac in Batches
Deezer Music offers a huge collection of high-quality music. Especially for French users, this streaming music program is very important. We have introduced a lot of methods to download Deezer Music to Windows PC before. While these methods also work for Mac users, now we want to explain how to download Deezer songs in the appropriate format for Mac users. If you happen to be a Mac user of Deezer Music, this article is for you. You can learn how to download songs, albums, playlists, blogs from Deezer Music to a local folder on Mac. And after that, you can listen to these downloaded songs offline anytime you want, whether or not you renew your Deezer Music subscription. Now let's go through the detailed steps together!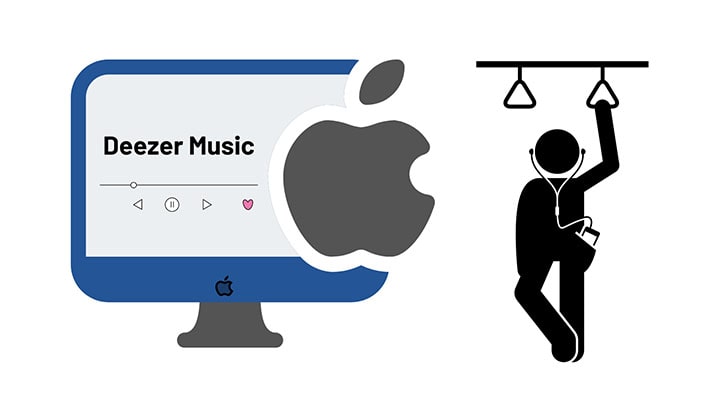 Method 1. Download Deezer Music on Mac Directly
When you are subscribed to Deezer Music, you can easily download songs from Deezer Music for offline listening on Mac. But you can only play these paid songs with the Deezer Music app or Deezer Music web player. If you need to download songs from Deezer Music to Mac locally for real, you can move to the next solution.
Step 1. Open the album or playlist you want to download.
Step 2. Click the "Download" button to download all the tracks in the playlist or album.
Note: You are not supported to download single tracks with Deezer. When you are intending to download any single track, you should add it to a playlist or heart it first. Then follow the steps above to download these songs. Check the next solution you will find a better way to accomplish your purpose.
---
Method 2. Batch Download Deezer Music Tracks to Local Files on Mac
With a Deezer Music premium subscription, you can only download encrypted audio files. However, with a professional DeeKeep Deezer Music Converter, you can download Deezer music to a plain format and keep music forever. Take a look at the main features of this Deezer Music Converter, then go straight to the detailed guide on how to download Deezer Music tracks to local files on Mac
Step 1. Start DeeKeep Deezer Music Converter on Mac
Download this handy DeeKeep Deezer Music Converter Mac version. Then launch this program on Mac. Navigate to the "Open Deezer Web Player" tab in the middle of the main interface, click on it. Then you will enter the built-in Deezer Music Web Player. Log in to Deezer Music and go to the next step.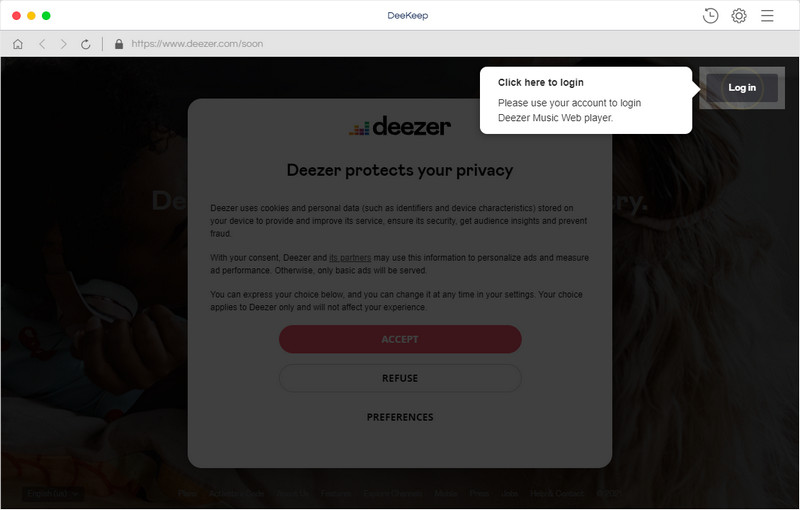 Step 2. Adjust the Output Parameters
In the upper right, you will find a small "setting button"

. Tap this button, then the setting window pops up. Select the preferred parameters, such as output format, bit rate, sample rate, output folder, output file name, output organized manner, etc. When you need to download all songs to one output folder, just go to the "Output organized" setting, and select the option "None".
Tips: Since the AIFF audio format is compatible with players on Mac, the AIFF output format is an optimized option for Mac users. And MP3 is also a preferred option since this format is generally compatible with most media players. Once you change all settings according to your need, just close the window to apply the adjustment.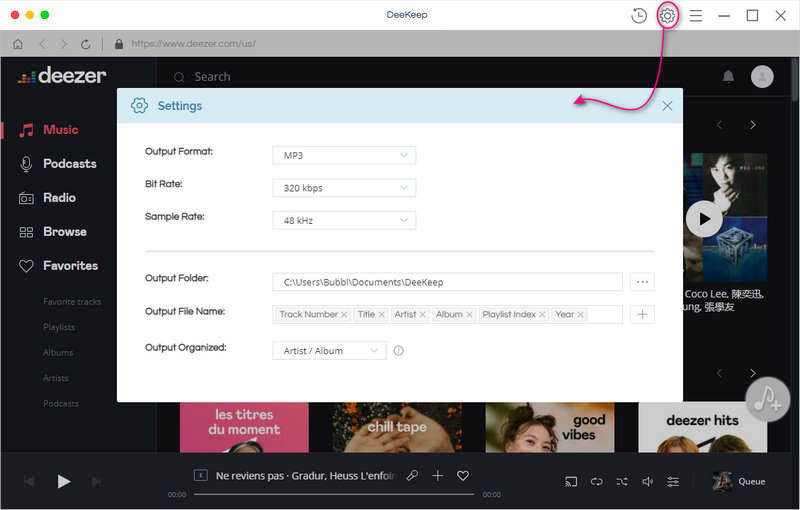 Step 3. Start Downloading Deezer Music to Mac
When you open a preferred music album or playlist, you will find an "Add to list"

button. Tap on this button to load all songs from the album or playlist. Tick off the checkboxes of the desired songs, then click on the "Convert Now" button to perform a conversion right now.
When you need to download multiple playlists at one time, click the "Save to list" button. Then the songs of this opened playlist will be collected to a "task list". Later, you just follow the same steps to add songs from other playlists. When it's done, go to the top right of DeeKeep, click the "task list" button. Under this column, you can download all added songs at once.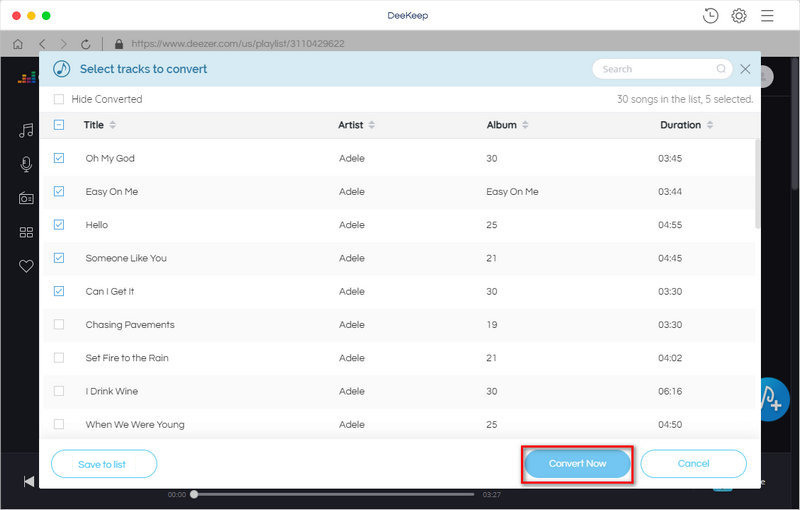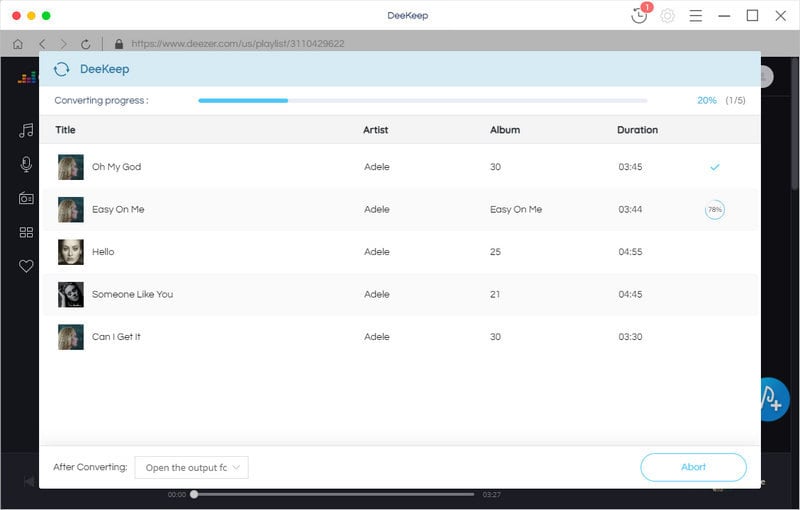 Step 4. Permanent Playback of Deezer Music on Mac
If you have completed the above steps, you can clearly see that the Deezer songs you need have been saved to a local folder on your Mac. These Deezer Music tracks can be put to good use for personal use. Let's put on the headphones and enjoy the free Deezer Music playback together.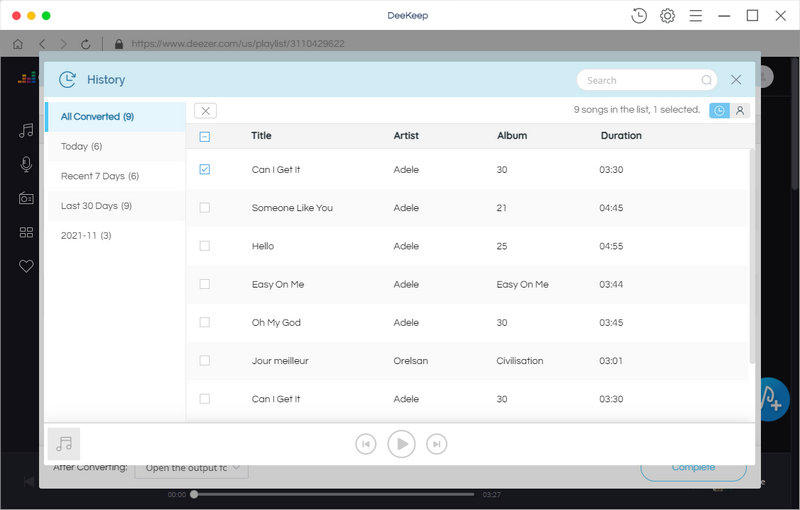 ---
Summary
Maybe you are doubting the power of the DeeKeep Deezer Music Converter, but we have helped a great number of Deezer Music users download songs to Mac and enjoy Deezer Music playback anytime. As long as you download and try the software once, all your doubts will disappear. Let's start a free trial of this powerful DeeKeep Deezer Music Converter!
---