How to Turn Deezer Music into Ringtone?
People now only have to use the default ringtones supplied by the manufacturer instead of the tunes from music streaming services like Deezer. If you would like to use your Deezer Music downloads as your ringtones on your iPhone or Android, you will find it no option to deliver Deezer Music to your ringtone directory. All Deezer downloads are only playable within the Deezer app on your phone.
Let's figure it out. Deezer Music uses encrypted MP3 file extension as its streaming format. When you download songs from the Deezer app on your phone, they are stored as cache files so that you can stream them without burning your data. However, the Deezer cache is unaware that you can't apply the Deezer Music downloads as ringtone on your mobile phone. Specifically, the downloaded Deezer songs or playlists, some might be greyed out and not available on the Deezer app or even completely disappeared when you upgrade the version. So to sum up, music loss and limited usefulness are the potential threats when you go with the download mode on the mobile Deezer app. But never give up easily. To no longer be stuck with the dilemma, here we will show you how to turn Deezer Music customizable as ringtone to personalize your iPhone and Android smartphone.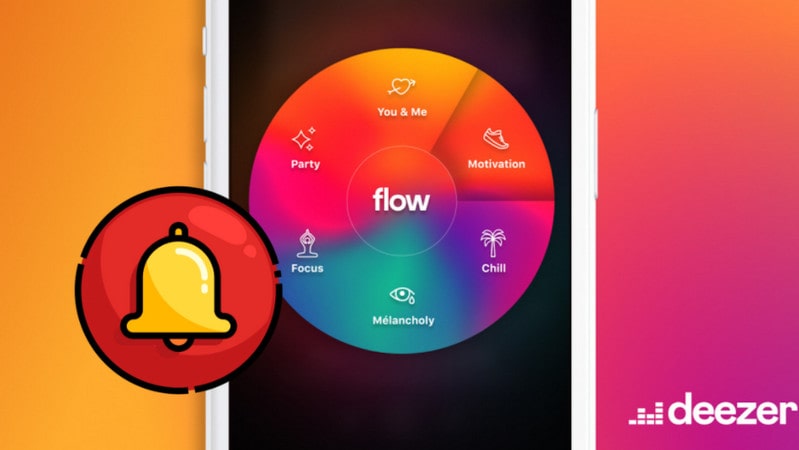 On the contrary, real audio files are possibly useable for ringtones on your phone. So the way to bring Deezer Music back to ringtone purpose is to download Deezer Music as physical audio files and locally stored onto your mobile phone. DeeKeep Deezer Music Converter is such a helper to export and download Deezer Music to plain audio files, in the format of MP3, AAC, ALAC, FLAC, WAV and AIFF. DeeKeep will download Deezer Music to your computer and it is possible for you to transfer the music to different devices and set Deezer Music as ringtone as expected.
In order to let you know how DeeKeep Deezer Music works, let's look at an example as below.
---
Part 1. Download Deezer Music to Offline Use
Step 1.Download and install the right version of DeeKeep Deezer Music Converter onto your computer. And launch the program, the Deezer web player will start automatically. You will then be supposed to log in to your Deezer Music account to visit the music library on the Deezer platform.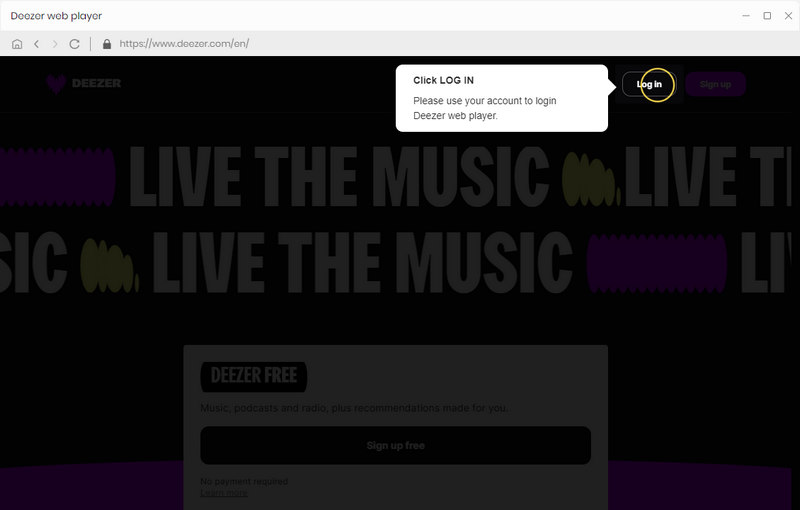 Step 2. Go to the DeeKeep's main interface, you should go to the Settings section in the lower left corner where you can decide the Deezer Music output format. Also, you can reset the parameters to get used to your likes.
Output Format: Auto, MP3, AAC, FLAC, WAV, AIFF, ALAC
Bit Rate: 128kbps, 192kbps, 256kbps, 320bps(for MP3, AAC formats)
Sample Rate: 44.1kHz, 48kHz, 96kHz, 192 kHz(for FLAC, WAV, AIFF, ALAC formats)
Output Folder: Can be modified
Output File Name: Track Number/Title/Artist/Album/Playlist Index/Year
Output Organized: None, Playlist, Artist, Album, Artist/Album, Album/Artist, Playlist/Artist, Playlist/Album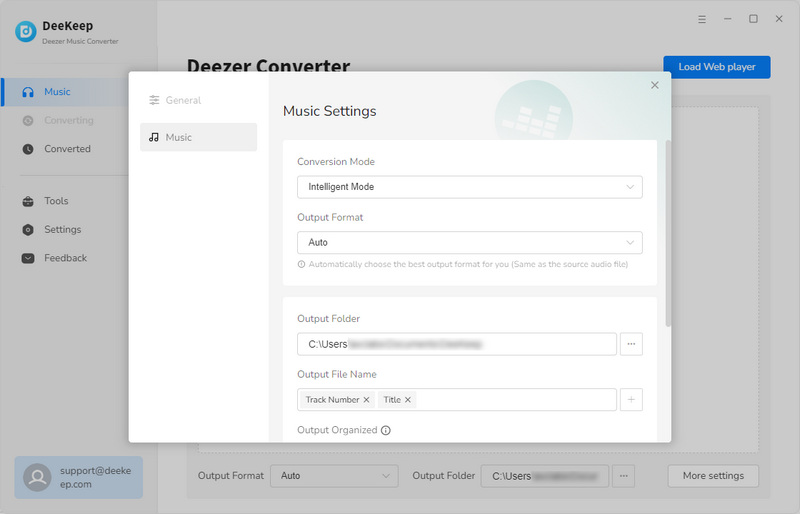 Step 3. Next, you can select any playlist from the Deezer Music library to convert. Open the songs under a specific playlist and tap the "Click to add" button in the lower right corner when DeeKeep will put the songs into a selectable status on a pop-up window. You then just select the songs you need and click "Add".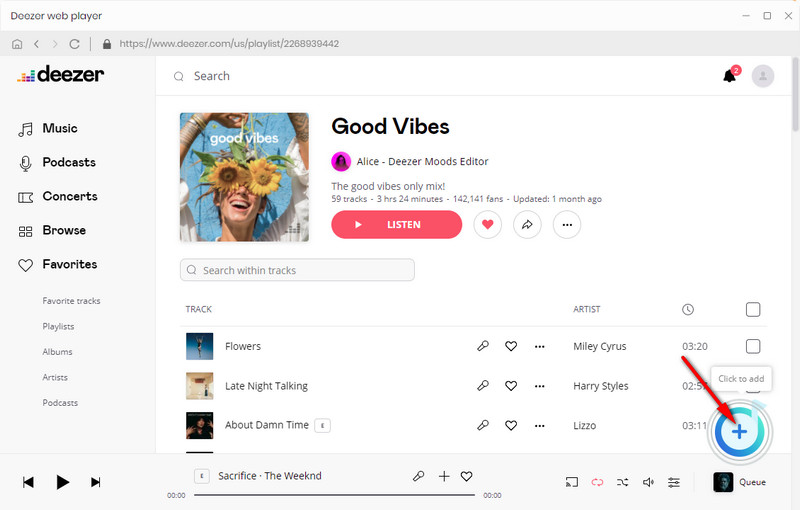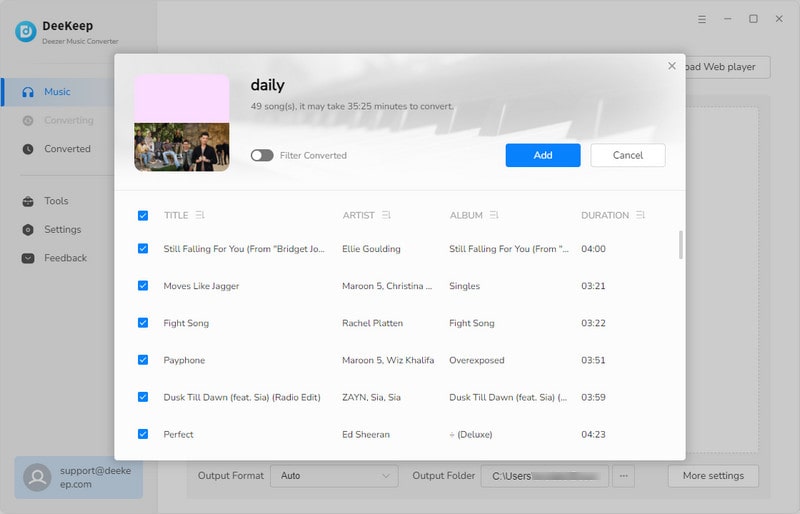 Step 4. After the selection, directly click the "Convert" button to proceed.
Note: To convert songs from different playlists at one go, press the Add More button in the convert page. The selected songs will be momentarily saved to the list. And turn back to the music library to continue the music adding and selection. Eventually, click the "Convert" button to carry out the command for conversion.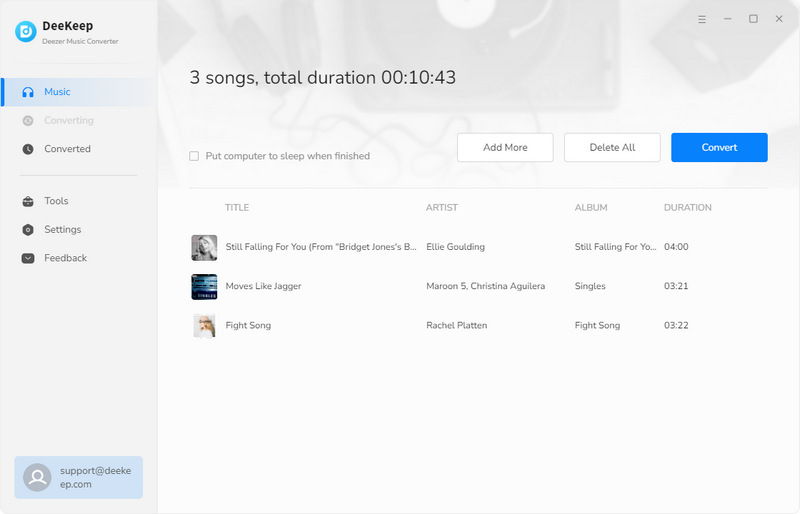 Step 5.The rest is to wait for the Deezer Music conversion to complete itself. And you can easily find out the downloaded Deezer files in the output folder. Or go to the "Converted" tab to view all the downloaded songs.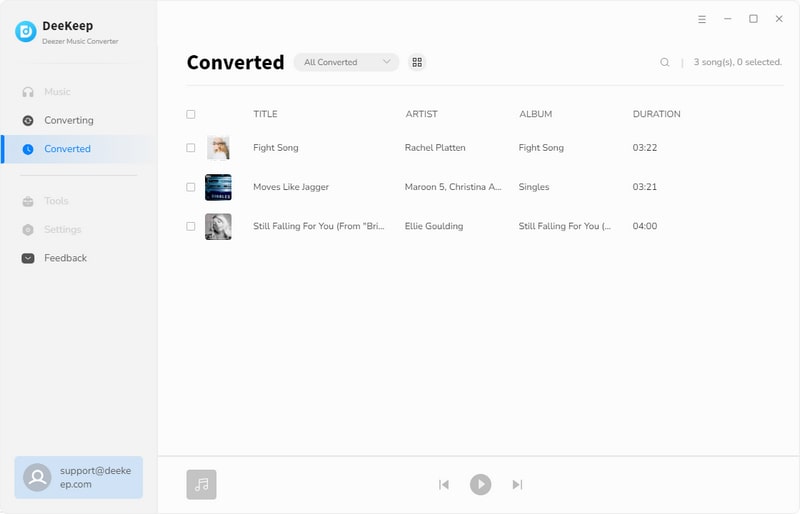 Note: The free trial version of DeeKeep enables you to convert the first one minute of each song. You can unlock the time limitation by purchasing the full version.
---
Part 2. Add Downloaded Deezer Music to Mobile Phone
Continually, you need to transfer the downloaded Deezer Music to your mobile phone. Syncios Mobile Manager is recommended to sync media files on your computer to your mobile phone, both Android and iOS phone are supported.
Step 1.Simply connect your iPhone, iPad or Android phone to your computer, then launch Syncios Mobile Manager.
Step 2.Choose the 'Music' option on the top menu.
Step 3.Click on the 'Add' > 'Add Folder' button to guide to the local folder on the computer.
Step 4.Choose the folder that saved the converted Deezer Music in Part 1.
Step 5.Click on 'Open' after the selection, and the Deezer Music will be synced to your connected mobile phone accordingly.
---
Part 3. Set up Deezer Music As Ringtone on Mobile Phone
As long as Deezer Music is synced from the computer to your mobile phone, all the songs are now locally stored and useable for ringtone making on your phone.
Set Deezer Music as Ringtone on Android
Step 1.Open the Settings app on your Android device, then tap 'Sounds and vibration'.
Step 2.Tap on 'Ringtone', a list of possible ringtones on your device will be displayed on-screen.
Step 3.To use your own music file, tap the '+' icon.
Step 4. Select your synced Deezer Music file and then tap 'Done'. Your new ringtone will be saved as soon as you exit the Settings app.
Set Deezer Music as Ringtone on iPhone
Step 1.Go to 'Settings' - 'Sounds & Haptics'.
Step 2.Under the Sounds and Vibration Patterns section, tap on the type of alert for which you want to set a custom ringtone.
Step 3.A list is displayed with all the available ringtones to choose from. At the top of the list, you should see the songs that you synced from PC via Syncios Mobile Manager. Tap to select the songs you like as the default.
---
Final Words
Above is the entire process of turning Deezer Music into plain audio files and using Deezer Music as ringtones on Android and iPhone. It might seem like a daunting task at first, but once you master these 3 parts, it can be easy to apply Deezer Music as a ringtone. Significantly, DeeKeep Deezer Music Converter allows you to download every Deezer song to different audio formats, thus being widely compatible with your computer, iPhone, Android, USB, CD, portable player and gain forever playability on these devices. DeeKeep is now offering a free trial to all Deezer users, give you a shot and customize your unique ringtone!