How to Transfer Deezer Playlists to Spotify
If you pay attention to music-related information, it is not difficult to find that by the end of 2016, in the United States, the world's largest music market, music streaming has surpassed physical records and paid downloads. The global music industry has entered the era of streaming. If you are a music lover, you must be very familiar with these hot music streaming platforms such as Spotify, Deezer, Amazon Music, Apple Music, YouTube Music, etc.
When it comes to Spotify and Deezer, we have to mention that these two platforms have a lot in common. Deezer has a bright user interface with lots of colors, while Spotify is dark-themed. But similarly, they are all very easy to navigate. Both of them allow you to upload your own files for local media playback, or download songs for offline listening. According to the latest data, Deezer has slightly more music libraries than Spotify, with over 90 million tracks. The good news for users who cares about price is that both of these services provide a free tier. Deezer Free's audio quality tops out at 128kbps in MP3, and Spotify Free's audio quality can reach up to 160kbps.
Then we will enter the topic of today's tutorial. Whether you prefer Deezer or Spotify, if you want to switch from Deezer to Spotify or just want to transfer Deezer playlists to Spotify and listen on different platforms at the same time, we have compiled the best and also easiest way.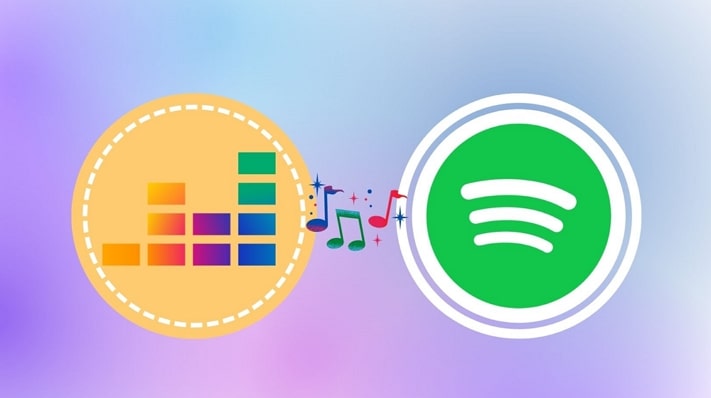 Part 1. Transfer Deezer Playlists to Spotify with Online Tools
1: Soundiiz
Soundiiz is a playlist converter and manager used by many people, which can help you manage songs on different platforms more clearly. It can transfer playlists, albums, artists, or tracks between 47 available music streaming services. Of course, importing your favorite tracks, albums, and playlists between Spotify and Deezer is also supported. If you are interested in this method, read on to find out how it works.
Step 1 Head to Soundiiz and sign in with Google, Facebook, Twitter, or other accounts.
Step 2 In your Library, select the Playlists category and choose Deezer to connect from your left-hand panel.
Step 3 Then select the Deezer playlists that you wish to transfer to Spotify. Click on the Convert button.
Step 4 Select Spotify and the process will begin.
2: Mooval
Mooval is also a popular way to stream playlists online, transferring your online music collection from one streaming service to another. It supports the transfer of playlists, tracks, and more between these music streaming services, like Spotify, Deezer, and Napster. If you want to make use of this online tool to transfer Deezer playlists to Spotify, let's take a look at the specific steps.
Step 1 Visit the Mooval official website.
Step 2 Select the export service as Deezer and the destination as Spotify. Following this, click on the Connect option.
Step 3 Then you'll be guided to the Deezer and Spotify websites. Grant the login permission for Mooval and then you are allowed to visit your Spotify and Deezer music library.
Step 4 Later, Mooval will automatically start analyzing the playlists that can be used on one platform but are not available on another. The only thing you should do is to click Move to start transferring playlists from Deezer to Spotify.
3. TuneMyMusic
Likewise, TuneMyMusic is also an online playlist converter, you can transfer your music library from any music service platform to any other platform you want. The more common ones are Spotify, Apple Music, YouTube, Amazon Music, Pandora, and so on. This is a simple and easy way to do it. All you need to do is link your Spotify and Deezer accounts to TuneMyMusic and transfer your playlists. For a full tutorial, follow the steps below.
Step 1 Open the website of TuneMyMusic and tap on the Let's Start button in the middle of the page.
Step 2 Choose the Deezer icon and set it as the source music platform.
Step 3 Then you will be indicated to log in with your Deezer account. Now you should select what you want to migrate from Deezer.
Step 4 Copy and paste the URL of the Spotify playlist you want and click the Load Playlist option. This playlist will be displayed on the list.
Step 5 After that, click the Select Destination to select the Spotify icon from the list of the available platforms and then sign in with your Spotify.
Part 2. Download and Move Deezer Playlists to Spotify
According to the data, as of July last year, Deezer is available in 188 countries. However, compared to Spotify's 406 million active users, it has a much smaller user base with only 16 million active users. As for sound quality, Spotify Premium makes use of the Ogg Vorbis format, while Deezer Premium streams in MP3 format. And the former is slightly better than the latter. But if you are subscribing to Deezer HiFi, you will find it can provide a more polished and pristine sound that makes users satisfied. In this way, if you wish to transfer Deezer playlists into Spotify with HiFi quality kept, the better choice is to download and then move the local files into Spotify.
What you need to know is that even if you are still in the validity period of your Deezer subscription, downloading Deezer songs locally and ensuring that they can be played normally are not easy tasks. You first need to find a way to convert these specially processed audio files into normal files. Here we recommend you use a simple but efficient Deezer converter. DeeKeep Deezer Music Converter is a program specially designed for Deezer Music users by our technical team. This converter offers more possibilities for Deezer users. It can easily break the rules of music streaming services.
Whether you want to transfer your Deezer playlists to an SD card , burn them to CD, or download the songs and move them to Spotify for playback, you can use this converter. You can use it to convert Deezer songs to different formats including MP3, AAC, FLAC, WAV, AIFF, and ALAC. In addition, DeeKeep can complete the conversion task at the fastest speed and keep the ID3 tags you need, so that you can manage your local music folder more conveniently.
Step 1 Sign in to Your Deezer Account
Download and install DeeKeep onto your computer. On the main page, you can see the blue Open Deezer Music Web Player button. Click on it to visit DeeKeep's built-in Deezer web player. Then please click on the LOG IN button and fill the blanks with your account information.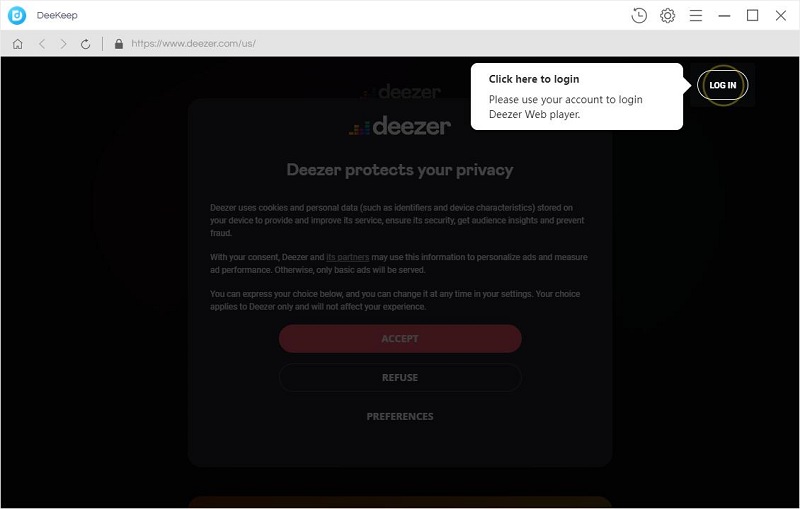 Step 2Finish the Output Settings
After that, tap on the Settings option from the top right toolbar. You can select the output format, bit rate, sample rate, output folder, output file name, and more parameters according to your actual needs. Please note that Spotify can support importing local files in several formats like MP3, AAC, or ALAC format. When ready, simply close the window and the settings will be saved, and you don't need to reset it again until the next time you want.
It's recommended to choose the Auto mode in the Output Format column if you would like to keep original (HiFi) sound quality and process with a faster conversion speed.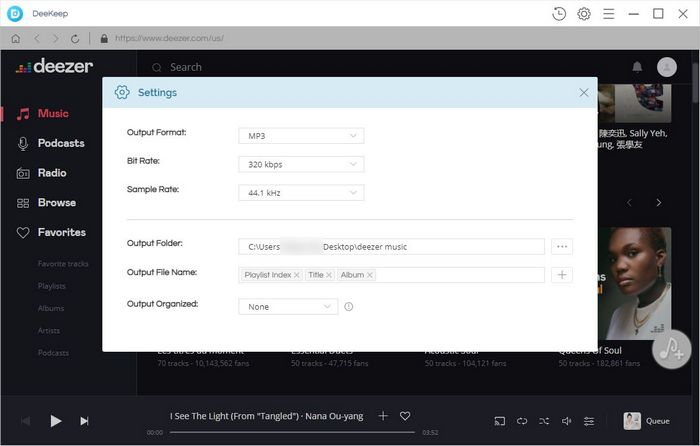 Step 3 Add Deezer Playlists to DeeKeep
Now open the song, playlist, album, or artist that you want to transfer from Deezer to Spotify. Click on the cover to navigate to the next page, and then tap on Add to list button to load the songs. In the Start to convert window, you can tick off the audio files one by one. To start converting, click Convert Now.
DeeKeep enables batch conversion. To convert songs from different albums, artists, or playlists at one go, you can click on the Save to list option on the last step. Then the songs will be temporarily saved into the task list. When adding all you want into the list, select the task list icon and choose the Convert button there.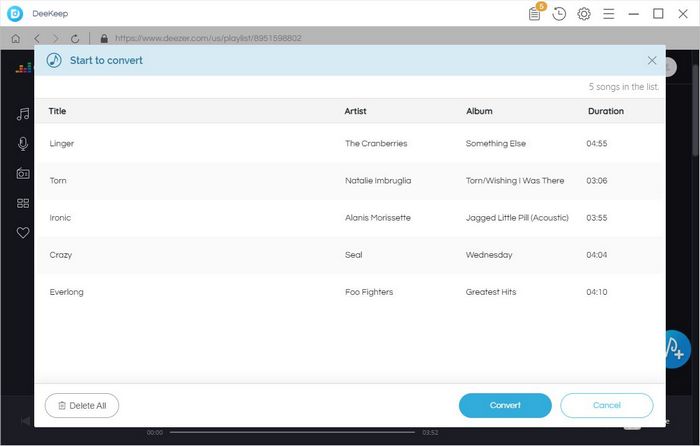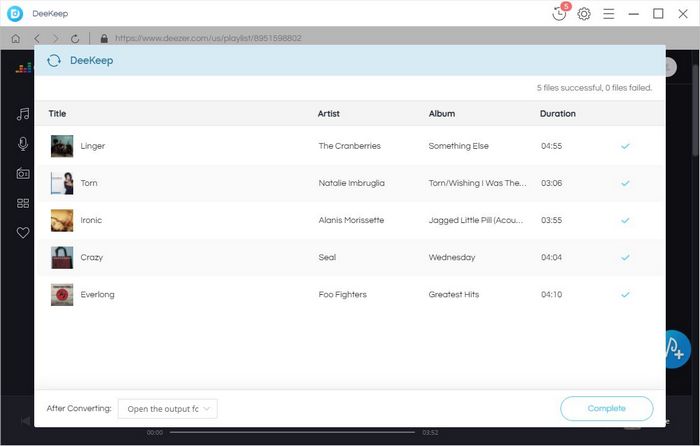 Step 4 Transfer Deezer Playlists into Spotify
After a successful conversion, you can view the downloaded music tracks on your computer. To transfer them into Spotify, please open the Spotify desktop app. Select the down-arrow icon next to your profile name and choose Settings from the menu. On the settings page, scroll down to the Local Files part. Toggle the Show Local Files switch to green.
The next step is to add the folder that has your songs into the Spotify app. Click on the Add a source button. If you're on Windows, a File Explorer window will open. If you're on Mac, a Finder window will launch. Find out and select the folder that has your local files.
To get access to these files, select the Your Library section from the left bar of the Spotify app. In the pane on the right, choose the Local Files option.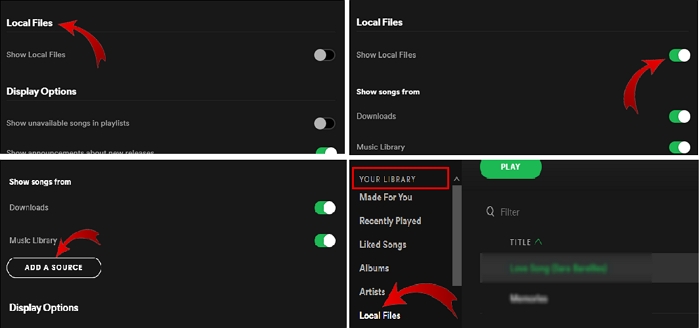 ---
Summary
That's all about how to transfer Deezer playlists into Spotify. With the online platforms, you can share the playlists between Spotify and Deezer. However, the most common approach is to download the Deezer playlists and then transfer them to any apps, software, or devices without any limitations. DeeKeep Deezer Music Converter plays a key role in this task. DeeKeep will never let you down since it can easily export songs to the common format of the Deezer Music web player.
---