Top Ways to Fix Deezer Not Available in Your Country/Region
Deezer, though a music streaming service founded in France it is, becomes popular all over the world in recent years. It boasts a music library with over 120 million licensed tracks, more than Spotify's 100 million, and gets its popularity for its HiFi service. However, like other streaming services, Deezer is not available everywhere around the globe. Thus, in this article, we will share with you how to fix Deezer not available in your country or region. With the top ways shown, you can very easily access Deezer and listen to millions of Deezer HiFi tracks wherever you are.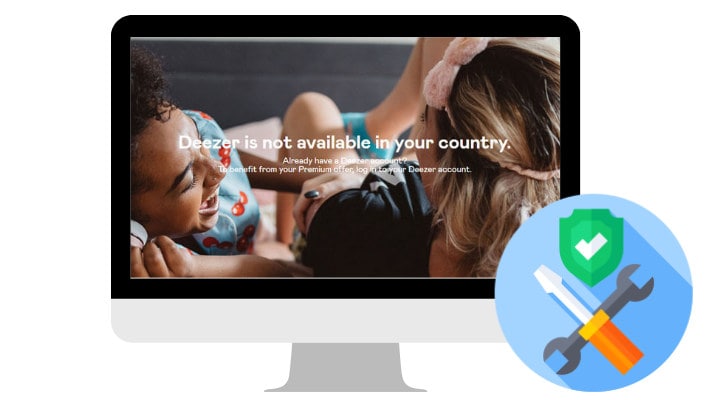 Part 1.

Three Top Ways to Fix Deezer Not Available in Your Country/Region

Deezer is available in most countries and regions. So to fix the Deezer service not available in your country or region, it is very important to bypass geo-blocking. There are three common ways to solve geo-restrictions, VPN, Smart DNS, and Proxy Server. Read the below to get the differences and choose the one you want.
Method 1. Use VPN
VPN is the most popular method to bypass geo-blocking. The Virtual private network, or VPN, is a mechanism to build a secure and encrypted connection between your computer and network or between two networks. As it works on the operating system level, VPN can hide your real IP address and reroute all your traffic through other servers. In this case, any apps or websites that apply geo-restriction can detect only your virtual location, which solves Deezer not being available in your country or region as easily as pie.
To access Deezer music by VPN, you only need a VPN app and an account. Download a reliable VPN app, and select a route that allows you to gain Deezer music streaming service. Some VPN apps require you to purchase their service and just choose one based on your situation. Then open the Deezer web, you will not be restricted and can use its service freely.
Method 2. Use Smart DNS
Similar to VPN, Smart DNS also provides a service to bypass geo-restriction. You can download a Smart DNS app, log in and choose a route to gain Deezer service. Many VPN providers also offer DNS services, you can easily find them in some popular VPN services. One thing that should be mentioned is that Smart DNS is not as secure and safe as VPN. It cannot hide your real IP address or encrypt traffic, but it is faster.
Method 3. Use Proxy Server
Proxy Server has been popular for years before VPN came true. And it is still be using worldwide now. Proxy Server is similar to VPN too. It routes your traffic and requests, tricking the apps or websites into believing the location of the proxy server is that of your real one. There are free proxy server services. However, they may be more overcrowded and slow. Besides, it is not as secure as VPN, either.
---
Part 2.

Extra Tips: Fix Deezer Not Available in Your Country Forever🔥

The three methods can dodge the geo-limitation and allow you to access Deezer very simply and easily. But we should kindly mention that the services may break and require a large fee, as you have to make sure you can get an available service to enjoy Deezer at any time. In this part, we are going to introduce you to a better way to fix Deezer not available in your country or region. In this case, you will not encounter the Deezer not available problem or cost so much, as Deezer songs will be saved to your computer forever and played at any time.

DeeKeep Deezer Music Converter is a well-crafted program that dedicates to downloading and converting Deezer music to plain audio formats, including MP3, AAC, FLAC, WAV, AIFF, or ALAC, preserve ID3 tags, and so on. It applies advanced music decoding technology, ensuring each Deezer track is saved in the target parameters with up to HiFi audio quality to the local computer. Let's learn how to use the program to download Deezer songs.

Step 1.Open DeeKeep Deezer Music Converter

First of all, run the program on your computer and the Deezer web player will open automatically. Follow the instructions to log in to your Deezer paid account. DeeKeep Deezer Music Converter works by accessing the official Deezer web, so you should make sure the Deezer service is available when running the program.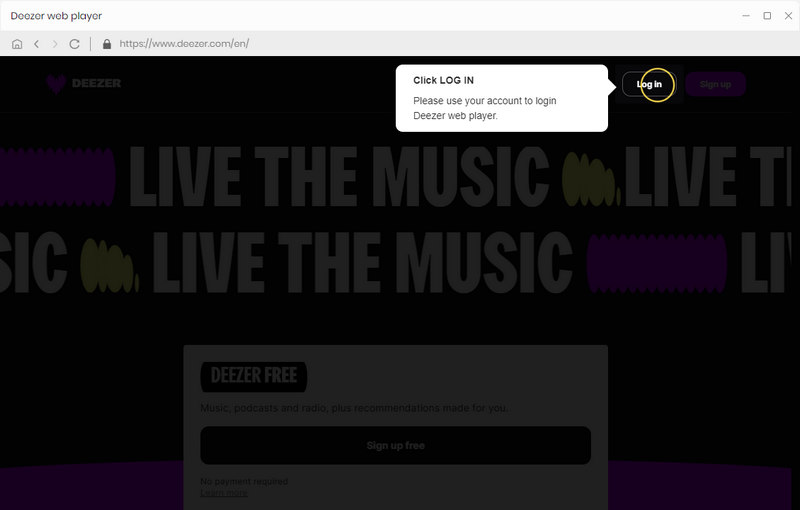 Step 2.Set Output Parameters for Deezer Music
Before any downloads, click the "Settings" tab on the lower left corner of the screen. On the settings panel, designate an output format, bit rate, sample rate, and output folder, edit the output file name and select the organization for the output files. Close the dialog, the parameters will take effect. If you have no special requirements, select Auto as the output format, DeeKeep Deezer Music Converter will extract Deezer songs with the original parameters and HiFi sound quality.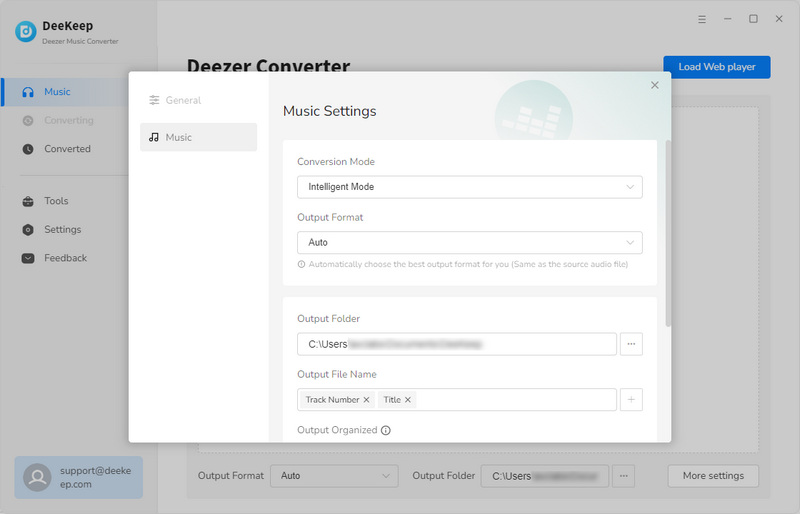 Step 3.Add Target Deezer Music to Download
Browse the Deezer songs, playlists, albums, or podcasts you want to download and click the icon "Click to add" to open a popup. You can see that all the Deezer tracks on the current page are selected. If you want to download a couple of them, undo them and pick them as you wish. Then click the "Add" button.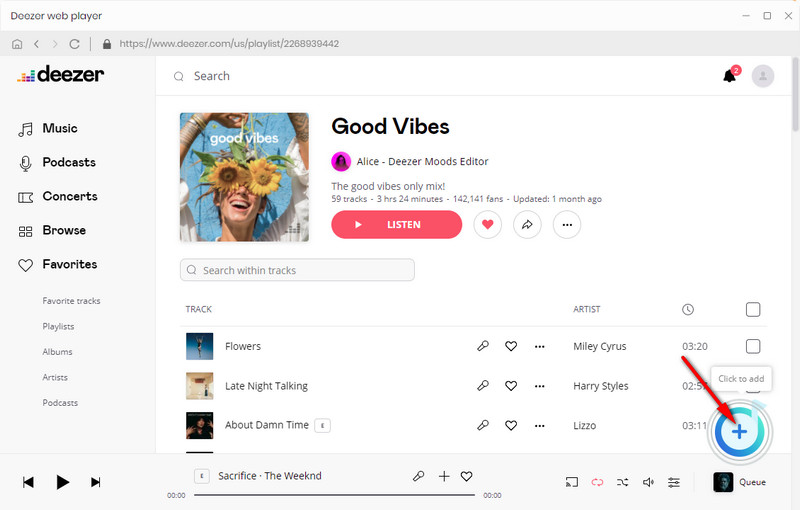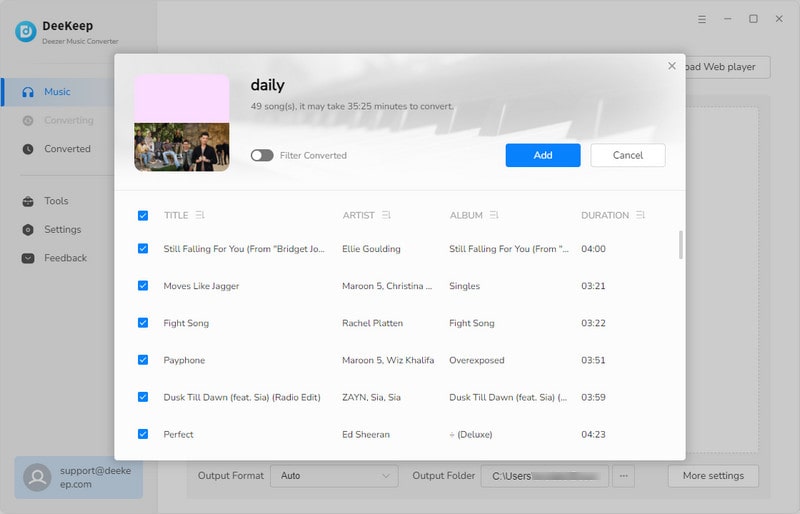 Step 4.Convert Deezer Music
DeeKeep is very user-friendly. You are allowed to download songs from different playlists or albums in the same batch. Select "Add More", and add more target tracks to the list. Once the selection is completed, click "Convert" to start downloading at once.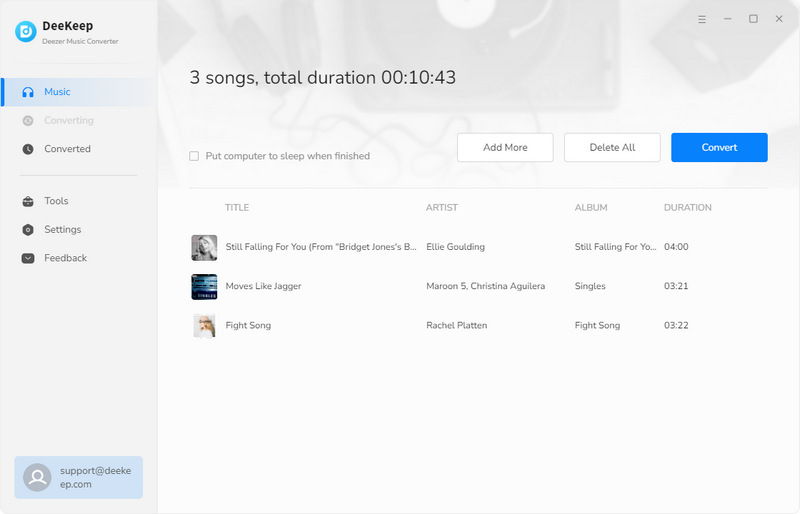 Step 5.Browse Downloaded Deezer Music on the Local
DeeKeep Deezer Music Converter proceeds songs up to 10X speed, and you will see the output folder pop up very soon. There you can check the downloaded Deezer songs. You can also check them by clicking the "Converted" section on DeeKeep.
Congratulations! You have successfully saved Deezer music to your computer. The files will exist on your local computer permanently. They are already plain audio files, so you can easily transfer them to your MP3 players or smartphones for convenient play.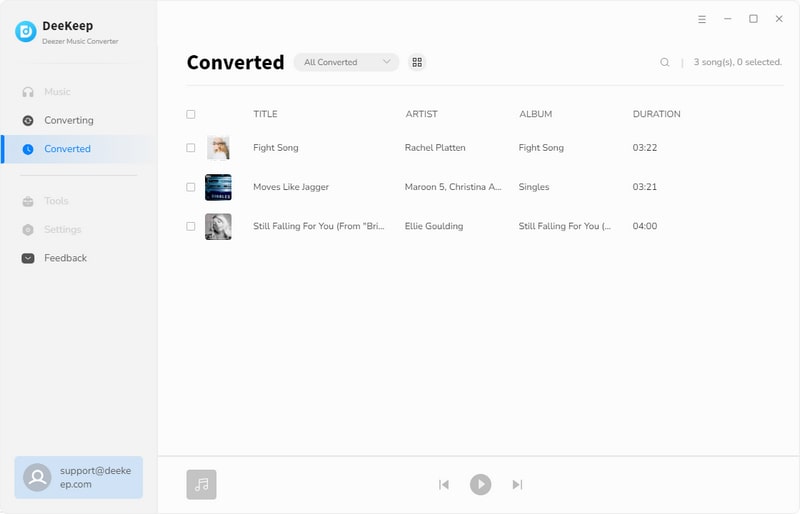 ---
Summary
The article shows three top ways to fix the problem of Deezer not available in your country or region. You can use VPN, Smart DNS, or Proxy Server to bypass geo-blocking and enjoy Deezer music streaming services. But if you want to solve the problem once and for all, then DeeKeep Deezer Music Converter is your best choice. It reduces your cost and allows you to access Deezer music whenever and wherever even if you unsubscribe from Deezer.
---