Top Deezer Music to MP3 Converter
It can be said the MP3 is the most popular format among millions of music buff, as it takes up small space and to the greatest extent preserve all the ear available sounds. Besides, it can be compatible with most devices such as Windows computers, Macbooks, Android phones, iPhones, TV, and other countless devices. When you need a common music format, MP3 will always be the first choice.
Of course, there are lots of music tools can convert music from multiple music streaming apps to MP3 format. In this article, we will show you several brilliant music converters that are used for converting Deezer music to MP3 format. So what are they? Take a few minutes to see whether they are your types.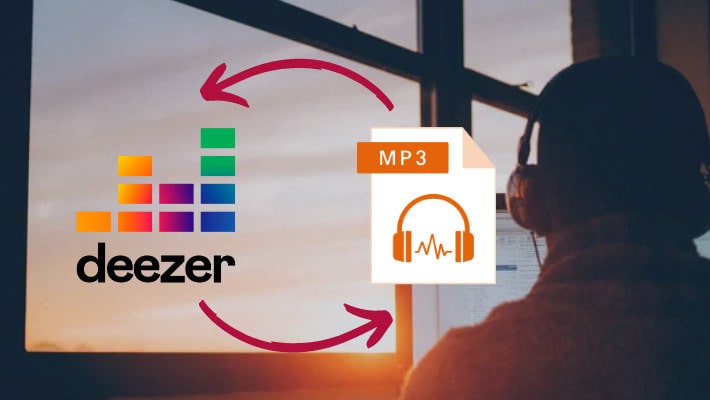 Part 1.

DeeKeep—The Best Deezer to MP3 Converter

Why DeeKeep is the best Deezer to MP3 Converter? DeeKeep Deezer Music Converter is a professional, safe and clean tool for downloading and converting Deezer music.

You may be interested in: Deekeep Deezer Music Converter Review >>
Features and Functions:
How Does It Work:
It is a really very powerful tool. But when it comes to converting Deezer music to MP3 format, how does it work? Why is it the best Deezer to MP3 converter? Or how does it perform? Continue your reading to find the answer.
Step 1. Start DeeKeep Deezer Music Converter
Download and install DeeKeep through its official website or just click the blue button above. Choose the right version for your computer operating system. Next, launch it. Click the "Open Web Player" button to enter the program. Then log in to Deezer with your premium account.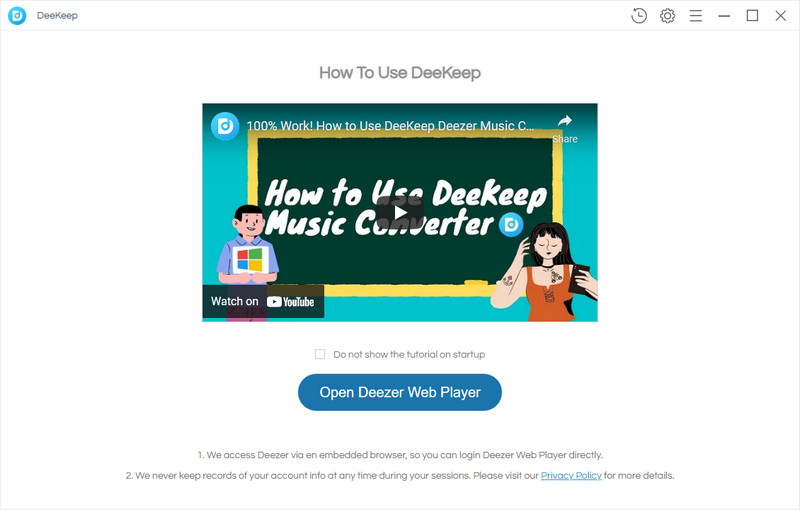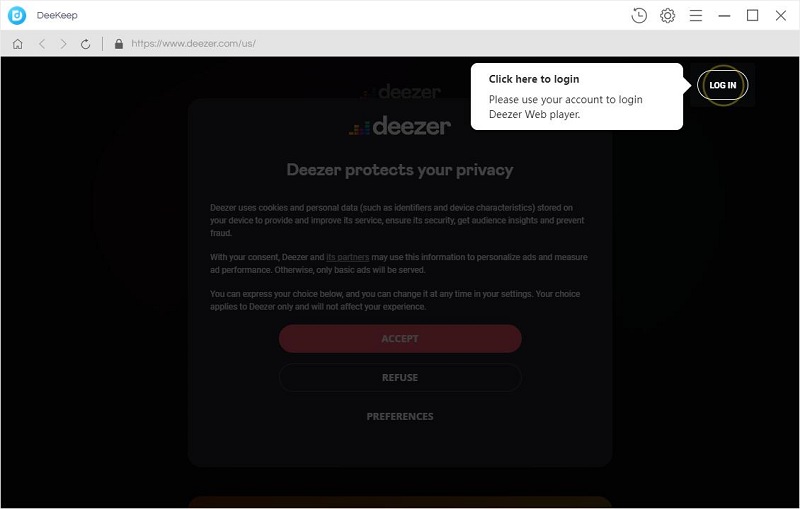 Step 2. Make Your Preference Settings in DeeKeep
In the upper right corner is a "Settings"

button. Click it. Adjust the preference settings in the pop-up window. Here you are allowed to set the output format as MP3, choose Bit Rate and Sample Rate, select the Output Folder from your computers, edit the Output File Name, organize Output, etc.
DeeKeep offers the following options:
➤ Output Format: MP3, WAV, AAC, AIFF, FLAC, ALAC, and AUTO.
➤ Bit Rate: 128 kbps, 192 kbps, 256 kbps, 320 kbps.
➤ Sample Rate: 44.1 kHz, 48 kHz, 96 kHz, 192 kHz (up to the chosen format).
The higher the bit rate and the sample rate, the higher the audio quality, but the bigger the file sizes. Just select based on your needs and situations, DeeKeep gives you freedom of choice. This is one that makes DeeKeep the best and more popular than other Deezer to MP3 converters.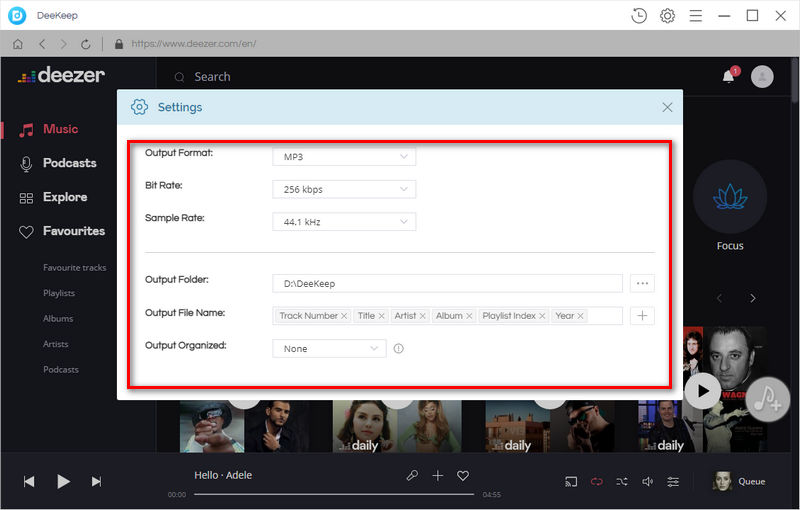 Step 3. Download Deezer Tracks
At this step, find out your favorite playlists, albums, and podcasts. Open it. On the right side is a blue button "Add to list"

, click it. Then a pop-up window occurs. Select the tracks you want to download and tick them. If you wanna download and convert just the tracks on one playlist, click "Convert now" after selecting.
But DeeKeep allows users to download and convert up to 500 tracks of different playlists at once. After finishing the selection of the tracks of one playlist, click "Save to list" to add them to the "task list", and open another playlist to choose more tracks and add them. Then go to "task list"

to click the "Convert" button to convert all the ticked tracks at once. And just wait for the conversion to be completed, which won't take too long as DeeKeep proceeds at 10X speed.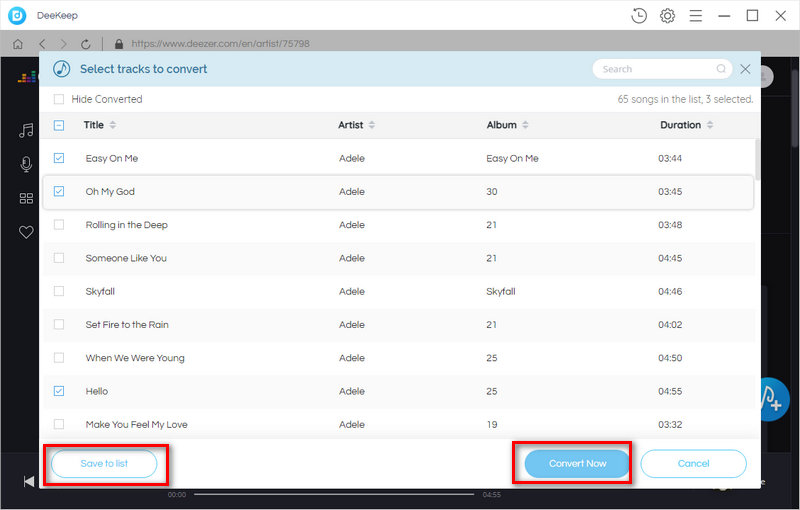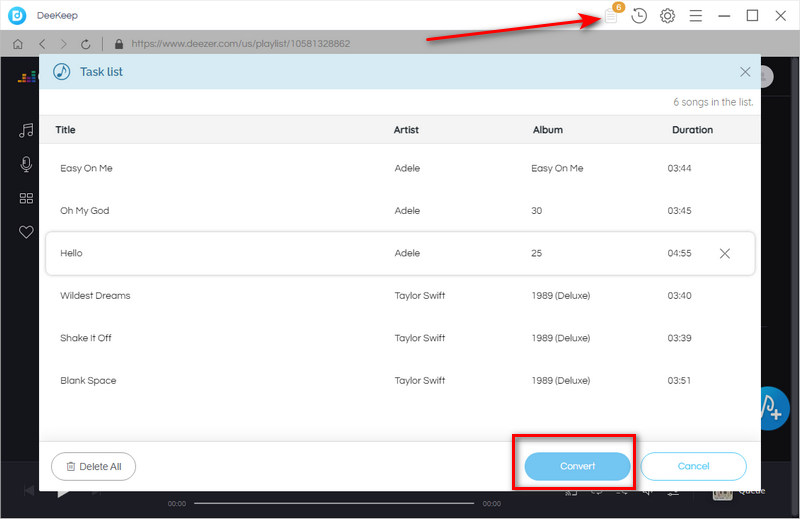 Step 4. Check the Downloaded Music Files on Your Computer
After a short time of conversion, the selected folder where the downloaded music lies will pop up immediately. Here you can see all the converted music has become audio files and is stored on your computer. These audio files downloaded with DeeKeep are common, so they can be stored on your devices permanently.
Check the properties, you will find that all the songs are output as MP3 based on your settings made on DeeKeep. Now you can open these files and play them on your devices freely with any apps with which MP3 formats are compatible. These songs can also be imported to MP3 players or other devices. As long as the devices can play MP3 music, they are available.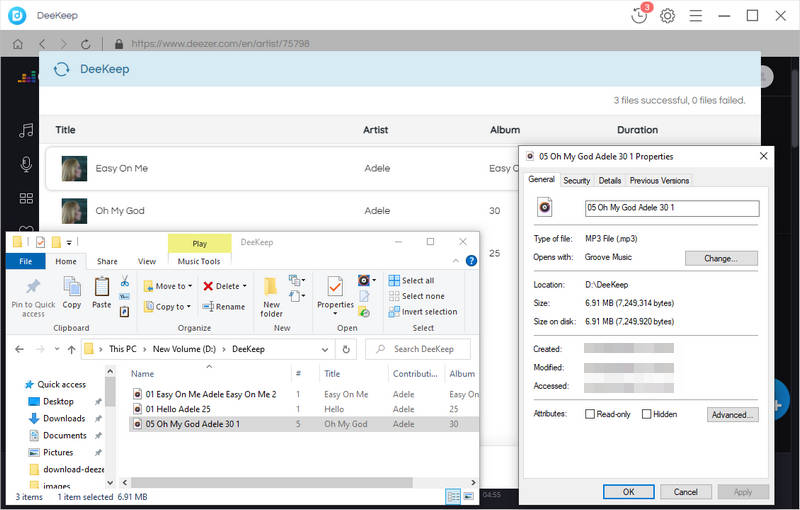 From this part, we can see that DeeKeep is a very powerful Deezer Music Converter for its humanized design and rich features. It offers lots of options for users to customize their favorite songs. Few Deezer to MP3 converters behave like it.
---
Part 2.

AudiCable—A Full-Featured Deezer to MP3 Converter

AudiCable Audio Recorder is a professional tool for recording and converting songs from multiple platforms to local music. It is also a great Deezer to MP3 converter.
Features and Functions:
➤ Download music from Deezer, Spotify, Amazon Music, etc;
➤ Download music with ID3 tags;
➤ Export songs with the original audio quality;
➤ Download music in MP3/WAV/AAC/AIFF/FLAC/ALAC formats.
How Does It Work:
Step 1. Download and install AudiCable Audio Recorder from its official website. Launch it.
Step 2. Finish settings in AudiCable. Set the Output Format as MP3, select Output Quality, Output Folder, edit Output File Name, and organize output.
Step 3. Log in to one music platform, choose music to play, and AudiCable will record it automatically. Please make sure the network is connected and available during the whole process.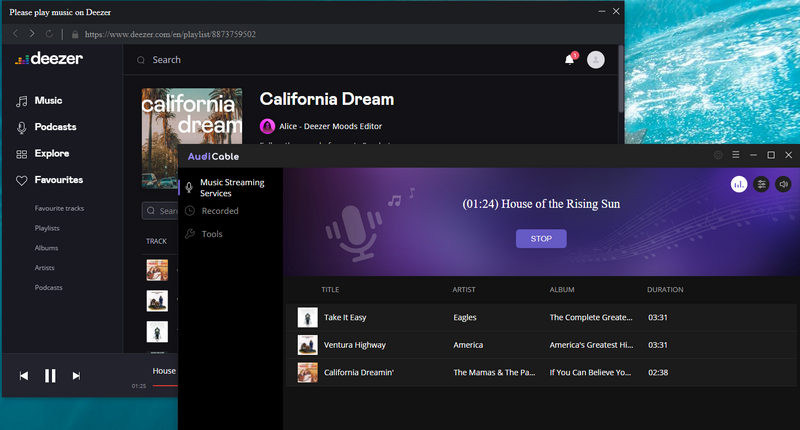 Step 4. Check the recorded music files on your computer. You will see that all of them are recorded based on your settings.
---
Summary
From the paragraphs above, we have realized that DeeKeep Deezer Music Converter is not only a brilliant Deezer to MP3 converter but also a powerful tool for other musical purposes. It has extensive applications. AudiCable Audio Recorder is also a useful tool. Choose one based on your needs. Or try them both then select the one you want.
---