DeeKeep Review: The Best Deezer Music Converter
Deezer is a music streaming app that provides over 90 million licensed tracks. It currently has nearly 16 million monthly active users and 7 million paid subscribers, which makes it one of the most popular music streaming apps and stands shoulder to top music giants Spotify, Apple Music, etc.
Paid users can download Deezer songs for offline play. However, Deezer does not allow users to access downloaded music files, so users can only play its songs within Deezer. This function is far from satisfying the needs of its massive users. Someone wants to store music files on its computer folders or wants to download Deezer songs in different formats. That's why there are so many music tools on the market.
In this article, we will introduce DeeKeep Deezer Music Converter in detail and review it from all aspects. If you are looking for a music converter, read it carefully to see whether it is the one you want.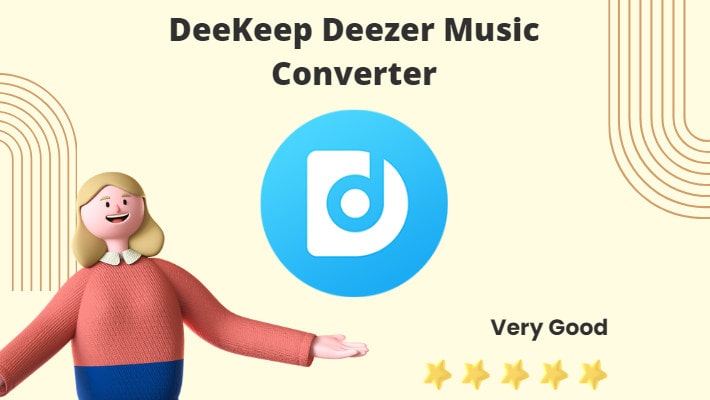 Part 1.

What is DeeKeep Deezer Music Converter

DeeKeep Deezer Music Converter is a professional tool that helps to download Deezer songs and convert them to different formats. It applies the technique of accessing the official Deezer web player via an embedded browser. DeeKeep has a Windows version and a Mac version. At present, it covers nearly 198 countries and regions and supports up to 25 languages. So far DeeKeep has received high praise from users for its simple designs and rich functions.
---
Part 2.

What can DeeKeep Do

DeeKeep can be said the most perfect Deezer music converter in the market, as it is equipped with many features and functions, such as download, conversion, tags preservation, high conversion speed, etc. Read this part carefully for more details.
➤Feature 1. Download Deezer Songs/Playlists/Albums/Podcasts
As a music converter, DeeKeep mainly stands out with its powerful download function. It supports downloading all the contents of Deezer, including a single song, playlists, albums, podcasts, and other available content in Deezer, as long as you have the premium account. In the process of downloading, DeeKeep is also removing DRM from Deezer tracks. Therefore, the downloaded songs can be shown and stored on local folders of computers permanently, and become common files.
Besides, DeeKeep supports downloading songs in different playlists with only one operation and downloading in batches. Users don't have to operate one by one. And DeeKeep works at a quite fast speed, it won't take too long to download and convert.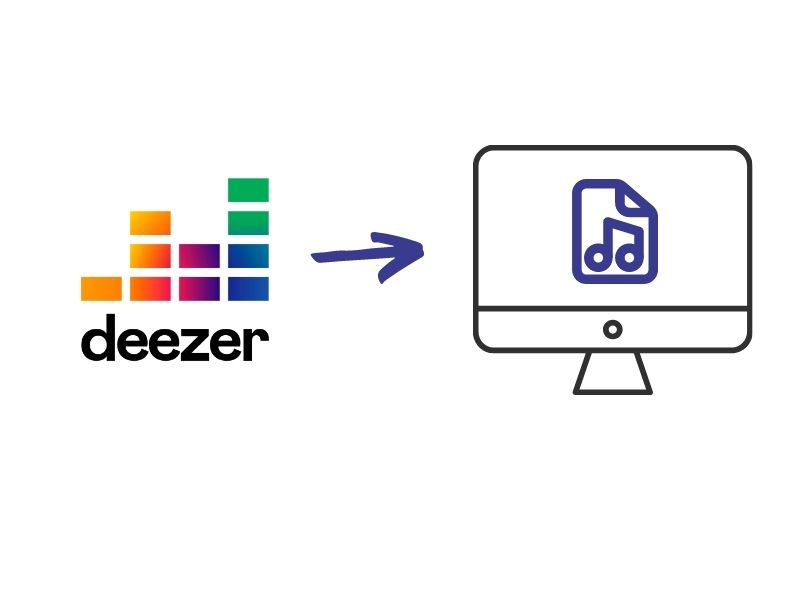 ➤Feature 2. Convert Deezer Music to Different Formats
Deezer currently supports MP3 and FLAC two formats. But DeeKeep supports outputting music to several different formats, including MP3, AAC, AIFF, WAV, FLAC, and ALAC. Thus, the songs converted by DeeKeep can be compatible with multiple devices. DeeKeep also offers the lossless qualities (FLAC and ALAC), allowing users to enjoy up to Hi-Fi audio quality. Of course, there is an Auto option, which means output songs in the original audio quality. There is always the one you need.
In addition, DeeKeep provides the option of customizing Bit Rate and Sample Rate, allowing users to enjoy music with higher audio quality. The higher the parameters, the higher the audio quality. So it is not only friendly to new users, but also ideal for professionals like DJs.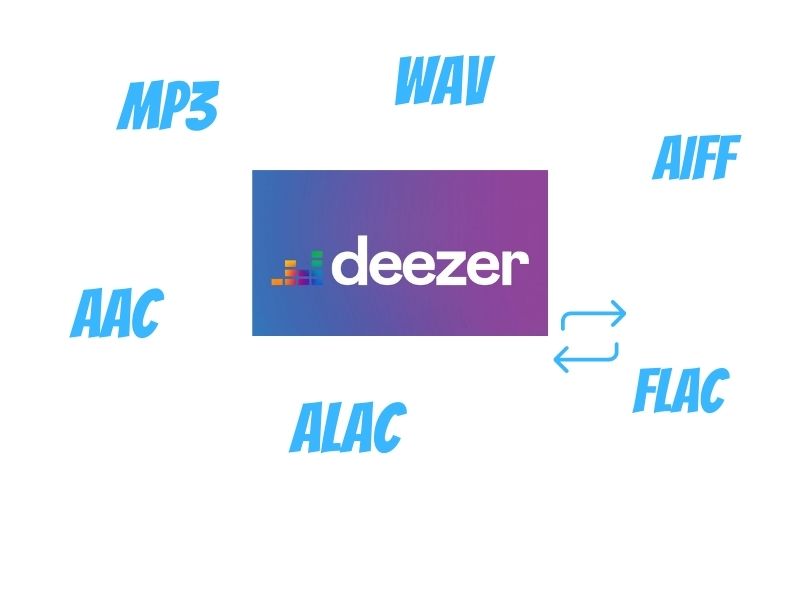 ➤Feature 3. Preserve Multiple ID3 Tags
DeeKeep can do much more than what has been mentioned above. It can preserve up to 7 ID3 tags, including title, album, artist, artwork, track number, disc number and year. Users can know more about songs with these tags.
➤Feature 4. Export Songs with Flexibility
The flexibility of DeeKeep is not only found in choosing formats and saving tags, but also found in exporting settings. It gives the free choice of the output folder to users, to select as they will, facilitating the check for music files and managing computer space. Besides, users can organize output based on artist, album, artist/album, album/artist, or even none.
➤Feature 5. Omit the Installation of Deezer App
With DeeKeep, users are not required to install the Deezer desktop app, as DeeKeep works via accessing the official Deezer web player. Thus, it is not only a converter but also a Deezer music player. It is also worth mentioning that, the installing and using DeeKeep will not bring bundled installations of other software at all. So it is 100% safe and clean.
➤Feature 6. Be Compatible with Multiple Apps and Devices
Based on DeeKeep's powerful function, the Deezer songs downloaded and converted through the tool can be compatible with multiple apps such as common music players, Serato DJ, Traktor DJ, Virtual DJ, etc. and with multiple devices like android phone, iPhone, Apple TV, MP3 player, and so on. You can check for more details from How To page.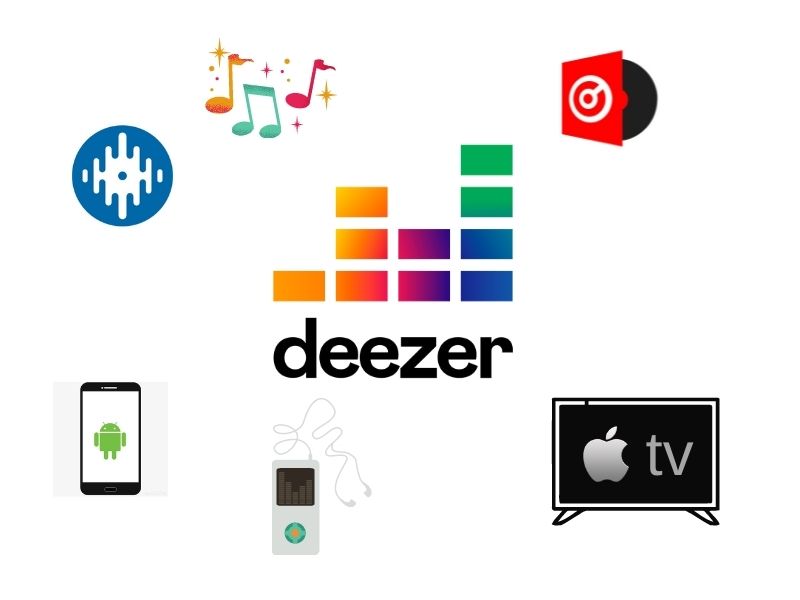 ---
Part 3.

How to Use DeeKeep Deezer Music Converter

Having learned all about DeeKeep, you know it is exceptionally powerful. So how to use the program, read this part.

Step 1. Strat DeeKeep Deezer Music Converter

If you haven't tried DeeKeep before, click the blue button above to download it. Then install the tool on your computer and launch it. Then the Deezer webplayer will start at the same time. Log in to your Deezer premium account.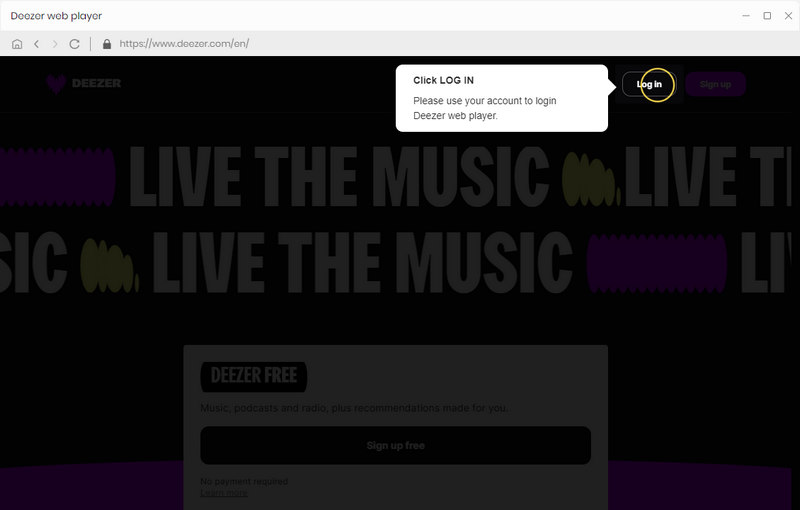 Step 2. Customize Program Settings
The step after opening and logging in is to customize the program settings. Click the "Settings"

tab on the lower left corner of the program page. Then choose the Output Format, Bit Rate, and Sample Rate you want. If you want to convert songs at the fastest speed and the original audio quality, choose Auto. Then select the output folder, edit the output file name, and organize output at will.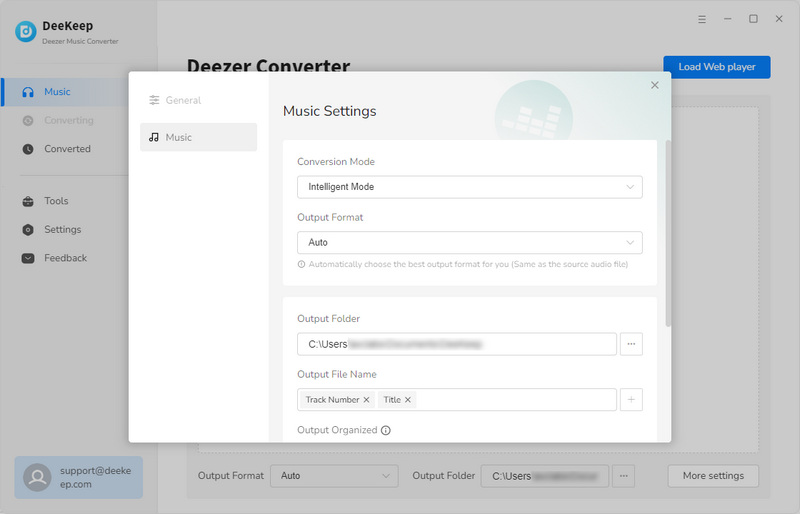 Step 3. Select Deezer Songs You Want
Find out your favorite playlist or album, and open them. The button "Click to add" turns gray into blue, which means these tracks are available. Click it. Select the tracks you want to download and click "Add" in a new window.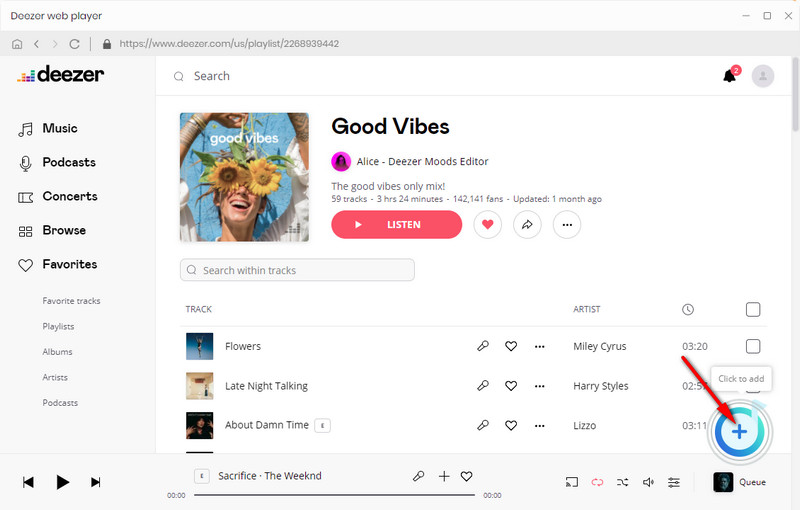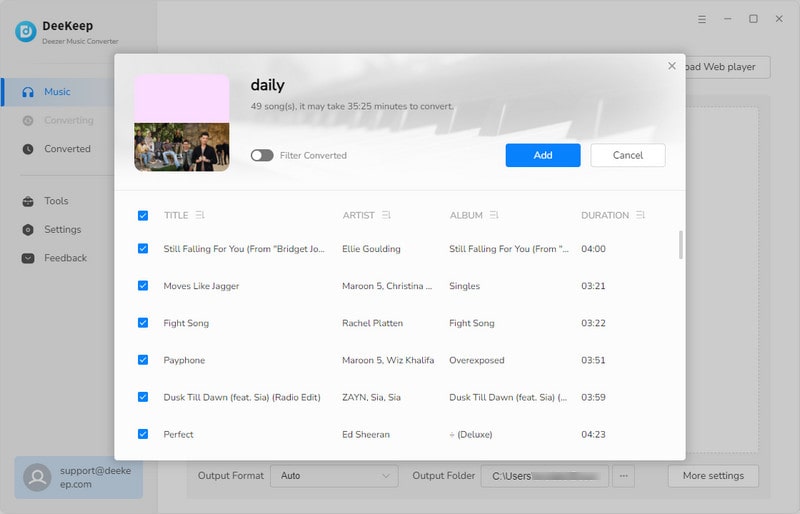 Step 4. Convert Deezer Songs/Playlists/Albums/Podcasts with DeeKeep
If you want to convert other songs from another playlist, after selecting, click "Add More", and open another playlist to add more tracks. Having finished the selection, click "Convert" to start downloading in batches. Now you just need to wait for them to convert.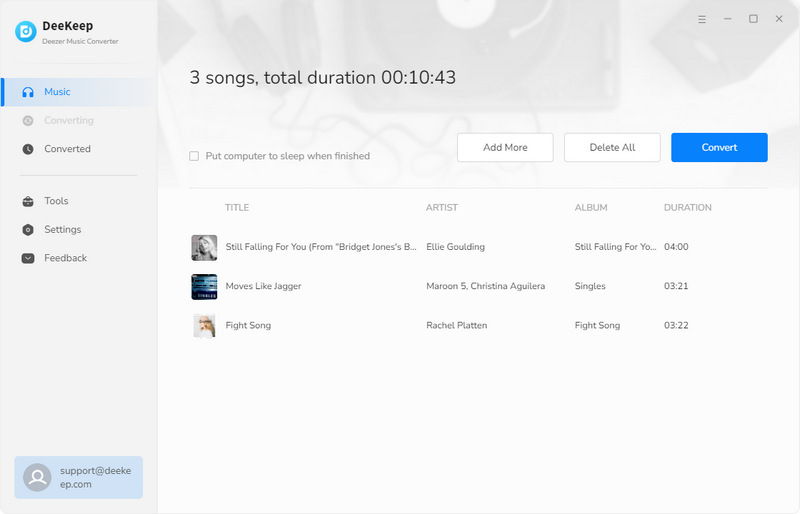 Step 5. Check Deezer Music Files on Your Computer
When the conversion is done, the folder where your downloads lie will occur by itself. Or you can find them in the Converted section. You can check their properties on your computer and play them with any one player. Up to this, the downloaded Deezer music has been common files and without DRM, you can store them on your pc and transfer them to other devices, just like storing and transferring other common files.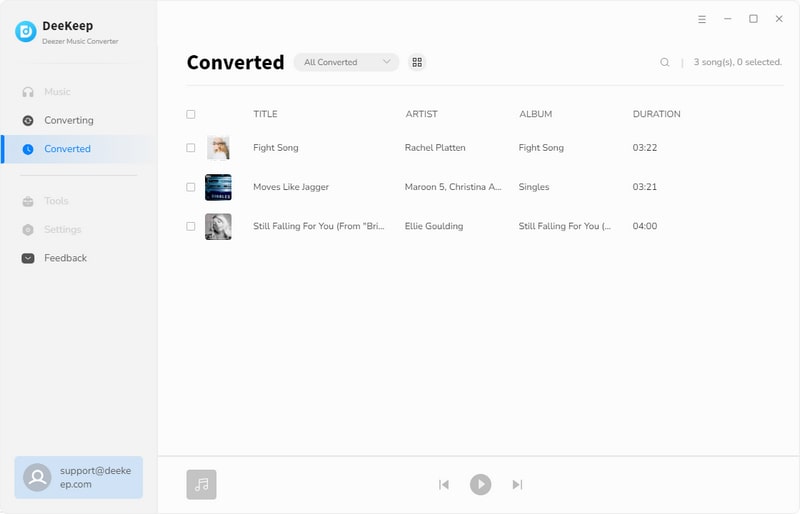 ---
Part 4.

The FAQs about DeeKeep
✍Q1: Is DeeKeep reliable?
✔️A: Yes, DeeKeep Deezer Music Converter is a 100% safe, clean, reliable, and secure tool. Feel free to install this software. Besides, we never keep records of your account information at any time during your sessions, and we strictly follow the Privacy Policy .
✍Q2: Will there be any technical support if encountered problems using the program?
✔️A: Sure, we have a support team. If you cannot find solutions to your problems in the FAQ, provide the detailed information to our support team "support@deekeep.com" by email. We will reply to you within 24 hours on weekdays and 48 hours on weekends.
✍Q3: Are there any tutorials to teach me how to use DeeKeep for more purposes?
✔️A: Of course. If you want to written tutorials, go to the How To page on our official website. Or if you want video tutorials, go to our YouTube channel—DeeKeep Official . There are steps in detail.
✍Q4: Can I download Deezer music with a free account?
✔️A: No. DeeKeep only supports downloading and converting songs under a Deezer premium or Hi-Fi account.
---
Summary
From what has been described above, it can be concluded that DeeKeep Deezer Music Converter is a really powerful tool with perfect functions in many aspects. Furthermore, it provides tutorials, technical supports and services after the sale, and free updating services. You can feel reassured to purchase the service from DeeKeep. So what are you waiting for? Install DeeKeep to unlock another pleasant lifestyle!
---