Tidabie Tidal Music Converter Review
TIDAL is a renowned music streaming service that provides its users with an exceptional audio experience. With its vast collection of songs, albums, and playlists, TIDAL caters to music lovers across various genres. This platform offers high-fidelity and high-solution sound quality, allowing listeners to enjoy their favorite tracks with unparalleled clarity and depth. Moreover, TIDAL stands out by providing exclusive content, including live-streamed concerts, interviews with artists, and behind-the-scenes access. These unique features make TIDAL a top choice for those who appreciate music and crave an immersive listening experience.
So, one might wonder how to download TIDAL music for offline listening, or how to keep one's own playlist after the subscription expires. Here, we will make a review of Tidabie Tidal Music Converter, a music converter specially designed for TIDAL. It will be the best assistant to help you save TIDAL music.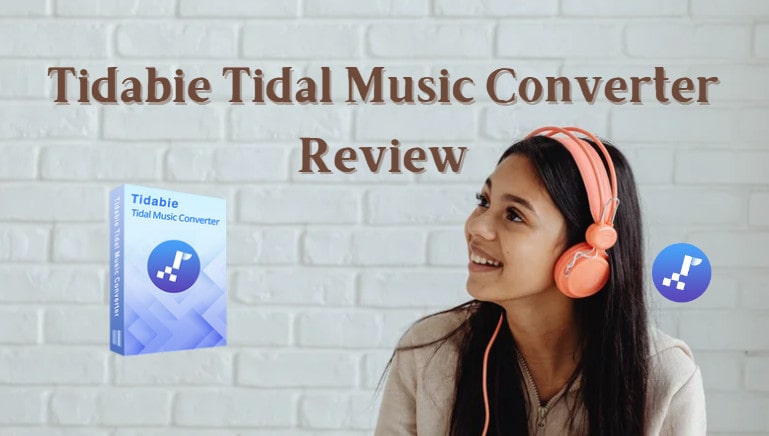 Part 1.

What's Tidabie Tidal Music Converter

In the realm of music conversion tools, Tidabie has gained recognition for its efficiency and versatility. Tidabie Tidal Music Converter is a powerful tool that enables users to download and convert music from TIDAL. By utilizing Tidabie, subscribers can take their TIDAL experience to the next level. This converter ensures that the converted songs maintain the exceptional audio quality of TIDAL. It supports various output formats such as MP3, AAC, FLAC, and WAV, providing flexibility for users to listen to their favorite music on any device. With Tidabie's user-friendly interface, batch conversion capability, and fast processing speed, it has become a reliable tool for TIDAL subscribers looking to enjoy their favorite tracks offline and in high quality.
---
Part 2.

The Key Features of Tidabie

Tidabie Tidal Music Converter offers several impressive features that enhance the user experience:
📙1. High-Quality Music Conversion
The sound quality of the converted songs is a crucial factor in choosing a converter. Tidabie supports lossless download of songs, albums, and playlists from Tidal Music to the local computer with original High/Max audio quality preserved. Song downloads are available on Tidal Free, HiFi, and HiFi Plus plans. TIDAL provides high sound quality, their High settings provide CD-quality lossless FLAC files, and the Max quality is 24-bit/192kHz in FLAC or WAV format. Therefore, Tidabie also supports saving the TIDAL high-quality songs you want in the original format.
📙2. Support Flexible Output Settings:
Tidabie supports six output formats, namely MP3, WAV, FLAC, ALAC, AAC, and AIFF. These formats are suitable for most devices. At the same time, the size of the song is also related to the output sound quality. Tidabie allows users to freely adjust the output bit rate and sample rate to achieve the best file size they need. In addition, you can also choose the path you want to output and the output file name in the output settings. One thing that is different from most TIDAL converters on the market is that Tidal also supports you to set the organization of output files according to your needs, that is, you can better categorize your output files by artist, playlist, album, etc.
📙3. Batch Conversion at High Speed:
Tidabie has been working on improving the conversion speed of the converter. Currently, you can quickly download TIDAL songs at a speed up to ten times faster, and you can also put different playlists or albums in the same conversion list for batch conversion by adding multiple times, which will greatly save your time and effort.
📙4. Preserve Original ID3 Tags and Other Metadata:
The ability to preserve various metadata information of songs is an important criterion for judging the quality of a converter. Many TIDAL converters on the market can't preserve the original data information of the song well, and some even appear in the form of garbled characters. Tidabie uses advanced technology to intelligently recognize and retain various ID3 tags of TIDAL music, including title, album, artist, artwork, track number, disc number, year, etc. With the help of Tidabie Tidal Music Converter, you will be able to classify the downloaded songs according to your needs, making your music library management more convenient.
📙5. Support Both TIDAL App and The Web Player:
Tidal supports two download modes, Tidal App and Tidal Webplayer. The former can maintain the quality of Max at 5X speed (1X for Mac), while the web player mode can maintain High quality at 10X speed. App mode is to download songs by dragging or copying the link of the song in the TIDAL app. Webplayer mode is to analyze and download by clicking the button in the web player. Both modes have their own characteristics. Users who have the TIDAL app or do not want to download the TIDAL app can find their own suitable download mode on Tidabie.
📙6. Provide Handy Tools:
In addition to the song download function, Tidabie also designed several very practical gadgets for users, including Format Converter, Tag Edit, and Burn CD. Format Converter is the tool that helps you to convert your local audio to other formats, including MP3, M4A, FLAC, WAV, OGG, and AIFF. Tag Edit is the tool that allows users to add ID3 tags to the local audio files or modify the tags of the converted songs to their preference. The function of Burn CD helps music enthusiasts to make their favorite TIDAL music into a CD for storage. In addition, in Tidabie, you can directly add the downloaded music to Apple Music through the "Export to iTunes" function without any other programs.
📙7. Easy-to-Use Interface:
Tidabie has a user-friendly interface that makes the process of downloading and converting songs a breeze, even for beginners. It has two modes, light and night and you choose the appearance as you like. On the main page, all tabs are placed in the left navigation bar, you can easily find settings, download history, and the menu also provides many options for you to choose from, for example, when you encounter running problems, You can solve them yourself by Clear Cache. There is also a FeedBack option in Tidabie, so you can keep in touch with the team anytime.
📙8. Play Tidal Music Offline on Various Devices:
Now more and more devices have reached cooperation with Tidal, and you can directly connect these devices through the TIDAL app, such as some smart TVs, Apple watches, etc. But once the subscription expires, the TIDAL music you enjoy will also be affected. Therefore, downloading your favorite TIDAL music locally through Tidabie can help you solve this problem. The downloaded song format will not be affected by DRM, you can upload them anytime and anywhere or import them to any device you want to play. At the same time, you no longer have to worry about network problems causing music to fail to play. With the help of Tidabie, users can truly listen offline.
---
Part 3.

How to Use Tidabie to Download Tidal Songs

Using Tidabie Tidal Music Converter is straightforward. Here's a step-by-step guide:

Step 1.Choose A Download Mode

Run Tidabie Tidal Music Converter on your computer. You'll see an interface below. Choose one download mode as needed and then log in to your TIDAL account by following the instruction.
•Tidal App: This mode supports downloading TIDAL music up to High or Max quality at 5x speed (1x for Mac).
•Tidal Webplayer: This mode supports downloading TIDAL music up to High quality at 10x speed.
Step 2.Customize Output Settings
Go to the Settings tab in the lower left corner. Here you can customize output settings as needed, including output format, quality, output file name, output folder, the organized way, and so on. If you want to preserve the original audio quality and format of TIDAL music, choose Auto as the Output Format. The specific settings are as follows:
•Conversion Mode: Intelligent Mode, Tidal Record/Web Download, YouTube Download
•Output Format: Auto, MP3, AAC, WAV, FLAC, AIFF, ALAC
•Bit Rate: 320kbps, 256kbps, 192kbps, 128kbps
•Sample Rate: 44.1KHz, 48KHz, 96KHz, 192KHz
•Output File Name: Track Number, Title, Artist, Album, Playlist Index, Year
•Output Organized: None, Playlist, Artist, Album, Artist/Album, Album/Artist, Playlist/Artist, Playlist/Album
Step 3.Select TIDAL Music You Want
If you choose Tidal App, go to TIDAL app and select one playlist or album you want to download. Drag and drop it into the space on the Tidabie interface or copy the link and paste it into the parse bar. Then Tidabie will read it automatically and a new window will pop up. Select the specific songs and click "Add".
If you choose Tidal Webplayer, go to TIDAL web player. Browse to find the playlist/album/artist you like, and click to open it. You can see a blue "Click to add" button in the lower right corner. Click it and you can choose the songs in a new pop-up. Finally, tap "Add" to confirm.
Step 4.Convert TIDAL Music
If you want to convert more playlists or albums at once, you can tap "Add More" to repeat the previous step. After the selection is finished, click "Convert" to start converting TIDAL music. The output folder you set before will appear when the conversion is complete. You can also go to the Converted section or click the folder icon behind the song to check the converted songs. In the Converted section, you can play the songs, select the converted songs to edit tags, export to iTunes, burn them to CD, etc.
---
Part 4.

More FAQs About Tidabie
❓Q1: Is it free to download Tidabie Tidal Music Converter?
🟦A: Yes. You can install the program directly by clicking the blue button in Part 1 and use it.
❓Q2: What kinds of music does Tidabie support converting and what output format can it export?
🟦A: Tidabie Tidal Music Converter is the solution to help Tidal Free, HiFi, and Hi-Fi Plus subscribers download Tidal songs, playlists, albums, artists, and podcasts to plain MP3, AAC, WAV, FLAC, AIFF, and ALAC format files.
❓Q3: How is the sound quality of the songs downloaded by Tidabie?
🟦A: Tidabie supports downloading music up to High(16bit/44.1kHz) or Max(24bit/192kHz) quality via TIDAL App mode while it supports quality up to High quality in Webplayer mode.
❓Q4: If my TIDAL subscription expires, will the downloaded songs also expire?
🟦A: No. Songs downloaded through Tidabie are already saved on your computer as local files. The expiration of TIDAL will not affect your use of downloaded music.
---
Summary
Together, TIDAL and Tidabie offer a comprehensive music experience. TIDAL provides a vast library of high-quality music, while Tidabie enhances the flexibility of this experience by allowing users to enjoy TIDAL music offline. In conclusion, Tidabie Tidal Music Converter is an excellent solution for those who want to enjoy their favorite Tidal songs offline and in high-quality formats. With its user-friendly interface, batch conversion capability, and fast processing speed, Tidabie offers a seamless way to convert Tidal music. So if you're a Tidal subscriber looking to take your music experience to the next level, Tidabie Tidal Music Converter could be just what you need.
---