TunePat Amazon Music Converter Review
As the third biggest music streaming service in the world, Amazon music has 52.6 million users as of May 2022. Most people do be enjoying Amazon music. Generally, there are three Amazon music subscription tiers: Free, Amazon Prime, and Amazon Unlimited. The Free users can listen to thousands of stations and top playlists with ads, the Prime users could access a limited music catalog without ads, pick songs, and download Amazon music for offline listening, while the Unlimited users can listen to a full music catalog without ads, pick a track, and enjoy high audio quality offline mode.
However, in November 2022, Amazon announced changes to the Prime tier - the users can access the entire catalog of up to 100 million songs, but they are only allowed to shuffle songs, they are not allowed to pick their favorite songs to play anymore. To fix the shuffle problem, you can upgrade to the Unlimited tier. Meanwhile, some users choose to download Amazon music to the computer for offline playback in order. This is a great way. There are so many Amazon music download tools in the market, how can you find your loved one? Don't worry. Here we review the popular tool - TunePat Amazon Music Converter with all aspects. Read it to see whether it is your type.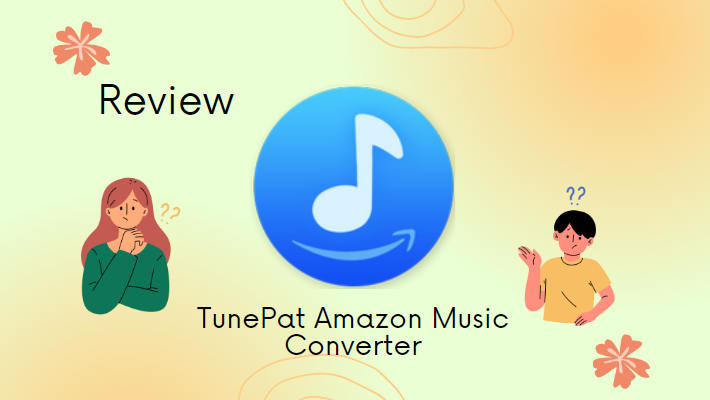 Part 1.

Features of TunePat Amazon Music Converter

TunePat Amazon Music Converter is a professional program for Amazon music download and conversion. It is set for Amazon music Prime & Unlimited users to download music to their local computers and convert it to different formats. Read the below reviews to realize its features in detail.
➤Feature 1. Download Amazon Music for Offline Listening
As a professional and well-crafted program, TunePat Amazon Music Converter makes music downloading its fundamental function. It applies advanced decoding technology to download Amazon music and remove DRM from the original tracks.
With TunePat, you can download Amazon music to your local computer as common files, facilitating storing your favorite songs permanently and picking songs to playback offline. Besides, these downloaded songs are not impacted by your Amazon subscription condition. Although your subscription expires, you can play the downloaded Amazon music and enjoy it at any time, since you have downloaded them in a real sense.
➤Feature 2. Convert Amazon music to MP3/AAC/WAV/FLAC/AIFF/ALAC Format
Format conversion is the second main function of TunePat Amazon Music Converter. Currently, it supports converting Amazon music to six common formats - MP3, AAC, WAV, FLAC, AIFF, and ALAC. You are allowed to select one of them manually. And TunePat will output your target Amazon tracks in this format.
With this function, you can match Amazon music to your music devices, and make it readable by your devices, facilitating your transfer of the downloaded Amazon music to your MP3 players, Serato DJ, and others. In addition, TunePat supports adjusting Bit Rate and Sample Rate, you can easily get the output audio quality as you wish.
➤Feature 3. 10X Speed and Batch Conversion
A powerful program always runs fast. And TunePat Amazon Music Converter is absolutely a powerful tool. It proceeds at 10 times the speed, while most of the others run at 5X speed. Take no other factors into consideration, you can download a long track in a short time.
TunePat also supports batch conversion, you can download songs without upper limit in a batch. Plus the fast speed, you can save a large batch of Amazon music to your local computer in a short time. And you won't worry about your large playlist anymore.
➤Feature 4. Keep ID3 Tags and Personalize Output File Name
If you are worried about the tag info of the songs, you should feel released when using TunePat Amazon Music Converter. Track title, album, artist, artwork, track number, and year such ID 3 tags will be preserved in the songs. You can select them all or choose several of them. Moreover, the output files can be classified in order. The feature Output Organized offers the options of Playlist, Artist, Album, Artist/Album, and Album/Artist. With one of them selected, you don't have to sort out the files manually.
---
Part 2.

How to Use TunePat Amazon Music Converter

Having read the first part, you can easily realize that TunePat Amazon Music Converter is such a powerful tool with so many professional functions and features. But how to use it to download your favorite songs to your computer? Let's read this part to get step-by-step tutorials.

Step 1. Set up TunePat Amazon Music Converter

The first thing you should do is download the correct version of TunePat Amazon Music Converter to your computer. Install and launch it. Then click the blue button "Open Amazon Music Web Player" to enter the program. Next, enter your Amazon account and password.

One thing that should be mentioned is that, similar to DeeKeep Deezer Music Converter, TunePat Amazon Music Converter works via accessing the built-in music web player too. So you don't have to install the Amazon desktop app on your computer, saving lots of space.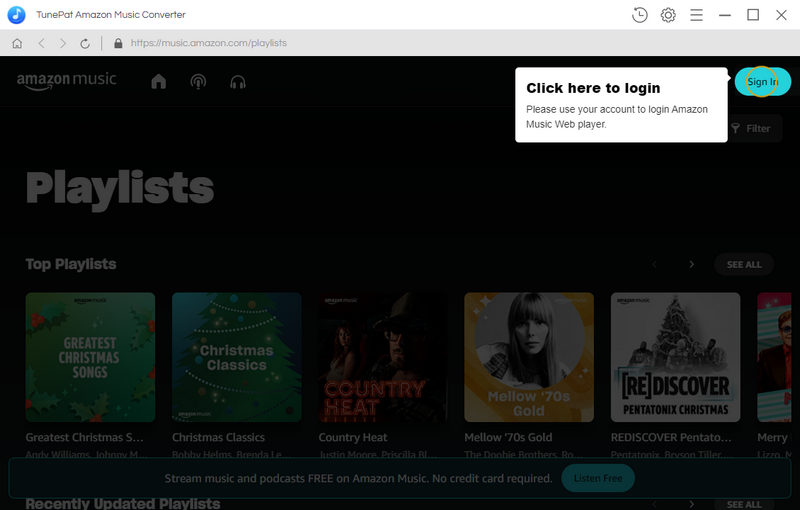 Step 2. Personalize Output Settings
After the successful login, do not rush to download songs. Instead, move your sight to the top right corner to click the "Settings"

button. On the pop-up window, designate an Output Format, Bit Rate, Sample Rate, and Output Folder, and edit the Output File Name and Output Organized. Here are the detailed options.
Output Format: MP3, AAC, WAV, AIFF, ALAC, FLAC, AUTO.
Bit Rate: 128 kbps, 192 kbps, 256 kbps, and 320 kbps (depending on the format selected).
Sample Rate: 44.1 kHz, 48 kHz, 96 kHz, 192 kHz (depending on the format selected).
Output File Name: Track Number, Title, Artist, Album, Playlist Index, Year.
Output Organized: Playlist, Artist, Album, Artist/Album, Album/Artist, None.
After finishing the settings, close the window directly, and all the parameters will be applied to the songs to be downloaded.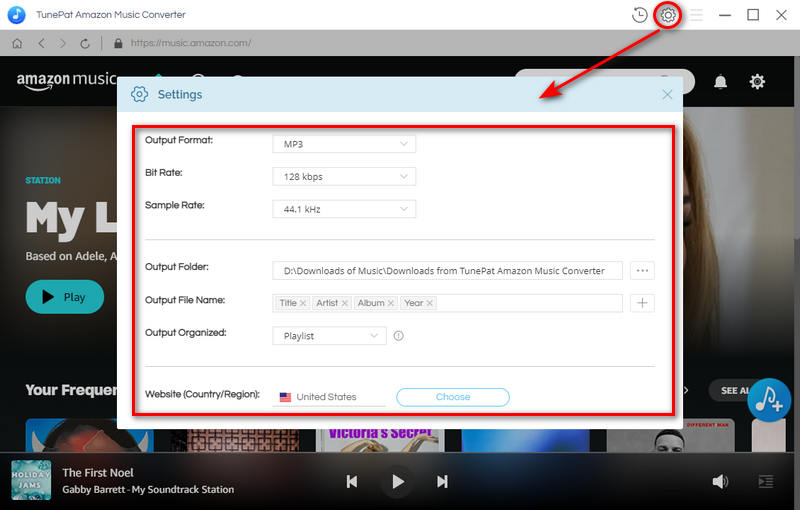 Step 3. Select Amazon Tracks to Download & Convert
In this step, browse your favorite songs, playlists, albums, or podcasts. Click the cover to open the playlist or album if necessary. Then hit on the blue button "Add to list"

to open another popup window. All the available songs are selected by default, you can undo them and select several of them to click "Convert Now" to start the conversion immediately.
Hitting on the "Save to list" will add the songs to the task list. And you are allowed to add more songs in other playlists or albums to the list. After finishing the selection, click the "task list"

icon to check them. Then click "Convert" to start the batch conversion at once.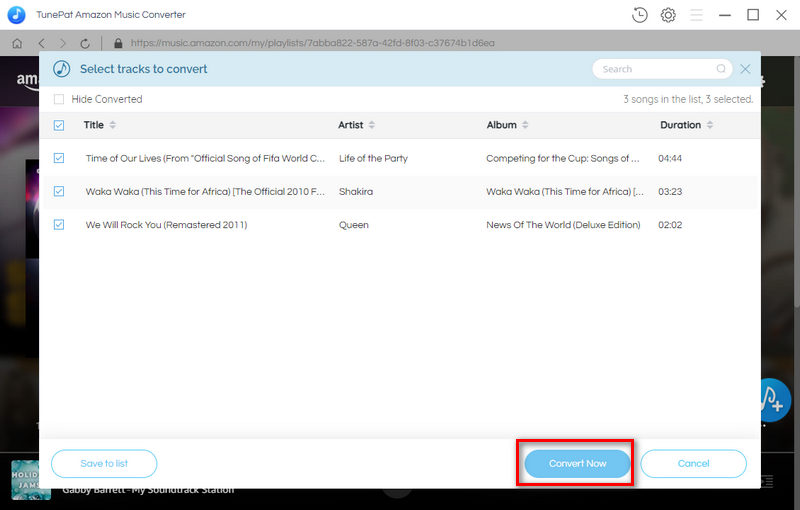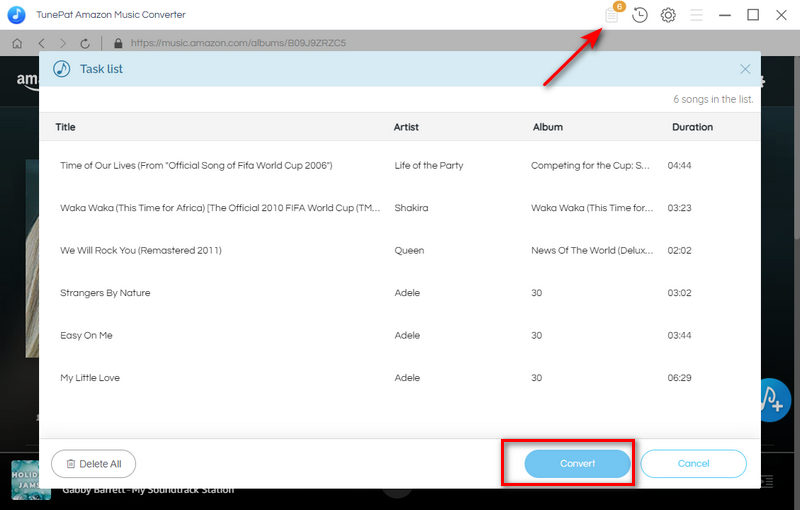 Step 4. Check Amazon Music on Local
When the conversion is complete, the window of the output folder will occur. You will find that the selected Amazon tracks have been stored on your local computer as common files. Check their properties to see that they are all output based on your settings.
Up to this step, you have downloaded Amazon music in a real sense and saved them on your computer successfully. These files can be stored on the PC permanently, transferred to other devices like Sonos, and uploaded to Spotify.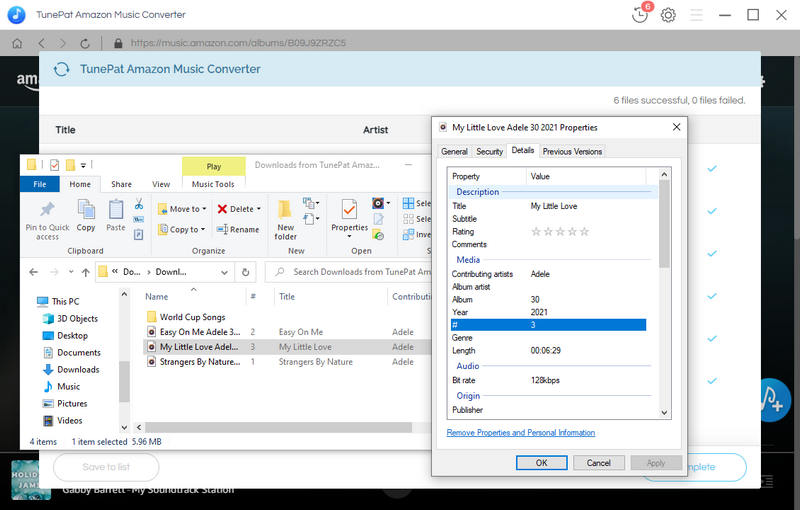 ---
Summary
Having read the two parts above, you can know about TunePat Amazon Music Converter from all aspects and get the concrete steps of how to use it to download and convert your favorite Amazon tracks. Objectively speaking, TunePat Amazon Music Converter is quite an excellent and powerful tool. It is better than most other Amazon music converters in the market. So do not hesitate to take action to try it now.
---