3 Ways to Stream Deezer Music on Yamaha MusicCast
Deezer is home to over 90 million licensed tracks, more than the most popular streaming service Spotify's 82 million. In addition to its large music resource, Deezer gains its position for its service of streaming music with HiFi audio quality. However, whether the audio quality can be shown well or not is decided by sound equipment to some extent. There are lots of sound equipment in the market. And Yamaha MuiscCast is one of the sound equipment that owns the HiFi component, which makes it stream HiFi music well.
Yamaha is one of the leading sound equipment producers in the world. Many families own one or more pieces of Yamaha equipment. But do you know how to use it to stream or play music? Don't worry. In this article, we will show the steps to stream Deezer music on Yamaha MusicCast and offline play Deezer music on this device. Read it.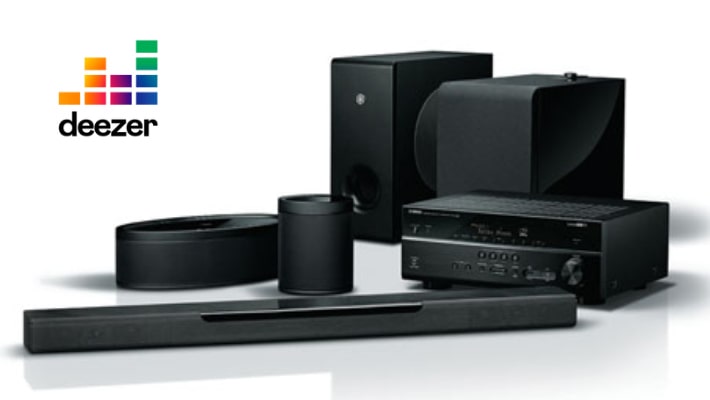 Part 1.

Stream Deezer HiFi Music on Yamaha MusicCast

Yamaha has reached cooperation with several popular music streaming services, including Deezer. So you can stream Deezer music on this device directly. To easily play music on your Yamaha MusicCast, you need an app to control it.

Step 1.Download and install the MusicCast Controller app developed by Yamaha Corporation on your smartphone from App Store or Google Play.

Step 2.Launch the Controller app to connect one of your Yamaha devices. If you have never added one to your app, select Add New Device from the Settings menu and follow the simple steps to finish the settings.

Step 3.Next, you are required to choose a music streaming service. And select Deezer to enter your Deezer premium credentials.

Step 4.Finally, you can select the songs you want to stream on your Yamaha MusicCast. If you want to stream HiFi music, you should have a Deezer HiFi subscription and a Yamaha HiFi component.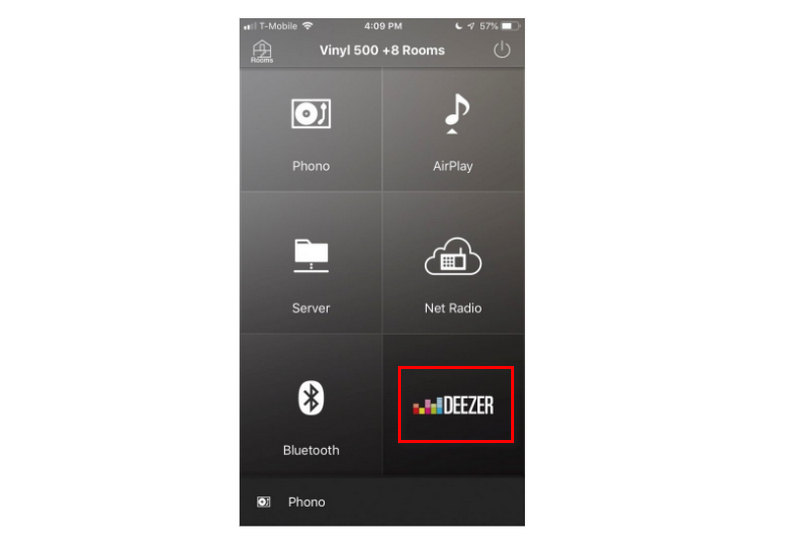 ---
Part 2.

Stream Deezer Music on Yamaha MusicCast via AirPlay

If you are using an iOS device, you are lucky to stream Deezer music via AirPlay.

Step 1.Install the Deezer app from the App Store. And make sure your iOS device connects the same network to your Yamaha MusicCast.

Step 2.Open Deezer to log in to your Deezer paid account.

Step 3. Play songs on Deezer app.

Step 4.Go to the AirPlay option and connect your Yamaha device, Deezer music will stream on the device.
---
Part 3.

Offline Play Deezer Music on Yamaha MusicCast

Things we all know about Deezer is that when the subscription expires, we cannot enjoy any music from Deezer, and the downloads cannot be accessed anymore. Thus, to stream Deezer music on Yamaha MusicCast without the influence of the subscription, we need to download music in a real sense. And we need some extra help.

DeeKeep Deezer Music Converter is designed as a professional tool to download Deezer music to the local computer and convert Deezer music to different formats like MP3 and FLAC with different audio qualities. With this tool, we can forever play Deezer music on Yamaha MusicCast without network.

Step 1.Set up DeeKeep Deezer Music Converter

Download and install DeeKeep Deezer Music Converter on your computer first. If you already have this software, just double-click to open the program. Then enter your Deezer paid account credentials in the Deezer web player.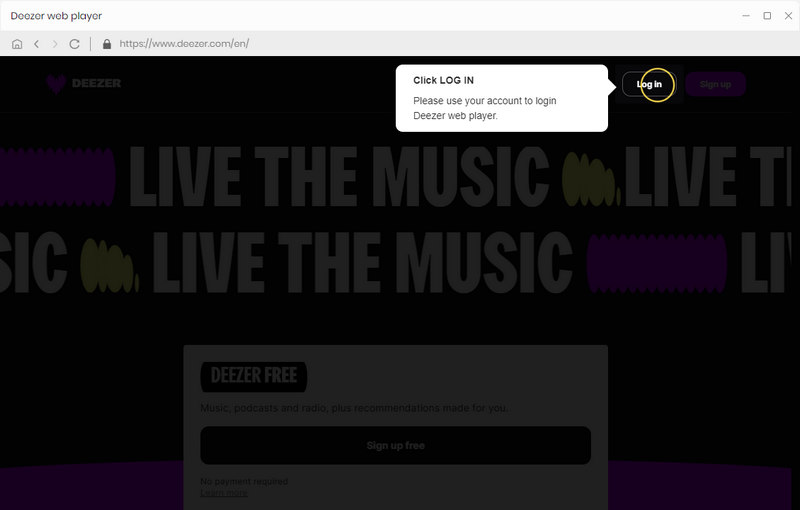 Step 2.Complete Output Settings as You Wish
From the lower left corner click the tab "Settings"

. On this panel, select the output format you want, bit rate, and sample rate. Designate an output folder from one of your local folders by clicking the three dots. In addition, you can edit the output file name and output organized to classify the output files. Below are the details.
Output Format: MP3, AAC, WAV, AIFF, ALAC, FLAC, Auto.
Bit Rate: 128 kbps, 192 kbps, 256 kbps, and 320 kbps .
Sample Rate: 44.1 kHz, 48 kHz, 96 kHz, 192 kHz .
Output File Name: Track Number, Title, Artist, Album, Playlist Index, Year.
Output Organized: Playlist, Artist, Album, Artist/Album, Album/Artist, Playlist/Artist, Playlist/Album, None.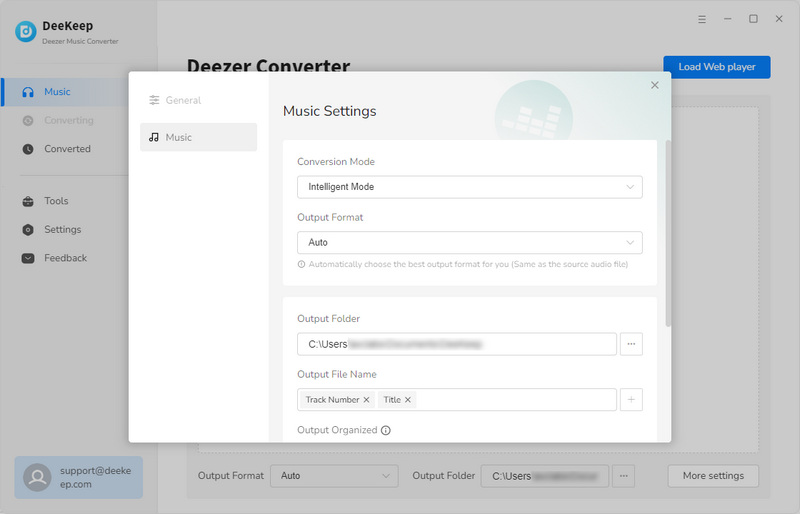 Step 3.Add Deezer Songs/Playlists/Albums/Podcasts to Download
After closing the settings panel, go to the songs you want to download or open a playlist or album. Click the blue button "Click to add" to open a new window. Select the tracks you are going to download and click "Add" to add them to list.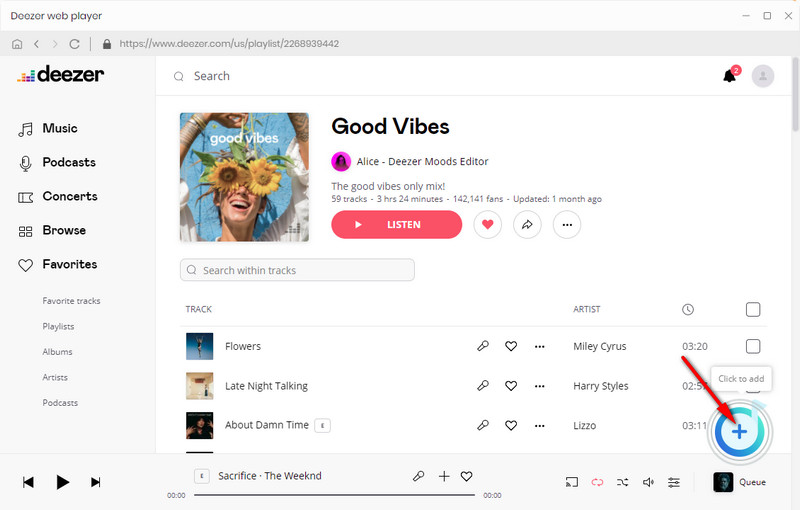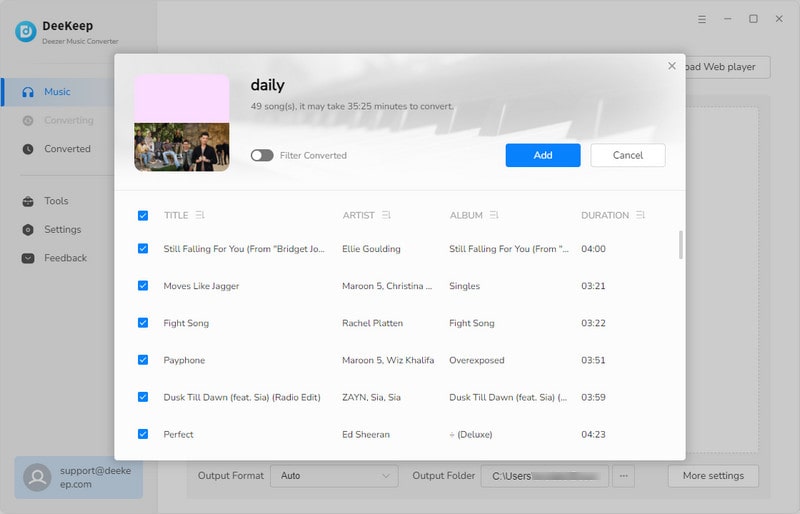 Step 4.Download Deezer Songs/Playlists/Albums/Podcasts
Then you just need to click "Convert" to start conversion. If you want to download a large batch of Deezer songs, click "Add More" after the previous picks, then add more tracks by opening another playlist or album, and save them to the list. Then click "Convert" to start the batch conversion.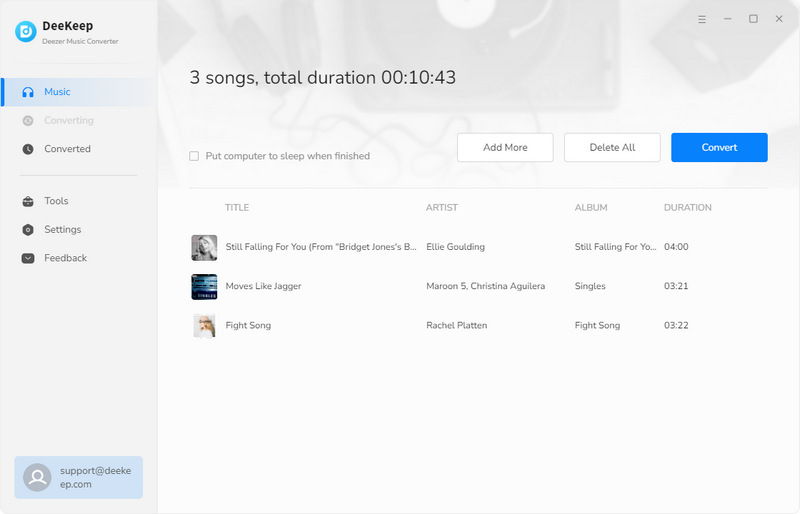 Step 5.Check Deezer Downloads
The output folder will automatically occur when the conversion progress is complete. Or you can find them in the Converted section. You will find that all the selected Deezer tracks are downloaded to common audio files. You can store them permanently on your computer and transfer them to other devices like Android phones and MP3 players.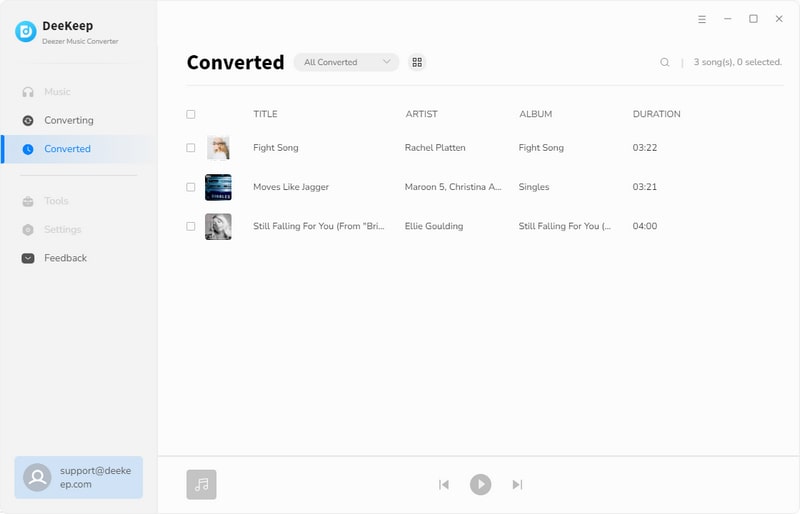 Step 6. Transfer Downloaded Deezer Music to Smartphone
To easily play the downloaded Deezer music, you can transfer the Deezer audio files to your smartphone. Connect your phone to your computer with a USB cable, use your phone for file transfer, and copy the audio files to the music folder on your phone.
You may need: How to Download Deezer Music to Android phone >>
You may also need: 3 Top Ways to Download Deezer Music/Playlists to iPhone >>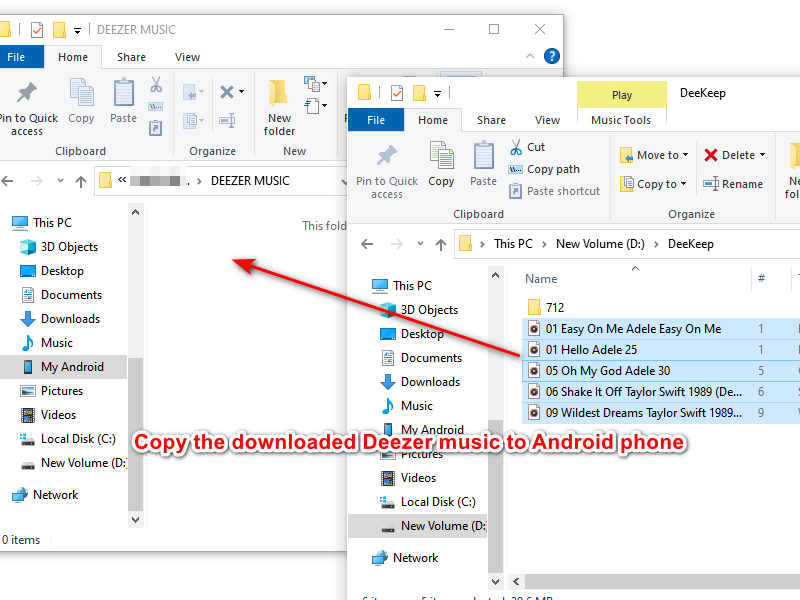 Step 6. Play Deezer Music on Yamaha MusicCast Forever
Turn on the Bluetooth on your phone. Open the MusicCast Controller app, select Bluetooth, and choose your Yamaha MusicCast. After confirming the connection, play the Deezer audio files. And you can enjoy them across your home, without the concern over your network and Deezer account subscriptions.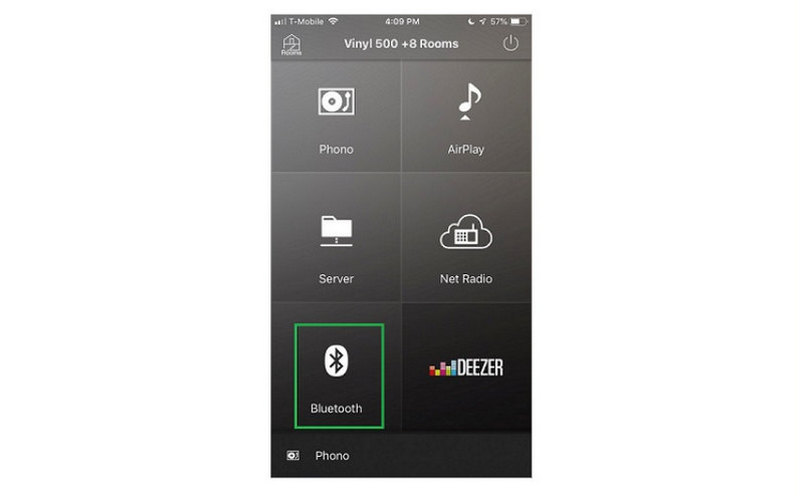 ---
Summary
These are the three ways of streaming and playing Deezer music on Yamaha MusicCast. You can install the MusicCast Controller app to stream Deezer music directly, stream via AirPlay if you use an iOS device, or download Deezer music to your device and play them on the device. Each method has its own merits. When you enjoy the convenience brought by the Controller app, you are required to cost more, as you need to keep your Deezer subscription active. Streaming via AirPlay leads to more costs too.
Thus, to reduce the cost and network concern, we suggest you take the third method into your consideration - use DeeKeep Deezer Music Converter. It is such a powerful tool for downloading Deezer music and converting Deezer music to different formats. Besides, with DeeKeep, you can own the music files permanently and transfer them to devices like Android phones. So do not hesitate, try it now!
---