How to Play Deezer Music in Airplane Mode
In the early times, passengers on airplanes must completely power their mobile phones off for safety. But in the 2010s, airplane mode was introduced. Since then, passengers don't have to switch off their mobile phones but turn on airplane mode. As it can stop mobile phones from sending out any signals, which does not affect safety, and help to the greatest extent to keep the normal use of mobile phones as on land, airplane mode is the basic function of all mobile phones.
However, the journey seems too long without signals and a network. So most of us will listen to music to chase out boredom. But without a network, how can we do that? Don't worry. In this article, we are going to show you the ways of playing Deezer music in airplane mode, which will not affect safety at all. In addition, the article is helpful for you to listen to music in the case without network or signals. Read the passage to get the answers.
Part 1.

Play Deezer Music in Airplane Mode Directly

As in Airplay Mode, all signals cannot be received or sent out from mobile phones. So if you want to play Deezer music in Airplane Mode with the Deezer app, you must become a Deezer premium user and download music for listening offline to your phone before taking off. Here are the steps.

Step 1.Install the Deezer app from the App Store on your mobile phone. As Deezer currently is available in over 180 countries and regions, you'll easily get the app on your phone.

Step 2.Log in to Deezer and be a premium user.

Step 3.Tap on "Search" on the bottom feature bar, enter the song you want in the search bar, add it to a playlist, or heart it to Favorites (Deezer currently does not support directly downloading a single track).

Step 4.Tap on "Favorites", open the playlist, and tap the "Download" slider to start the download. To download an album, open it and tap the "Download" slider as before. To download a podcast, tap the "Show" in the bottom bar, then download.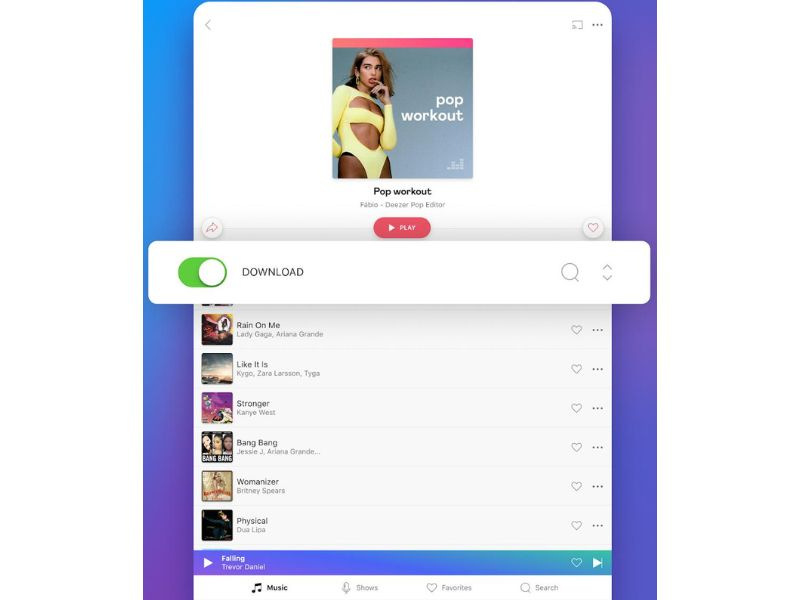 With the above steps done, you can play Deezer music on Airplay Mode, or for offline listening. But please keep your subscription active, as once you unsubscribe, you are not allowed to access your Deezer downloads.
---
Part 2.

The Best Way to Play Deezer Music in Airplane Mode without Deezer App

This part is going to show you the way of listening to Deezer music in Airplay Mode without installing the Deezer app on your mobile phone or your computer. You need a tool—DeeKeep Deezer Music Converter, which is an expert in music download and conversion. It is equipped with professional features and settings, and a powerful system, ensuring all the selected Deezer music can be successfully downloaded and converted and all the music download needs to be met. It is deemed a brilliant converter and has been praised by its users and software evaluators.

Step 1.Install DeeKeep Deezer Music Converter on Your Computer

The first thing you need to do is to click the button above to download DeeKeep. Next, install and launch it on your computer. Then click "Open Deezer Web Player" and log in to your Deezer account. As Deezer free accounts are not allowed to download Deezer tracks or enjoy an offline mode, you must make sure that your account is one of the several kinds like Deezer premium, Deezer Hi-Fi, or Deezer family.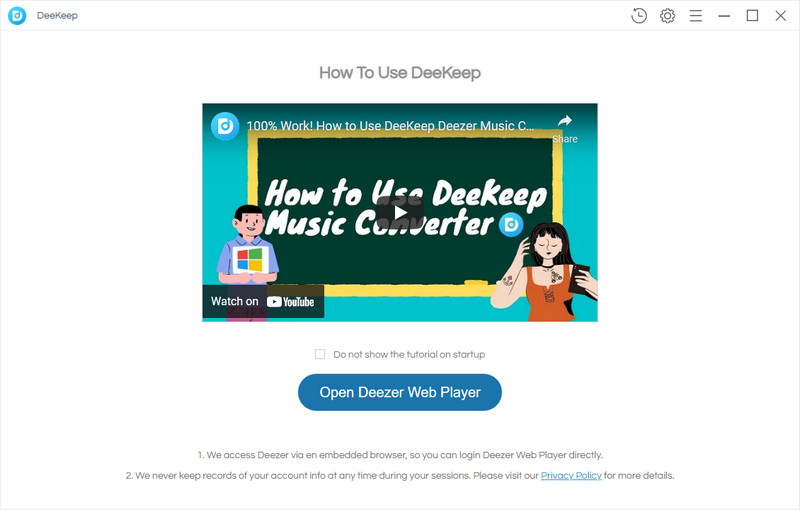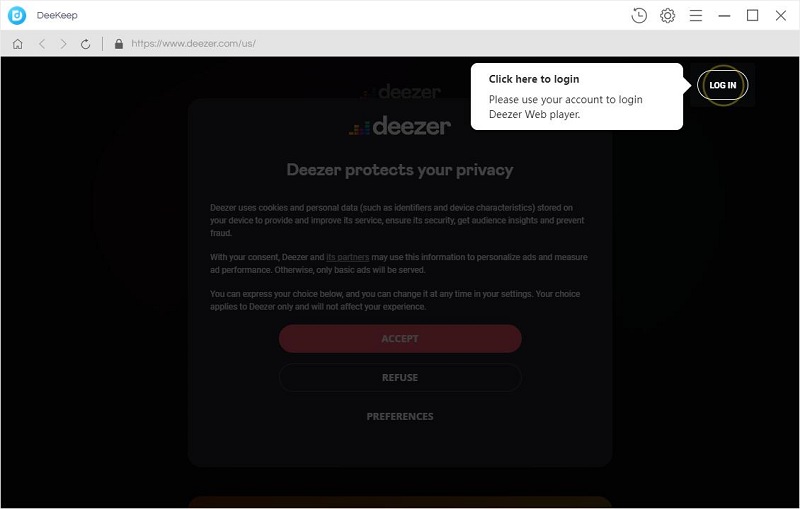 Step 2.Change Output Settings as You Wish on DeeKeep
After successfully logging in to Deezer, click the "Settings"

button in the upper right corner. And a window occurs. Then set the Output Format, Bit Rate, and Sample Rate, specify an Output Folder to put the downloaded Deezer music files, edit the Output File Name, and classify the output folder by Output Organized. Once you close the setting window, all the settings you make will be automatically applied to all the songs you download next. The followings are the detailed options.
Output Format: MP3, AAC, WAV, AIFF, ALAC, FLAC, AUTO.
Bit Rate: 128 kbps, 192 kbps, 256 kbps, and 320 kbps (depending on the format selected).
Sample Rate: 44.1 kHz, 48 kHz, 96 kHz, 192 kHz (depending on the format selected).
Output File Name: Track Number, Title, Artist, Album, Playlist Index, Year.
Output Organized: Artist, Album, Artist/Album, Album/Artist, None.
These are the evidence of the professional features of DeeKeep. With these settings, you can easily get the music as you please, it provides what others cannot.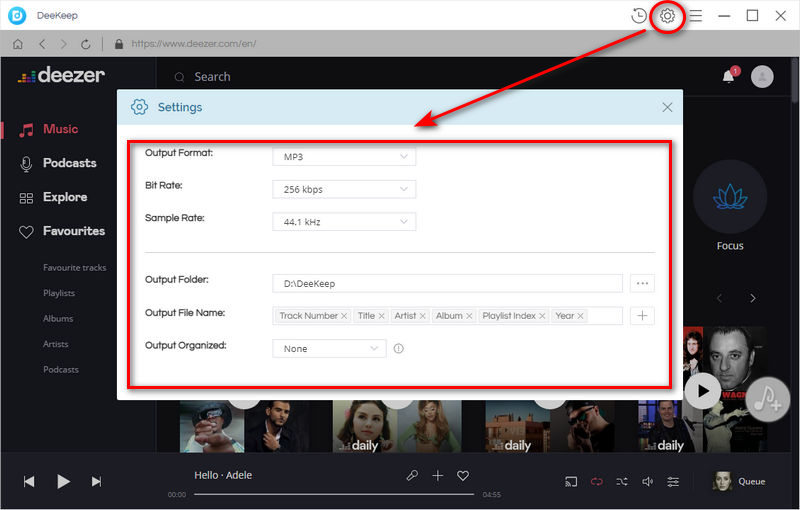 Step 3.Select Deezer Songs/Playlists/Albums/Podcasts to Download & Convert
Now navigate to Favorites, choose your favorite tracks or playlists or any that you are going to download, and open it. Click the blue button on the right side "Add to list"

. On the window "Select tracks to covert" pick the songs you want and click "Convert Now" to start the download and conversion.
Or after picking, click "Save to list" to add them to the "task list", and open a new playlist or album to pick and add more tracks to the task list. Then click the "task list"

icon next to the "Settings" button and click "Convert" to convert all your picks at once. Next, wait for the conversion to be completed.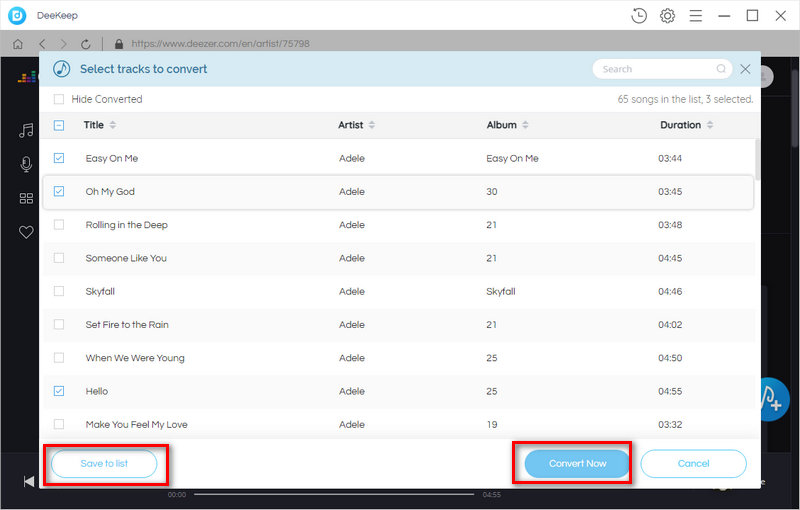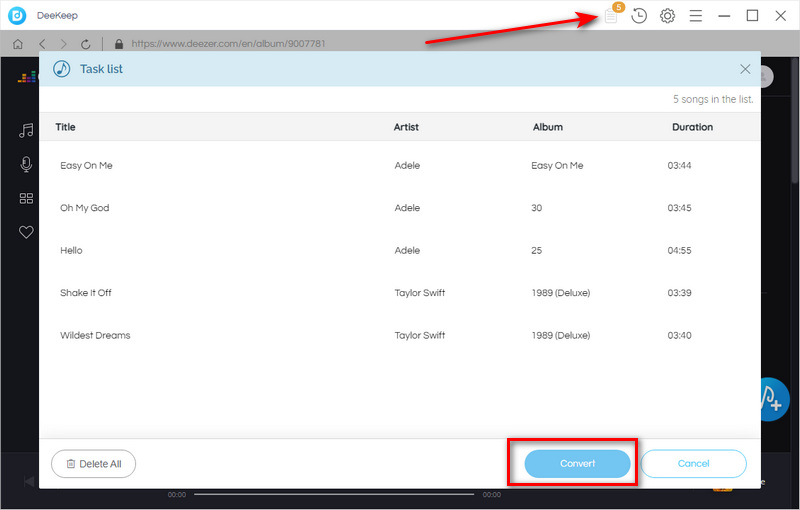 Step 4.Check Deezer Downloads on Your Local Computer
Once the conversion is finished, the window of the chosen folder will automatically occur. Or you can go to "History"

to open the file of a single track. Check the downloaded Deezer music files. You'll find that the properties are based on your settings made on DeeKeep. To this step, Deezer music has permanently been the common music files on your computer, you can use them for any of your purposes.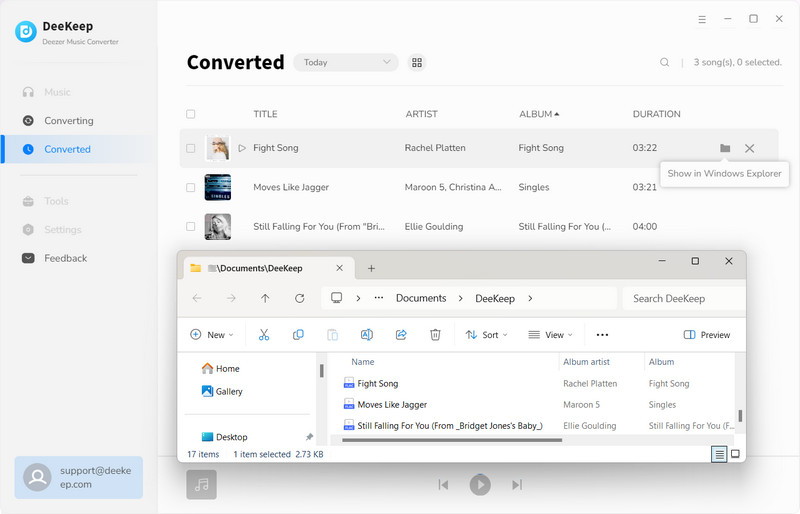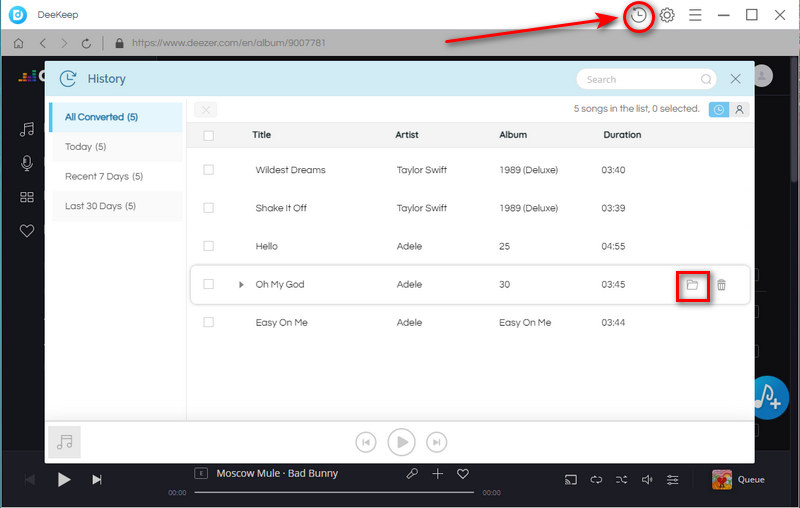 Step 5.Play Deezer Music on Your Phone in Airplane Mode
As the downloaded Deezer music files are stored on your computer, to play them on your mobile phone in Airplay Mode, you need to transfer them to your mobile phone first.
If you use an Android, connect your Android to your PC with a data cable, and copy them to a music folder on your mobile phone. Launch any music player on your phone to find the scanning feature to add Deezer music files to the player. Or go to the folder on your Android phone and choose a player to open the music files. Then add the song to a playlist on the player.
You may be interested in: How to Download Deezer Music to Android phone >>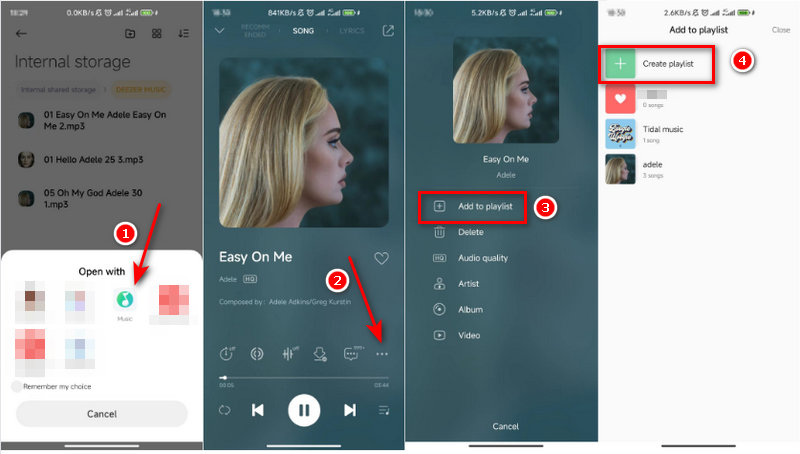 If you use an iPhone, add the downloaded music files to your iTunes, conncet your iPhone to your PC with a data cable, then sync them to your iOS device. Then you can play them in airplane mode or in the case without network or signals.
You may be interested in: 3 Top Ways to Download Deezer Music/Playlists to iPhone >>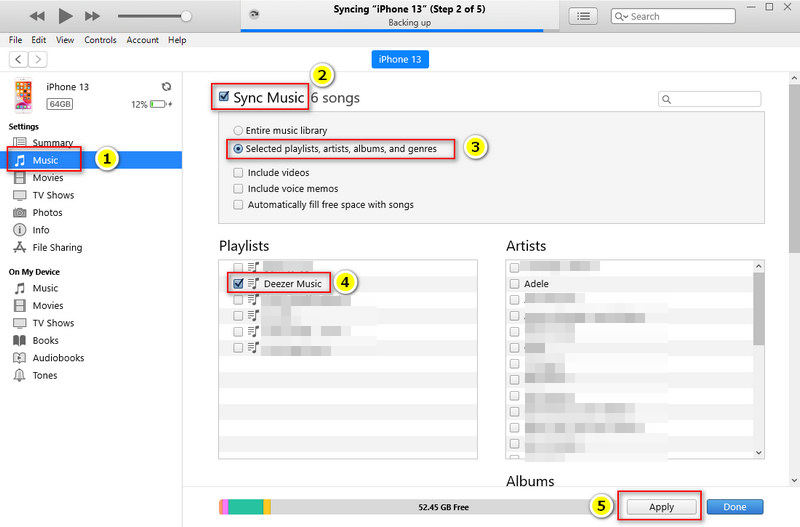 With the five easy steps done, you can play Deezer music without the Deezer app in Airplane Mode. It seems more complicated and mind-cost than the first way, but it can get rid of many unnecessary troubles in downloading and playing music brought by networks and subscriptions. Once you download Deezer music with DeeKeep, you will be allowed to store the music files and use them fairly like importing them to MP3 players, DJ software, or smart TVs.
---
Summary
The above are ways how to play Deezer music in Airplane Mode. You can see that with DeeKeep Deezer Music Converter you can not only listen to Deezer music in Airplay Mode but also play them in any other circumstances without signals or network, which means you can enjoy music on airplanes and in remote areas. So do not hesitate, try DeeKeep right now!
---