How to Download Deezer Music for Free Playback
Although Deezer is a French online music streaming service, it has gradually become popular in recent years in the world, especially since it came into season in July 2022. Like other music streaming services, Deezer also provides several different subscription plans. With a Deezer Premium plan, you can listen to millions of tracks without limit and download Deezer tracks for offline playback, which only costs as low as $5.99 per month. But there are still many limits. And one of these limits is that all the offline playbacks of Deezer music require the users are in subscriptions, which means if you unsubscribe to Deezer, you will not be able to play them back.
To solve this problem and release the lock, in this article, we will present you the way of playing Deezer music for free playback, without the limit of times. You are required to use a tool—DeeKeep Deezer Music Converter, to download your favorite Deezer songs, playlists, albums, and podcasts to your computers. Take a few minutes to read the passage and get the easy way.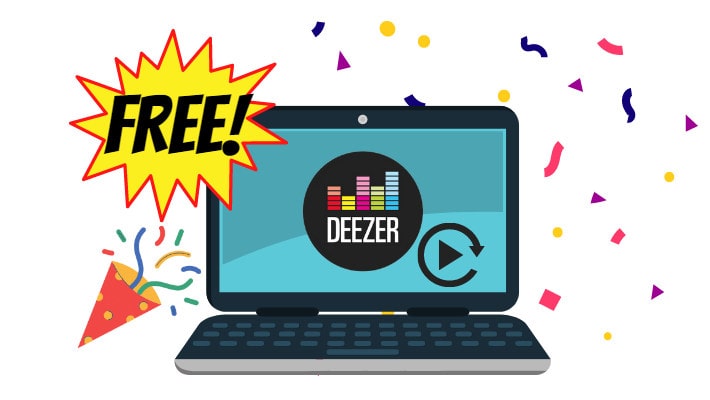 Part 1.

Download Deezer Music with Premium Account

To download Deezer music with a premium account is very easy. Read the following steps.

Step 1. Download and install the Deezer app on your device.

Step 2. Launch Deezer and log in with your premium account.

Step 3. Open a playlist or an album.

Step 4. Tap the Download button to save Deezer music on your device. Then you can play your Deezer downloads back even without an Internet connection.

Note: When you cancel the subscription to Deezer, you will not have the right to access your downloaded music unless you re-subscribe. As all the tracks are downloaded with encryption and are stored within Deezer itself, they can only be played within the Deezer app.
---
Part 2.

Use DeeKeep for Deezer Music Free Playback

DeeKeep Deezer Music Converter is currently the most professional and powerful tool for downloading and converting Deezer music, as it has a simple design, convenient operations, a stable system, and rich features. And it has been praised by many users and people who specialize in evaluating software products.

Step 1. Start DeeKeep Deezer Music Converter

For the first step, you need to download DeeKeep. Click the button above to download it or go to its official website to download it. Pay attention, please choose the right version which matches your computer's operating system. Install and launch it on your computer. And click the "Open Deezer Web Player" button to enter the program.

As DeeKeep works via accessing the official Deezer web player, you don't have to install the Deezer app on your computer, saving more space. Next, log in to Deezer with your premium account.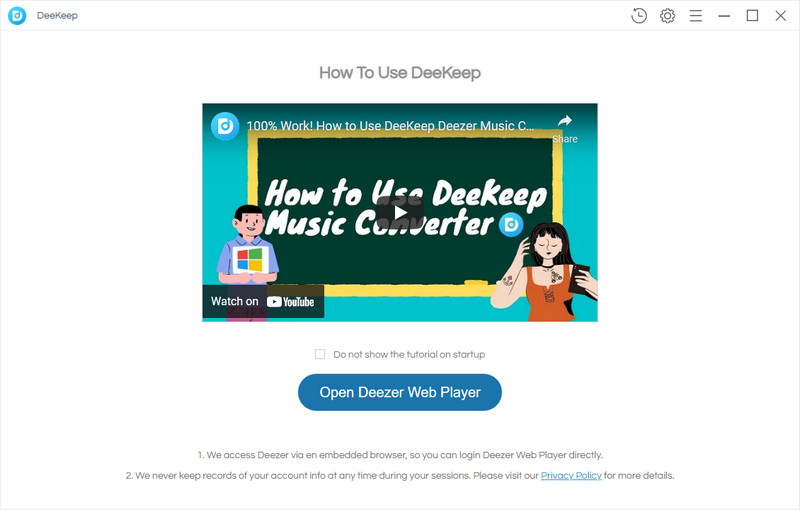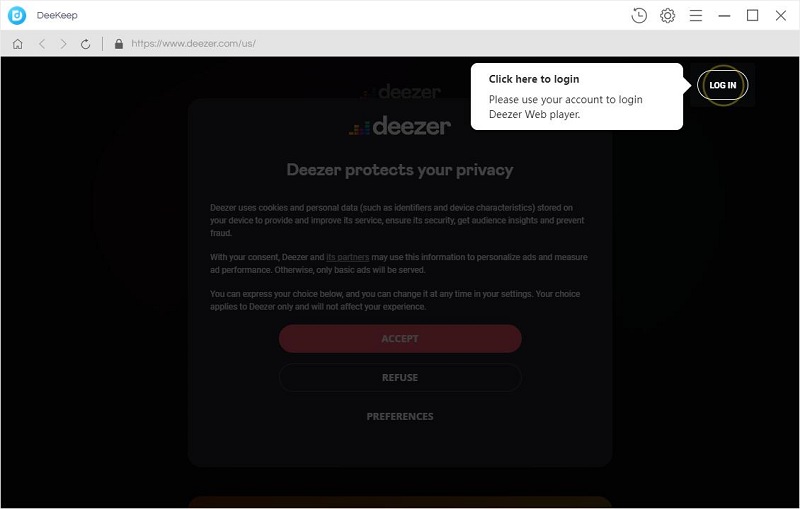 Step 2. Adjust the Output Parameters on DeeKeep
How do we prove that DeeKeep is full-featured as we mentioned before? Take a look at this step to get the answer.
After entering the program, click the "Settings"

button in the upper right corner to open a pop-up window. On this window are a series of settings. You are allowed to set the Output Format, Bit Rate, and Sample Rate, designate an Output Folder, edit the Output File Name and decide how the output files are classified with the setting Output Organized. In addition, you can get up to Hi-Fi audio qualities with the program. The followings are the details.
Output Format: MP3, AAC, WAV, AIFF, ALAC, FLAC, AUTO.
Bit Rate: 128 kbps, 192 kbps, 256 kbps, and 320 kbps (depending on the format selected).
Sample Rate: 44.1 kHz, 48 kHz, 96 kHz, 192 kHz (depending on the format selected).
Output File Name: Track Number, Title, Artist, Album, Playlist Index, Year.
Output Organized: Artist, Album, Artist/Album, Album/Artist, None.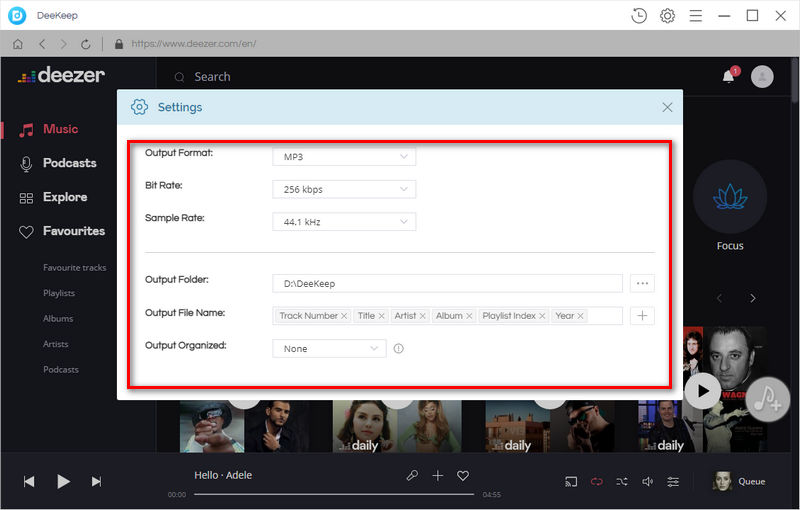 Step 3. Select Your Favorite Deezer Music to Download
In this step, you can choose your favorite Deezer songs, playlists, albums, and podcasts to download. Just navigate to the tracks you want to download and click the button "Add to list"

on the right side. Then a pop-up window "Select tracks to convert" occurs. Here select and tick the tracks, then click the "Convert Now" button.
DeeKeep supports downloading songs in different playlists simultaneously. After selecting and ticking, click the "Save to list" button, and open a new playlist, select and click "Save to list" still. Then click the icon "task list"

to open another pop-up window, and click "Convert" to convert all the Deezer music at once. Next, you just need to wait for the conversion to be finished.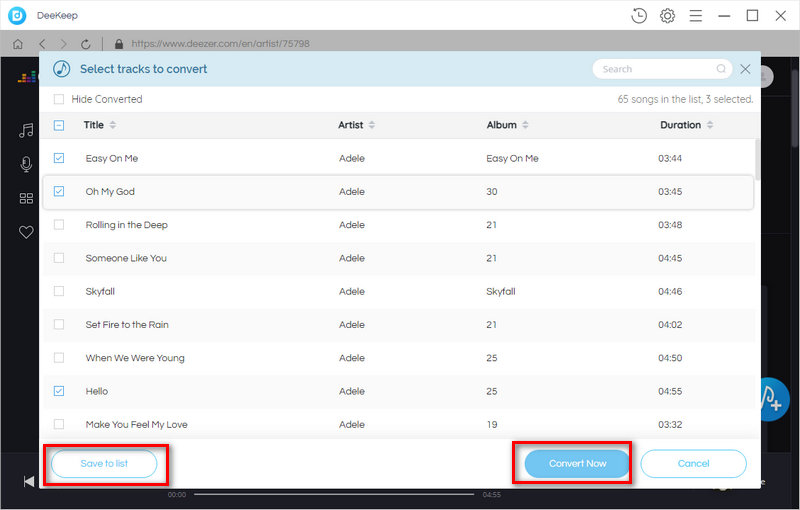 Step 4. View the Downloaded Deezer Music on Your Computer
The selected output folder will occur as soon as the conversion is completed. Here you can check the properties.
Until this step, have you ever found any difference between the downloads directly from Deezer and the downloads from DeeKeep? You can see that the downloaded Deezer music via DeeKeep is all shown as common audio files on your local computer folder, and is output according to all the settings you made in the second step, such as the format, bit rate, and so on.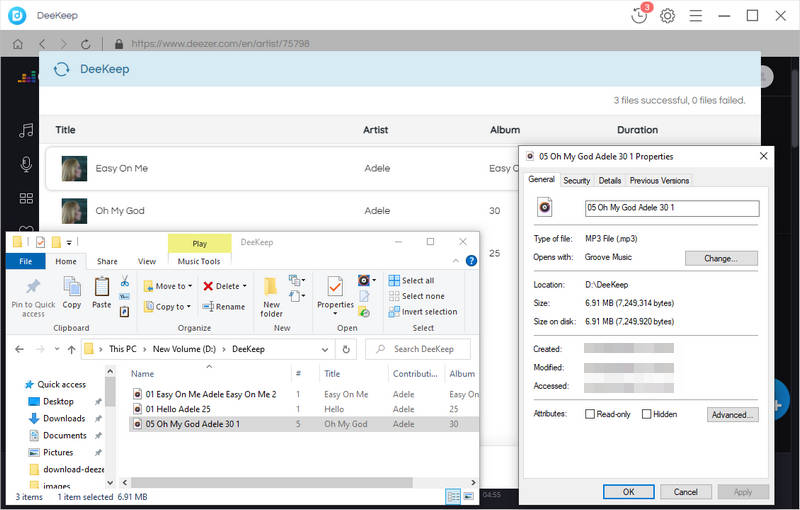 As Deezer music has been converted to common audio files, you can permanently save them on your device and play them back at any time you like, and without the limit of times. It costs nothing. Besides, you can transfer them to other devices like MP3 players and import them to DJ software, just like transferring or importing other common files.
---
Summary
We believe that after reading the steps carefully you must know how to download Deezer music for free offline playback. And it is believed that DeeKeep Deezer Music Converter can help you do more than downloading music such as changing the bit rate and sample rate to get different audio qualities, organizing the output files, and so on.
You may wonder whether DeeKeep charges for all the services. The answer is not exactly. DeeKeep provides you with a free trial version, and you can download Deezer music under this free trial mode. The downloaded Deezer music can also become common audio files as we mentioned above. And you can customize the settings too. So what are you waiting for? Try DeeKeep at once!
---