TunePat Spotify Converter Review
As the most popular music streaming service in the world, Spotify has 456 million monthly active users, with 195 million paying users included as of September 2022. With such a large user quantity, the related download demands are huge correspondingly. And there are many Spotify converters and downloaders in the market. But how can you find the best one? In this article, we review one of the most popular tools TunePat Spotify Converter in all aspects. Read on to realize the professional tool.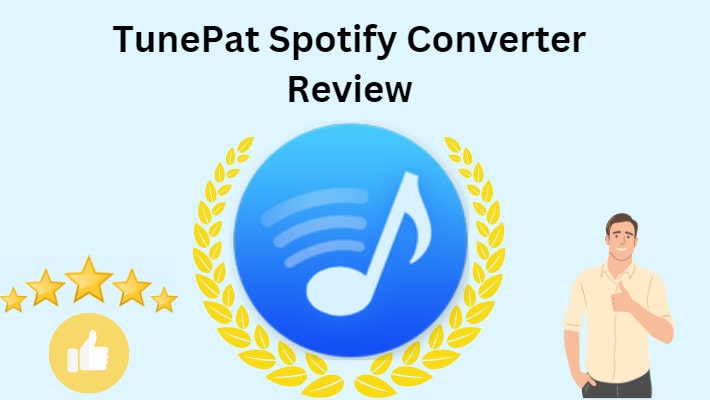 Part 1.

Features of TunePat Spotify Converter

TunePat Spotify Converter is a well-designed tool for Spotify Free and Premium users to download and convert Spotify songs, playlists, albums, and podcasts to the local computer. It applies advanced decoding technology, making it successful in extracting music from Spotify. The program works by accessing the embedded official Spotify web player, the users are not required to install the Spotify desktop app on their computers. Here we review TunePat Spotify Converter from six aspects.
➤Feature 1. Download Spotify Free and Premium Music
As is known to all, only paid Spotify users can enjoy the offline mode, which allows the users to save Spotify songs as cache files for playback without network, while Free users are not entitled to this right. But that is not for TunePat Spotify Converter users. Its come out is for all Spotify users. Whether you are a Spotify premium user or a Free user, you can use TunePat Spotify Converter to download and save Spotify songs, playlists, albums, and even podcasts to your device for offline listening. Besides, the program can filter the ads, and you will not be bothered while listening.
➤Feature 2. Convert Songs to Multiple Formats
To meet users' all conversion demands as much possible as it can, TunePat Spotify Converter is equipped with the ability to convert Spotify music to six different common formats, namely, MP3, AAC, WAV, ALAC, FLAC, and AIFF. That is, with this tool, you won't worry about the problem of the format not being compatible anymore. You can get Spotify music in a specific format, use them in other programs, and transfer them to any device.
➤Feature 3. Batch Conversion and 10X Speed
As we mentioned before, TunePat Spotify Converter is a professional music converter. You can batch-download Spotify songs within the Spotify app for offline listening, you can also batch-download Spotify tracks with the TunePat converter. You are allowed to select any number of Spotify songs and download them in a batch.
In addition, TunePat Spotify Converter supports proceeding conversion up to ten times the speed, while most other Spotify converters support only five times the speed. Namely, you can download lots of Spotify songs within a short time. It is very time-effective.
➤Feature 4. Preserve Full ID3 Tags
The other feature that makes TunePat Spotify Converter professional is its ability to preserve full song information. The program uses advanced ID3 tag recognition technology, making it possible to retain Artist, Title, Album, Track Number, Year, Artwork, Disc Number, etc. while downloading the audio track. You won't be worried about the song info and management.
➤Feature 5. Support Personalized Output
TunePat Spotify Converter has been improving and upgrading itself to be a more perfect and user-friendly tool. It sets an output settings module. There you can select Bit Rate, and Sample Rate, designate an Output Folder, or an output path, edit the Output File Name, and decide how the output files are classified by Output Organized, as well as choose an Output Format as you wish. Here are the detailed options.
Output Format: MP3, AAC, WAV, AIFF, ALAC, FLAC, AUTO.
Bit Rate: 128 kbps, 192 kbps, 256 kbps, and 320 kbps.
Sample Rate: 44.1 kHz, 48 kHz, 96 kHz, 192 kHz.
Output File Name: Track Number, Title, Artist, Album, Playlist Index, Year.
Output Organized: Playlist, Artist, Album, Artist/Album, Album/Artist, None.
➤Feature 6. Flexible Playback on Multiple Devices
Thanks to its rich conversion feature, you can convert Spotify music to six different formats and common audio files, and you can easily enjoy Spotify music on multiple devices. For example, you can transfer the downloaded Spotify music to other devices for free playback such as an android phone, iPhone, Apple TV, MP3 players, etc. Besides, you can also import the songs to some pieces of software, like Serato DJ for mixing, or iMovie for editing.
---
Part 2.

How to Use TunePat Spotify Converter

Having introduced TunePat Spotify Converter to you in the previous part, we are going to show you the step-by-step tutorials for using this tool to download Spotify music to your computer.

Step 1. Start TunePat Spotify Converter

Get a Windows or Mac version of TunePat Spotify Converter for your computer. Install and launch it. Hit on the "Open Spotify Web Player" to enter the program. Then you will see the official Spotify web, and follow the instructions to log in to your Spotify account.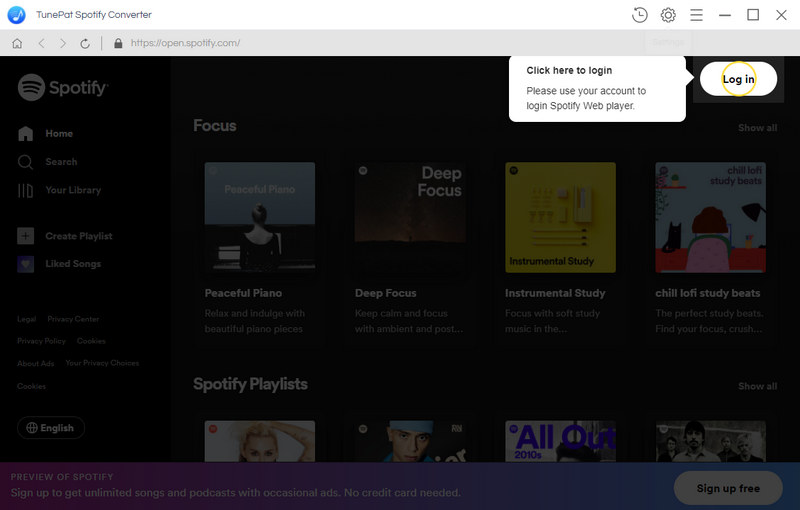 Step 2. Customize Output Settings
After finishing the login, click on the "Settings"

icon in the upper right corner. Next, do settings as you wish. You can select the output format, bit rate, sample rate, and output folder, and edit the output file name and output organized. Closing the window will apply all the parameters.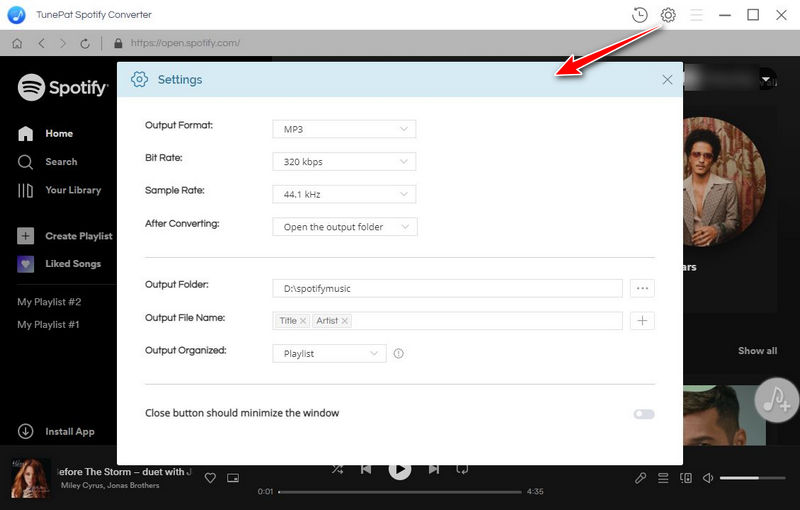 Step 3. Select Spotify Music to Convert
In this step, go to the song, playlist, album, or podcast you want to download. Click the cover to open it if necessary. Hit on the "Add to list"

icon on the right-hand side. Then a panel will occur. All the available Spotify tracks are listed and selected. You can pick several of them only. And click on the "Convert Now" button to start the conversion immediately. If you have used this program to download songs before, then select to filter the converted songs, the existing items will turn grey and not be downloaded in this batch.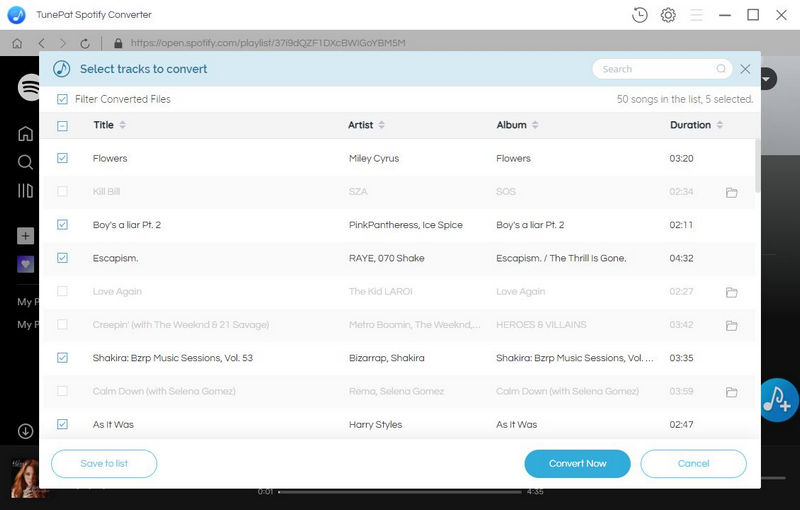 Step 4. Check the Downloaded Spotify Music
When the conversion is complete, the output folder window will pop up. You can check them. Or click the "History" icon on TunePat to check your download record. You can also check the output file by clicking the file icon within the item. To this step, Spotify music has been successfully downloaded to your computer and converted to the file you want. They are common and can be stored on your computer permanently.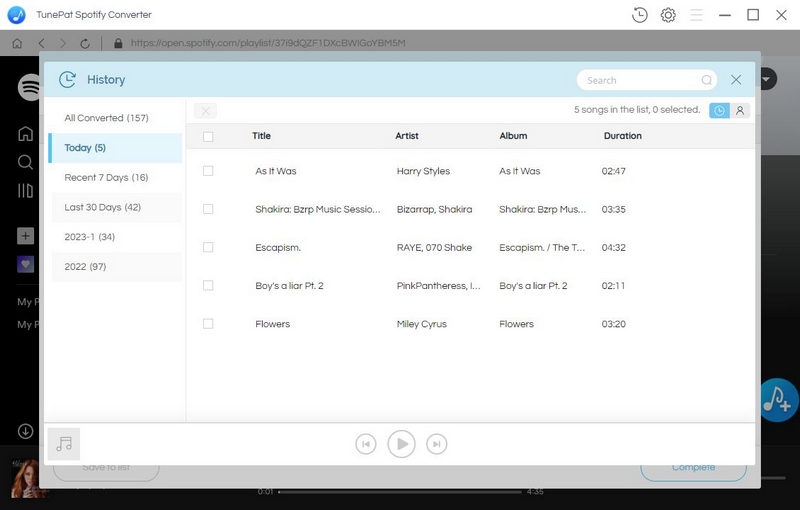 ---
Summary
With the above two parts read, you can realize that TunePat Spotify Converter is a both professional and powerful tool for Spotify music download and conversion, and know this tool in full view. From the second part, you can learn further how to use the advanced program to save Spotify music to your computer. If you think it is helpful for you, then download it right away!
---