How to Play Deezer Music on Alexa Devices
Is Amazon Echo Amazon Alexa? What's the difference between Amazon Echo and Amazon Alexa? Do such questions confuse you still? Alexa is a virtual assistant which is compatible with many Amazon devices, while Amazon Echo is a smart speaker. Alexa can help us with many things, such as setting a timer, playing music, and even ordering from Amazon, etc.
And music is so important a partner and friend in our life. So we usually play music on smartphones and other devices. And in this article, we plan to show you the methods of playing Deezer music on Alexa devices. Want to play millions of tracks with the virtual assistant? Take a few minutes to read the passage right away.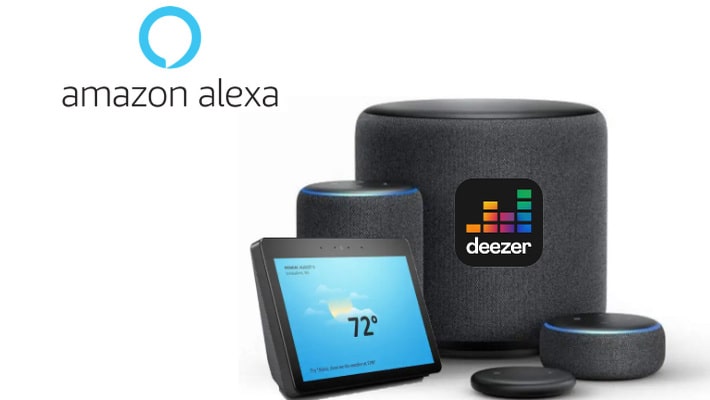 Part 1.

Set up Deezer with Alexa App to Play Music

In this part, we are going to present you with the steps of setting up Deezer on the Alexa app. As it is a necessary skill to play music on Alexa devices, we would like to introduce it first. If you don't know about the steps, read the following carefully.

Step 1.Install the Alexa app from App Store or Google Play Store and open it on your phone.

Step 2.Find settings on the app, then tap on Music and Link New Service.

Step 3.Find Deezer to click, tap on the button ENABLE TO USE, and enter your Deezer account and password. After the successful linking, you can ask Alexa to play Deezer music with a voice command like "Alexa, play my flow on Deezer" after the Bluetooth pair.

Step 4.To set Deezer as the default music service, tap on Settings - Music - Default Services -Deezer.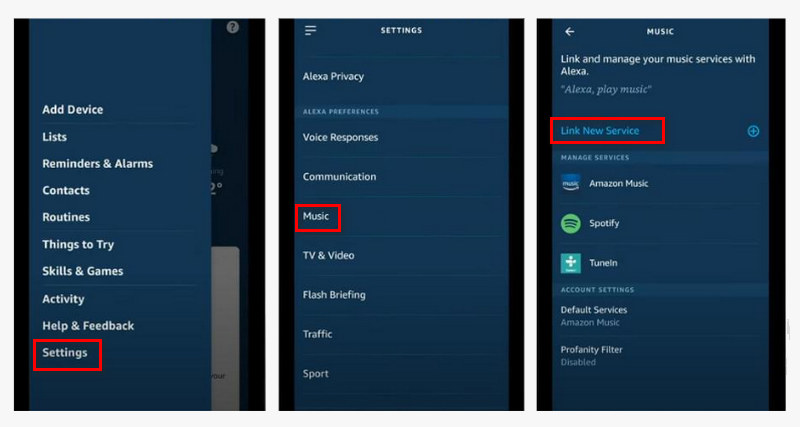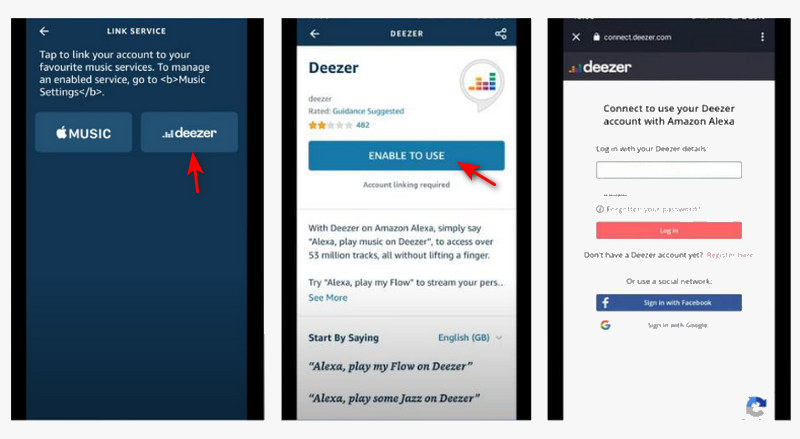 To smoothly play Deezer music on any Alexa device in this way, you have to ensure that your Deezer subscription is active and the network is great. Or you have to tolerate the ads and pauses. Of course, you can use the download feature in Deezer to download songs on your phone. But you have to be aware that the download is to save the songs as cache files, it is not a real download, and you cannot access the files. Fortunately, you should feel released if you read the next part.
---
Part 2.

Download Deezer Music to Play on Alexa Devices

The other way to play Deezer music on Alexa devices is to download songs with DeeKeep Deezer Music Converter. It is a full-featured tool that supports downloading Deezer music to your local computer to common files and converting the songs to different formats like MP3 and FLAC. To learn more about how to download and play Deezer music on Alexa devices, read on.

Step 1.Officially Download and Install DeeKeep

Go to the DeeKeep official website to download the correct version of the DeeKeep Deezer Music Converter on your computer. Or click the blue buttons above to download. Install and launch it, and click the "Open Deezer Web Player" to enter the program. You will be required to log in to Deezer, and please enter your Deezer paid account. Once it is done, you are in the Deezer web player, which is the official web player.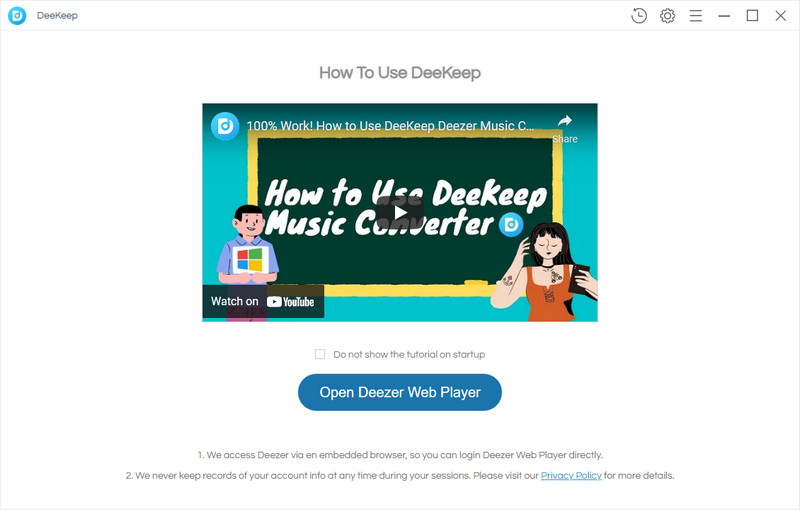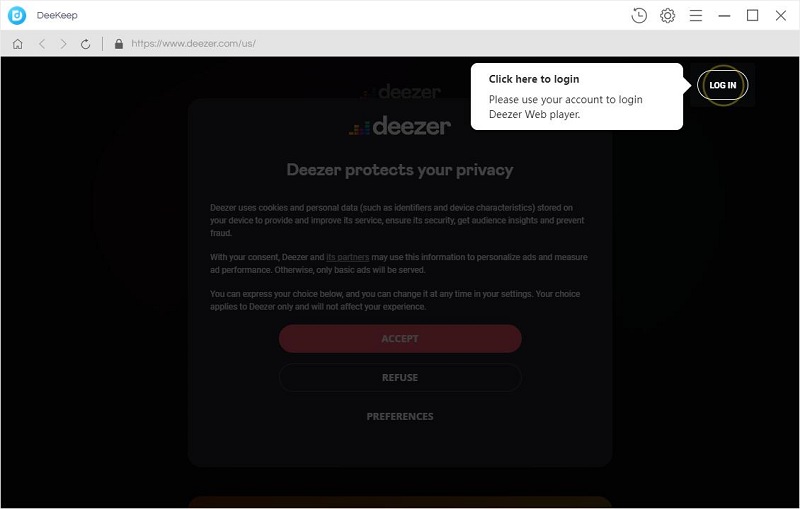 Step 2.Customize Output Settings Before Downloading
After the successful login, do not rush to find songs to download. Instead, move your sight to the top right corner of the screen and click on the "Settings"

button to open a panel. Change the Output Format to the one you need. Adjust the Bit Rate and Sample Rate to get different audio quality, the bigger the parameters, the higher the audio quality. Click the three dots to designate an Output Folder to put the output music files. Besides, you can add or reduce the options of Output File Name, and choose a classification for the output files by Output Organized. To save the choices, close the setting popup directly. Here are the setting details.
Output Format: MP3, AAC, WAV, AIFF, ALAC, FLAC, AUTO.
Bit Rate: 128 kbps, 192 kbps, 256 kbps, and 320 kbps (depending on the format selected).
Sample Rate: 44.1 kHz, 48 kHz, 96 kHz, 192 kHz (depending on the format selected).
Output File Name: Track Number, Title, Artist, Album, Playlist Index, Year.
Output Organized: Playlist, Artist, Album, Artist/Album, Album/Artist, None.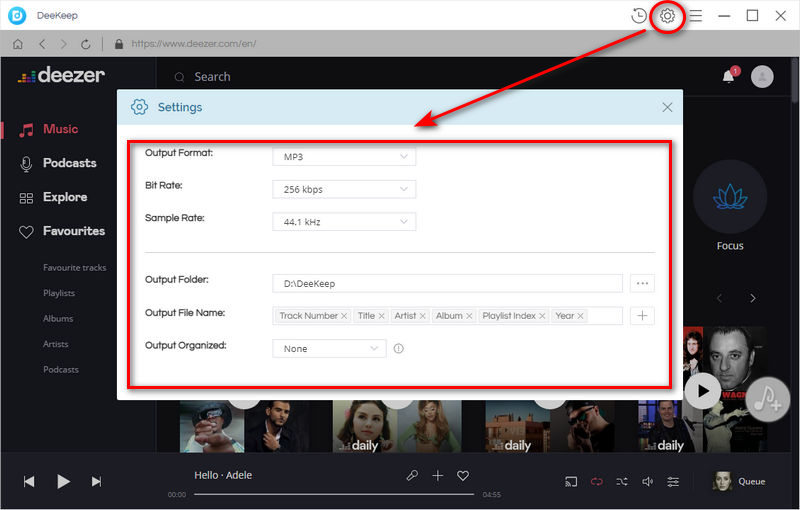 Step 3.Choose Deezer Tracks to Download
Click the cover to open the playlist, album, or podcast you plan to download, or directly search for a song. Click the blue icon "Add to list"

on the right side of the page. On the new panel, all the available tracks are defaulted to pick. You can undo and select the concrete tracks you want. And click the "Convert Now" button.
(Optional) DeeKeep allows you to download tracks in different playlists or albums in a batch. Click the "Save to list" after picking tracks on the first playlist or album, and select tracks in other playlists to save them to the list too. Hit on the "task list"

icon to check the selected and click "Convert" to download them all in batch at once.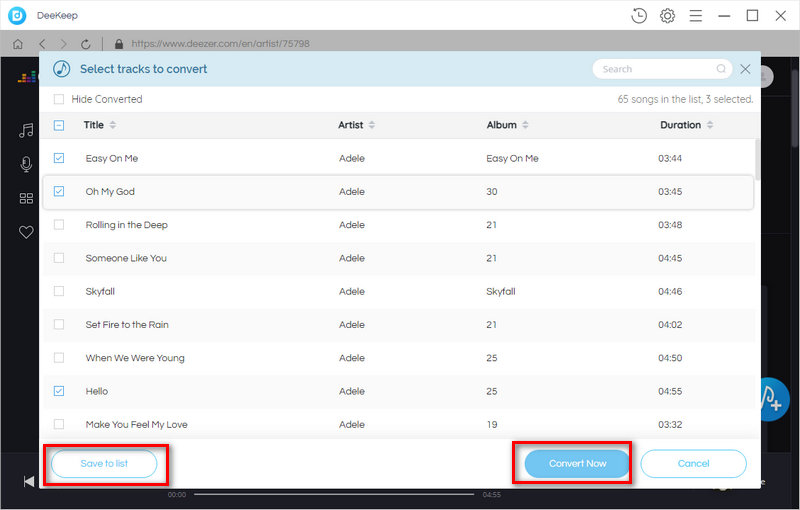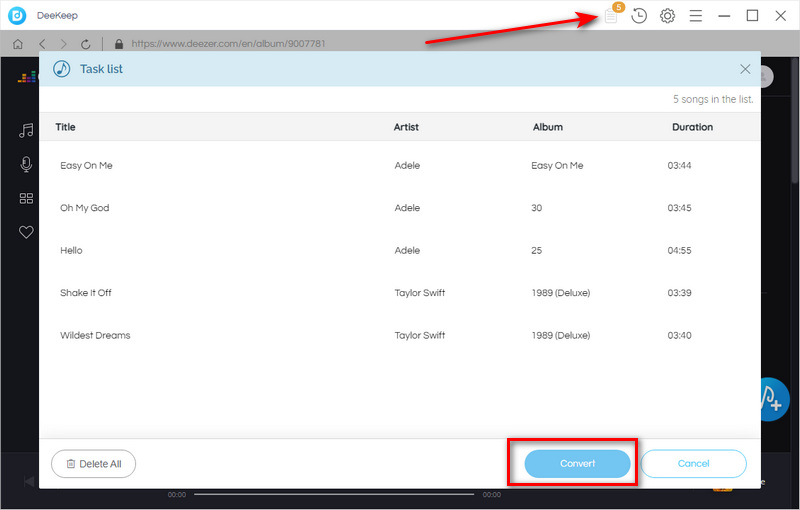 Step 4.View the Output Files
You can check the output files when the downloads are completed. The window of the output folder occurs automatically. What should be mentioned is that to this step Deezer music has been successfully downloaded to your local computer and converted to the files with the parameters you set. You are allowed to access the files whenever and play them even without a network connection.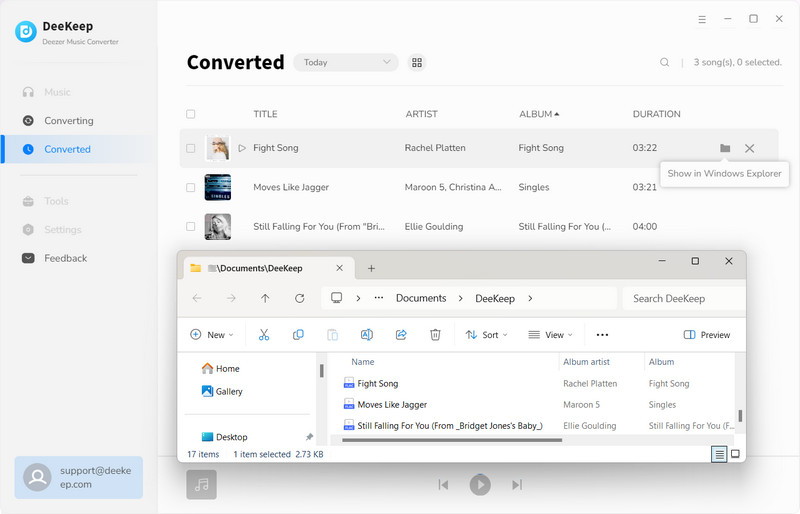 Step 5.Play Deezer Music on Alexa Devices
To easily control the music play, maybe you can transfer the music files to your other devices from your computer like your Android phone. Then connect your smartphone to your Alexa device via Bluetooth. When it is done, Alexa will announce the connection. And you can play the downloaded music on any Alexa device.
You may need: How to Download Deezer Music to Android phone >>
You may also need: 3 Top Ways to Download Deezer Music/Playlists to iPhone >>
---
Summary
Having read the parts above, you can find that it is quite easy to play Deezer music on Alexa devices. You can link your Deezer account and use voice to command Alexa to play. But we would strongly recommend you take the second method - use DeeKeep Deezer Music Converter, because it is more money-save, and you don't have to keep your Deezer subscription active all the time. Besides, with DeeKeep you can easily play Deezer music on Amazon Echo, Sonos, Sony Walkman, etc. So what are you waiting for? Click the button below to have a try!
---