How to Import Deezer Music to CapCut?
Are you a short video lover? When watching short videos posted by others, have you ever thought about making a video yourself to share your life? If so, then CapCut is a video editing tool that can help you fulfill your wish. It is simple to operate and user-friendly and has been praised by many users. If you want to add your favorite background music to your videos, Deezer's rich music library can provide you with many choices. In this article, we will introduce specifically how to import Deezer music to CapCut.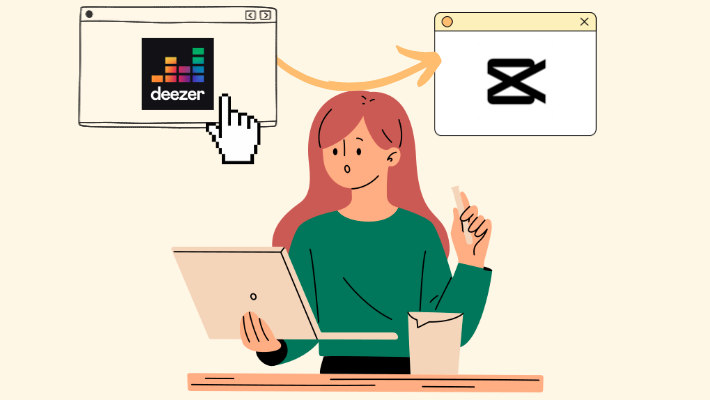 Part 1.

Compatibility Between CapCut and Deezer Music

As a powerful editing software, CapCut itself has a rich music library, including current popular songs and some exclusive content, for users to edit. But maybe your favorite songs cannot be found directly in CapCut currently, or you want to import your favorite Deezer music into the program for use, then you need to consider two issues. First, is the format of Deezer songs compatible with the audio formats supported by CapCut? Second, if it is not suitable, how can I convert the song format?

CapCut supports a comprehensive range of audio formats, including MP3, WAV, M4A, FLAC, and other popular audio formats. As we all know, music platforms have specific encryption formats for their own tracks. If you download them directly from the platform, the downloaded songs can only be kept on your device as a cache file and can only be played through the original platform. If you need to use them for other purposes, you must convert them to popular formats, such as MP3, WAV, etc.

Therefore, you need a music converter that can help you convert Deezer music to common formats. Here we will recommend a simple and powerful Deezer Music Converter - DeeKeep Deezer Music Converter. It can help users remove DRM from songs, convert Deezer songs to MP3, WAV, FLAC, ALAC, etc., and save them permanently on the computer. The converted songs can be used on any device or scene, and meet your needs for offline use.
---
Part 2.

How to Convert Deezer Music to MP3

Now, you only need to click the blue button above to get DeeKeep for free and start converting your favorite Deezer music. We will introduce you to the specific steps to help you convert Deezer songs to MP3 format for later editing.

Step 1.Run DeeKeep And Log In To Your Deezer Account

Double-click to run DeeKeep on your computer. Then the built-in Deezer web player will open at the same time. Follow the instructions to log in to your Deezer account.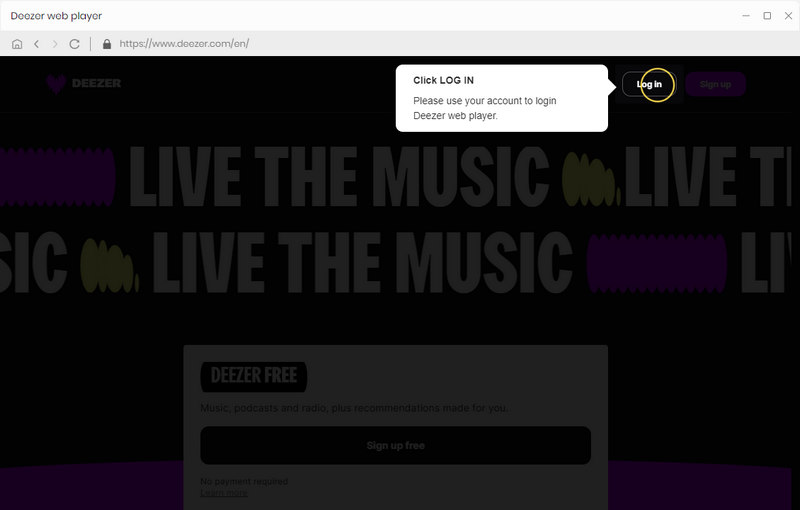 Step 2.Change Output Settings As Needed
Go back to DeeKeep's interface. Then click to open the Settings tab in the lower left corner. Select output format, output folder, output file name, and audio quality as you like. And if you want to save the lyrics, just check the Save lyrics(if provided) option. The lyrics file will be saved in LRC format in the output folder after conversion. Here are the specific settings list.
Conversion Mode: Intelligent Mode, Web Download, YouTube Download
Output Format: Auto, MP3, AAC, FLAC, WAV, AIFF, ALAC
Bit Rate: 128kbps, 192kbps, 256kbps, 320kbps
Sample Rate: 44.1kHz, 48kHz, 96kHz, 192 kHz
Output Folder: Can be modified
Output File Name: Track Number, Title, Artist, Album, Playlist Index, Year
Output Organized: None, Playlist, Artist, Album, Artist/Album, Album/Artist, Playlist/Artist, Playlist/Album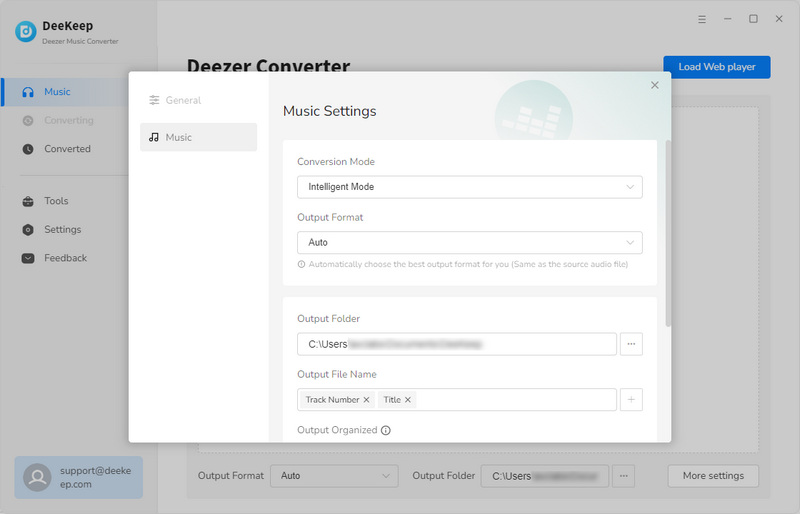 Step 3.Choose Deezer Songs You Want
Head to the Deezer web player and browse to find the playlist you want to convert. Click to open it and then tap on the blue Click to add button in the lower right corner. Then DeeKeep will list all the songs in the pop-up window. Just select the specific songs you want to import to CapCut and then press Add.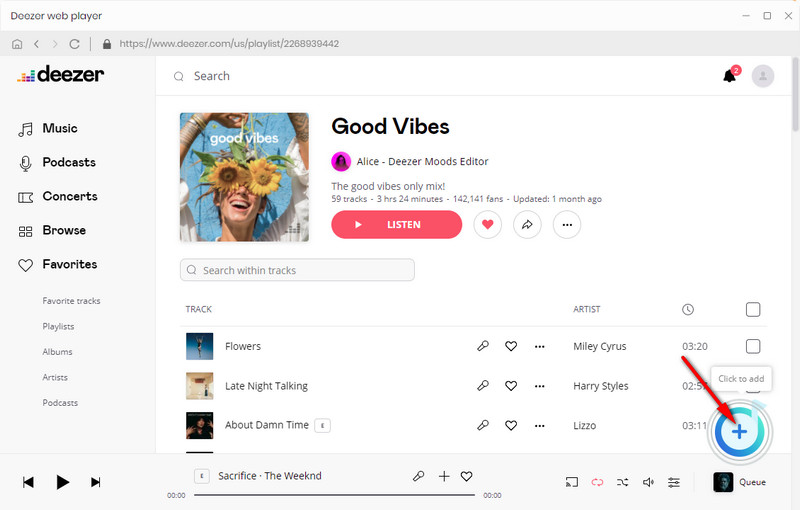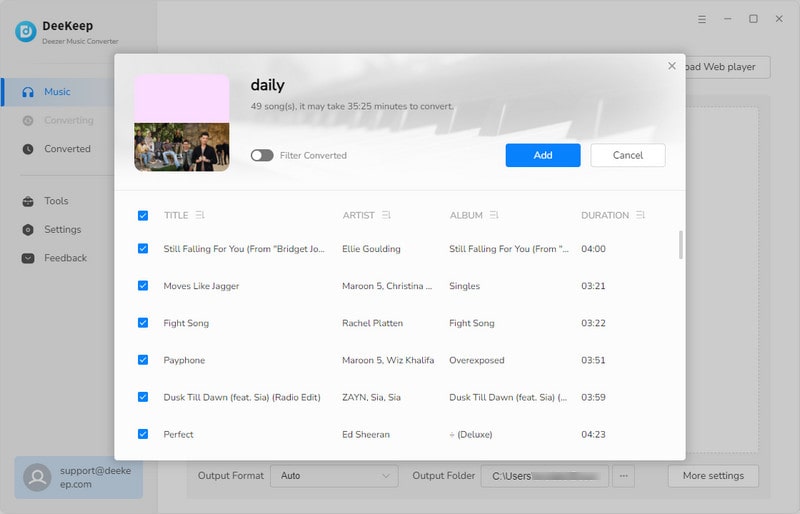 Step 4.Convert Chosen Songs
If you want to convert more songs from different playlists, you can click Add More to go back to the previous step and choose more songs. After that, click Convert to start conversion.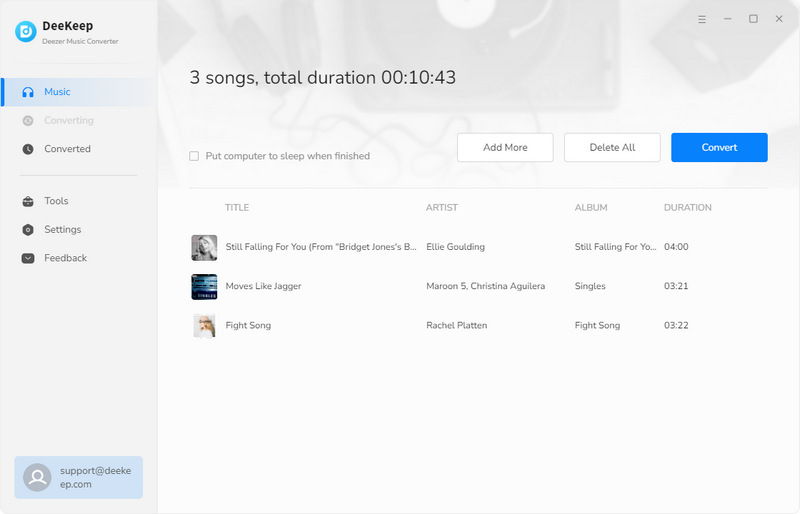 Step 5.Check Converted Deezer Songs
When the conversion is complete, the output folder will pop up. Or you can go to the Converted section to check the downloaded songs. Click the folder icon behind the song, then you can find the output setting you set before. At this time you can see that all the songs have been converted into the format you set.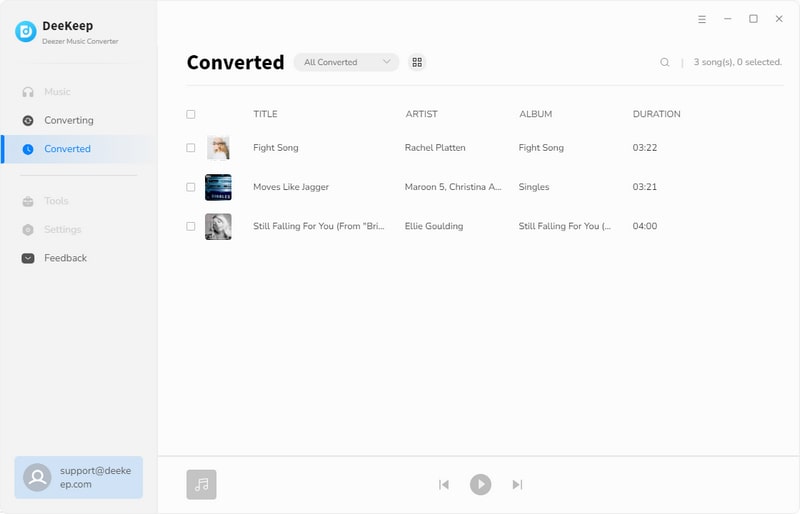 ---
Part 3.

Import Deezer Music to CapCut

After converting Deezer music to ordinary format, you can start importing these songs into CapCut to use as BGM. CapCut supports you to edit videos on your mobile phone or desktop, so next we will introduce in detail how to import Deezer songs to CapCut on different devices.
✏️Import Deezer Music to CapCut on Mobile Phone
Before you import Deezer music to CapCut, you should transfer the songs to your mobile phone first. Then, download CapCut on your phone.
Step 1. Open CapCut on your phone. Click "New Project" to create a new video.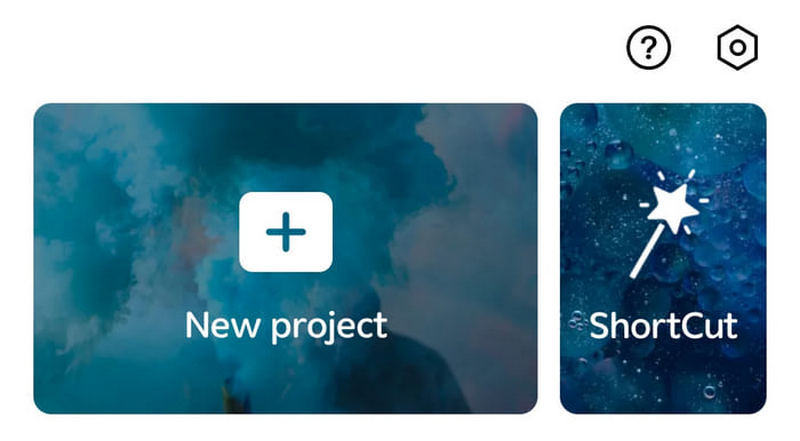 Step 2.Tap "Add Audio" below the video track or "Audio" on the toolbar. Then select "Sounds".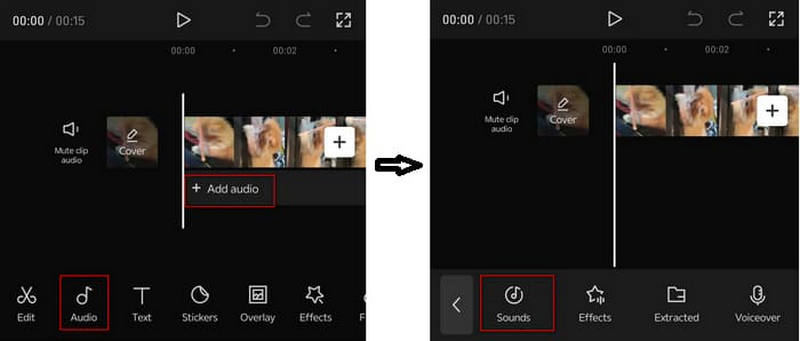 Step 3.Click the folder icon and then choose "From device". Later you can find all downloaded Deezer songs on your phone and add one that you want into CapCut.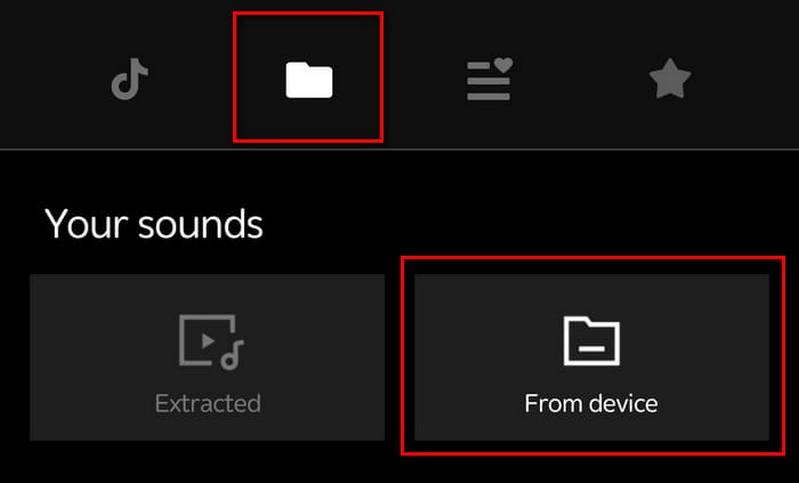 ✏️Import Deezer Music to CapCut on Computer
In addition to using CapCut on your mobile phone, you can also use Deezer songs as BGM in CapCut on your computer. After downloading CapCut on your computer, click to open the software. Create a new project, then on the editing page, click "Media" on the top left, then select "Import", find the Deezer song you want to import, and add it to the editing box. Then drag the song to the track below to start your editing.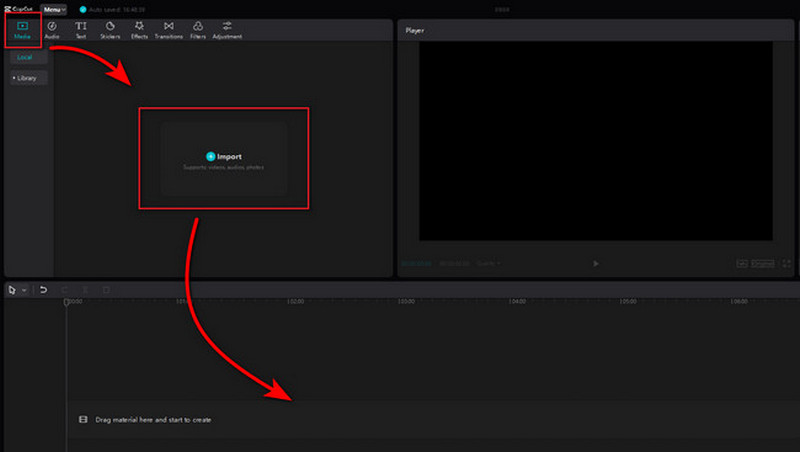 ---
Summary
If you want to import Deezer songs to CapCut, then you need to ensure that the format of the songs is compatible with CapCut. In order to convert the format, you need to take the help of some third-party tools, such as DeeKeep Deezer Music Converter. It can help you download high-quality Deezer music and convert it to popular formats. With the converted songs, you can follow the steps in this article to import them into CapCut for use as BGM.
---