How to Keep Deezer Music Songs Forever
As we all know, Deezer Music is a French online music website, which not only provides customized Internet radio stations but also searches for bands and songs, and can play music with a browser. And Deezer music is visited by millions every day. So, I think Deezer music will also be a good option in today's popular streaming music services. And happily, the company recently announced its entry into the Asian market, with plans to launch streaming services in countries such as Thailand, Singapore, and Malaysia. Means you can use Deezer Music in more places.
Well, if you want to keep Deezer Music songs forever and play them on different devices, you first need to download your Deezer Music songs to your local disk. So, What do you need to do to make it happen? After reading this article, all your confusion will be solved.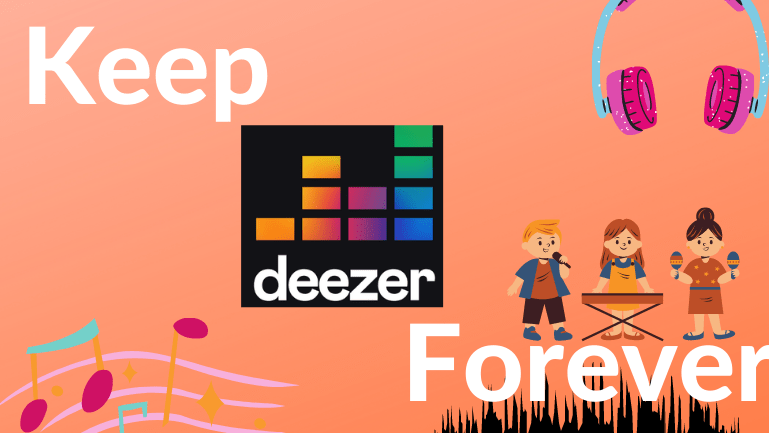 Part 1. Why keep songs forever?
Keeping the songs permanently on the local disk can help us to enjoy the songs freely, such as when there is no network, or when we are in a plane, or when we are traveling by car, etc. we can enjoy it at any time without restrictions the fun of music, and we can also play our favorite songs on different devices (like MP3 player, Windows media player, mobile phone) than just Deezer Music. Also, it helps to use them better when we need them. For example, we can choose our favorite songs as background music when making videos, or insert our favorite songs into PPT or vlog. At the same time, the permanent retention of songs can also prevent the problem of being unable to enjoy your favorite music when they are removed from the shelves for some reason.
Part 2. How to download Deezer Music songs and keep forever?
If you want to achieve the above ideas, you need a handy tool - DeeKeep Deezer Music Converter, to help you. DeeKeep Deezer Music Converter is a powerful tool which specially designed for the users who want to download deezer music songs for listening offline. With its help, you can choose to download your favorite Deezer songs to your local disk and keep them forever until you no longer need them. And will keep all ID3 tag information and original sound quality. Next, we will introduce the detailed operation steps for everyone to use it smoothly and start the music journey.
Step 1. Download and install the DeeKeep Deezer Music Converter
Firstly, you need to download the DeeKeep Deezer Music Converter to your computer and install it.
Step 2. Run the DeeKeep Deezer Music Converter on your computer.
After downloading the DeeKeep Deezer Music Converter, run it on your computer, then you will see the "Open the Deezer Web Player" button, click it to open the Deezer Music.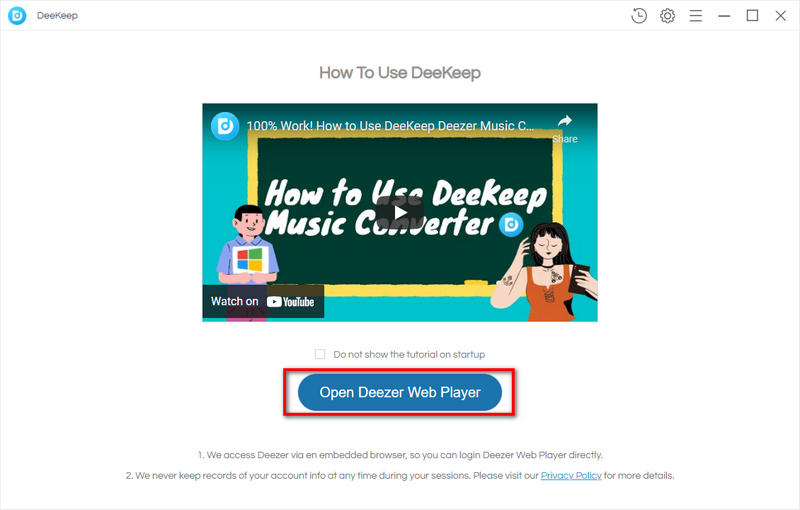 Step 3. Sign in the DeeKeep Deezer Music Converter
Since you are using it for the first time, you need to click the "Sign in" button in the upper right corner of the interface and fill in your correct account password in the login interface. The whole process is 100% safe.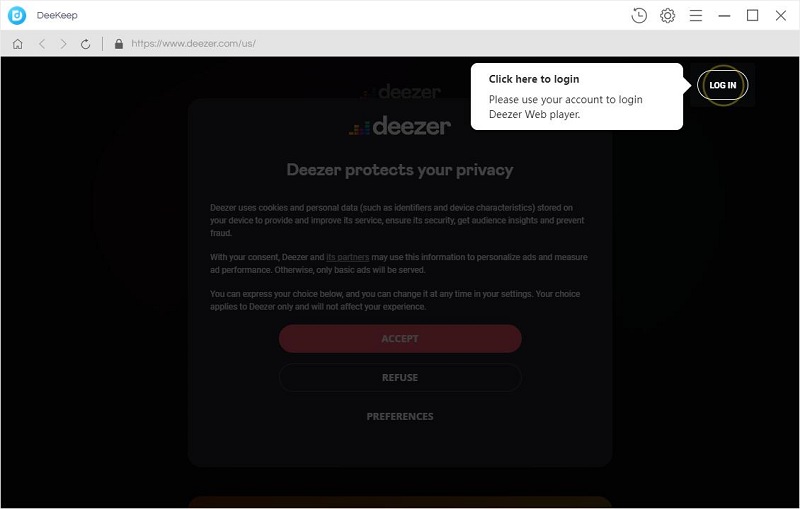 Step 4. Setting the output format
Before downloading songs, you need to set the output format. Click the "Settings" button, you can choose to convert Deezer songs to MP3, AAC, FLAC, WAV, AIFF or ALAC files in the output format option in the pop-up settings dialog. If you want to download quickly, it is recommended that you choose Auto. Besides, you also can set the bit rate(supports up to 320bps under AAC, MP3 format), sample rate(there are four options: 44.1kHz, 48kHz, 96kHz, 192kHz), output folder, output file name, output organized, etc.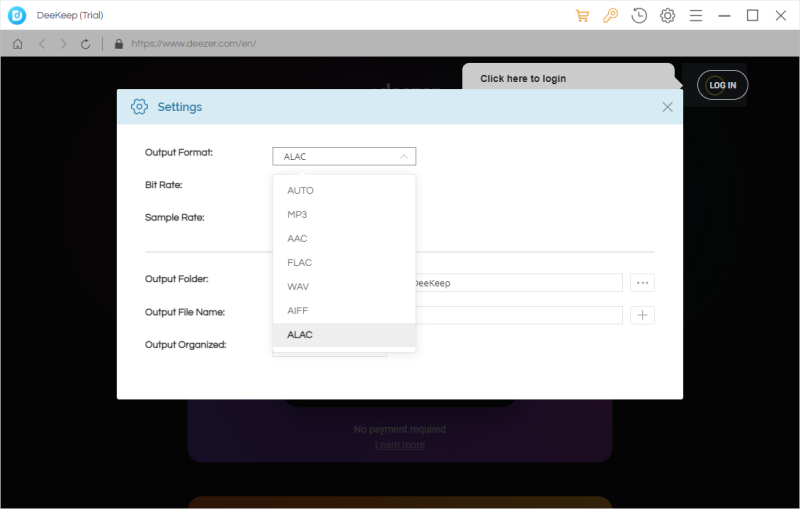 Step 5. Start downloading the Deezer songs
Finishing all above steps, you can open a playlist, album, or artist you favorite, and click the "Add to list" button to choose the songs you want to download. Then you can click "Converter Now" button to start converting and wait a few minutes until completed.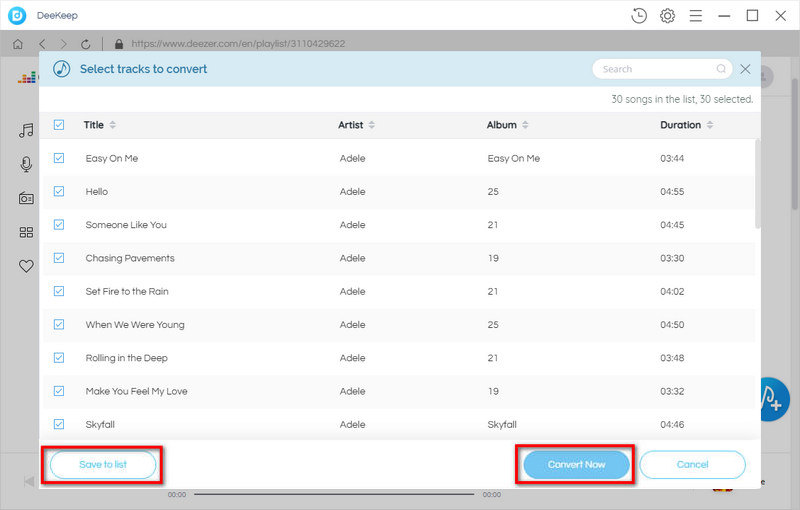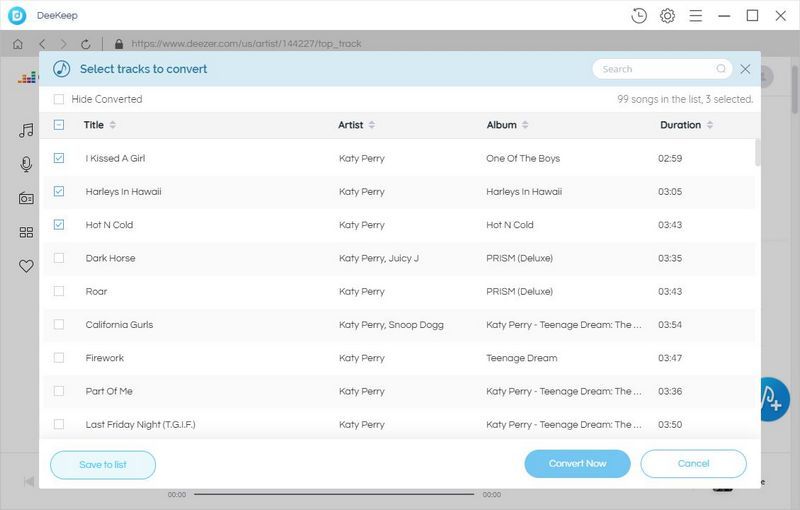 If you want to convert multiple lists of songs at once, you can click the "Save to list" button, then open another list to select the songs you want to convert. Repeat this step until all songs are selected and click the "Converter Now" button.
Step 6. Check the downloaded songs
After the conversion is completed, click the "History" button to view the songs you have downloaded. You can also click the "File"

icon to find the correct storage location of the songs you have downloaded.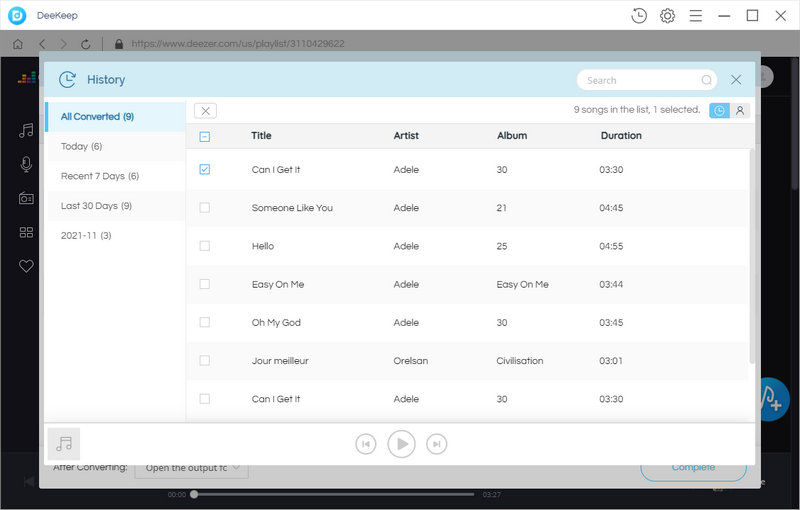 ---
Summary
In a fast-paced life, music is a good medicine for the soul. And DeeKeep Deezer Music Converter can hold all the songs of Deezer Music forever, and you can save the music to various formats according to your own preferences and play them on different devices. Now, listen to your favorite music with DeeKeep Deezer Music Converter for free.
---