How to Download High-Quality Cover Art from Deezer
Cover Art is the most visual way to express the theme of a song or an album. It is so important to songs that many artists pay attention to this part. It brings a visual strike to the listeners and distinguishes itself from other songs that have the same track title. It is said that a song without cover art is not perfect. In this article, we present several easy ways for you to download cover art from Deezer and show further to change the cover art and enhance the quality. If you think it is helpful, do not forget to share it with your friends!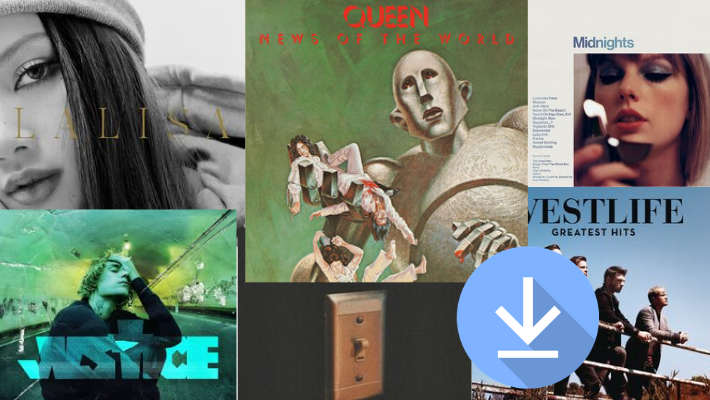 Part 1.

Get Deezer Cover Art by Taking Screenshots

Taking screenshots is always the easiest and fastest way to get a picture. This method is also available for getting Deezer music cover art. If you think it is too easy for you and want other methods, skip this part.

Step 1.Download and install the Deezer app on your devices. Then launch it to log in to your Deezer account.

Step 2. Find the cover art you want and zoom in on the cover art if possible.

Step 3.Press the Windows logo key + Shift + S buttons simultaneously on Windows 10 to snip the cover art.

Step 4.The cover art then is saved on the clipboard, and you should save it on your local computer in time.

Tip: If you use other Windows versions, try to search the snipping tool on your computer, and open it to take screenshots of the Deezer cover art. If you use Mac, press and hold Shift + Command + 3 simultaneously.
---
Part 2.

Download High-Quality Cover Art from Deezer

If you want to download the Deezer cover art with the default or higher size and quality, then read the below steps.

Step 1.Open the Deezer app on your devices, or open the Deezer web player on your computer.

Step 2.Go to the album or playlist with the cover art that you want to download and open it.

Step 3.Right-click on the cover art, select save image as... and save it in one of your folders. You can also select open image in new tab and save it, or select copy image after right-clicking.

Step 4.To change the size of the cover art or get the highest quality, open the image in a new tab and make a transformation to the URL.

For example, open the Midnights (3am Edition) of Taylor Swift and open the cover art in a new tab, you will see that the image is 264x264px. But move to the URL "https://e-cdn-images.dzcdn.net/images/cover/f6a05e003277bf4533df863476c1413e/264x264-000000-80-0-0.jpg". Then change 264x264 to 1431x1431, you will get the corresponding pixels of the cover art.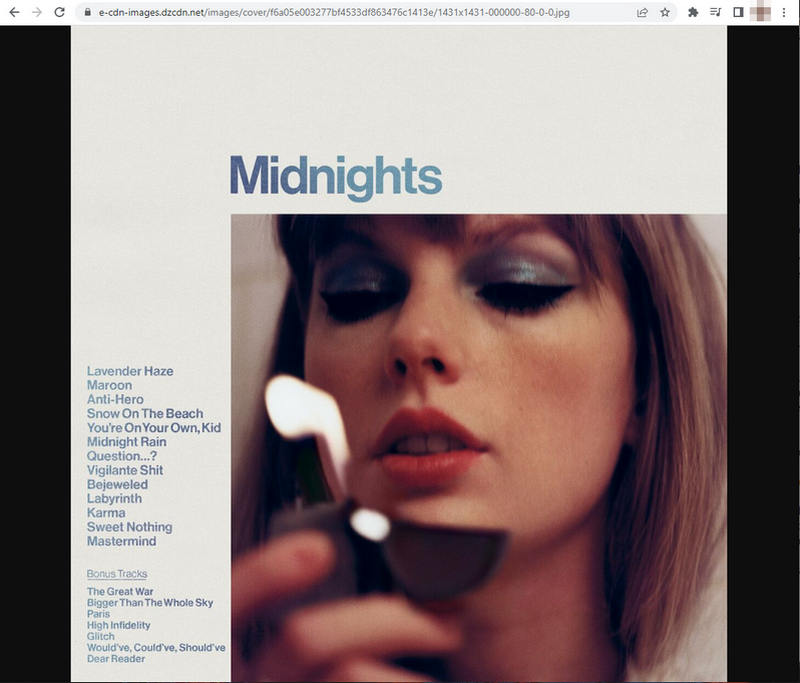 Right-click to save the image to your folder. Check the properties of the saved cover art, the Details tab shows 1200x1200. It doesn't mean this way not working. Something that should be mentioned is that the higher the number, not the larger the pixels. The cover art can only be saved up to its largest pixels. The 1200x1200px and 72DPI is already the highest one that Deezer offers.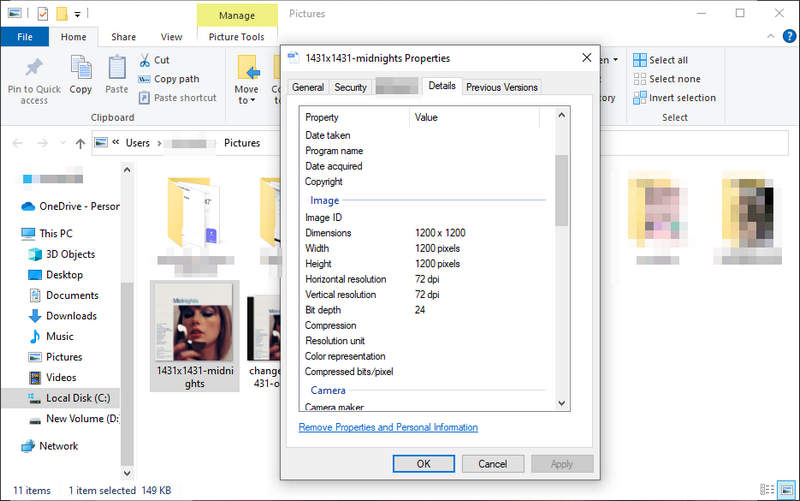 Tip: To download Deezer cover art in this way, you should make sure it is an album cover art or it is the cover art of your playlist. You cannot download the cover art of a single song in this way. Besides, the pixels of the cove art default to 264x264 on Deezer.
---
Part 3.

Get 1431 x1431px Deezer Cover Art from Amazon Store

If you want higher-quality cover art with larger pixels and higher DPI, then you have to try this way.

Step 1.Open a web browser on your computer, then go to Amazon Store.

Step 2.Enter the album name in the search bar, which is with the cover art you would like to download.

Step 3.Open one album from the result and right-click the cover art to open the image in a new tab.

Step 4.Move to the URL, and delete the content between the two dots.

For example, for Midnights of Taylor Swift, "https://m.media-amazon.com/images/I/616P7YioCML._SY355_.jpg", delete "_SY355_" and save only one dot to get a new URL "https://m.media-amazon.com/images/I/616P7YioCML.jpg". You will see the cover art with the largest pixels and the highest DPI.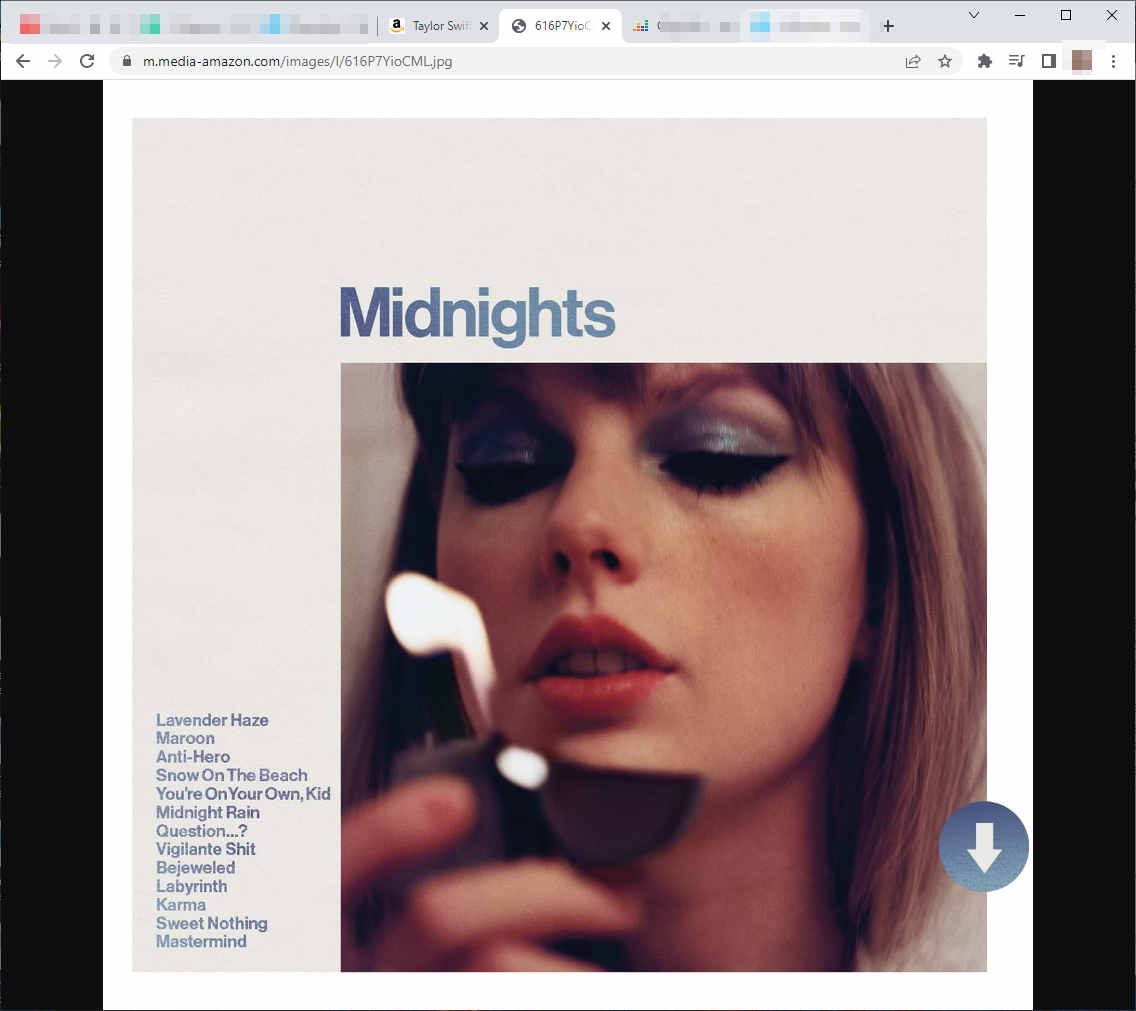 Right-click to save the image to your folder. Then right-click to check the properties, the Details tab shows 1431x1431px and 96DPI. It is the highest quality cover art.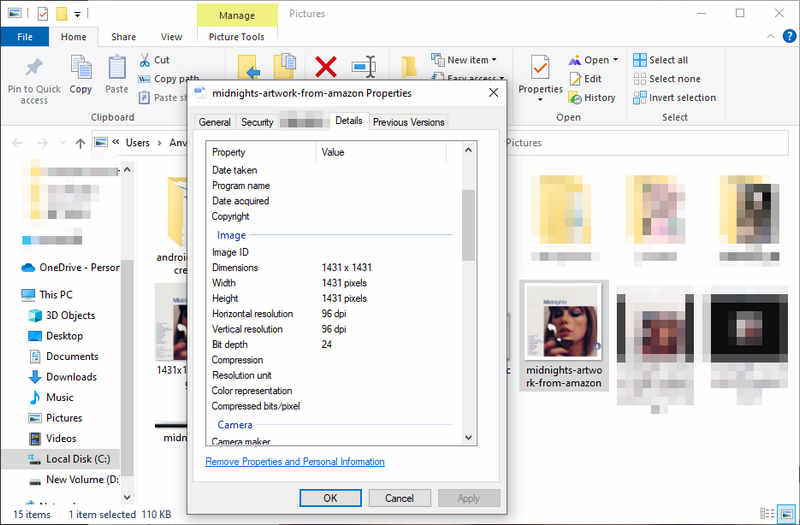 ---
Part 4.

Download Deezer MP3/FLAC Music with Cover Art🔥

If you wish to download Deezer cover art while saving Deezer music to your computer, then you should read this part carefully.

Cover art is so important piece of information that always distinguish a song from others. With the exquisite image, you can easily recognize your favorite songs. There are lots of tools that support downloading Deezer music, but DeeKeep Deezer Music Converter should be the best one that can download FLAC or MP3 Deezer music, and save cover art and ID3 tags. Read this part to learn more about the tool and how to use it to download Deezer music to MP3/FLAC with cover art to your computer.

Step 1.Launch DeeKeep Deezer Music Converter on Computer

First, you should download and install the program on your computer. It offers both Windows and Mac versions, so you can select the one from above that suits your device. Then launch it and the Deezer web player will pop up automatically. Please enter your paid credentials to log in to Deezer.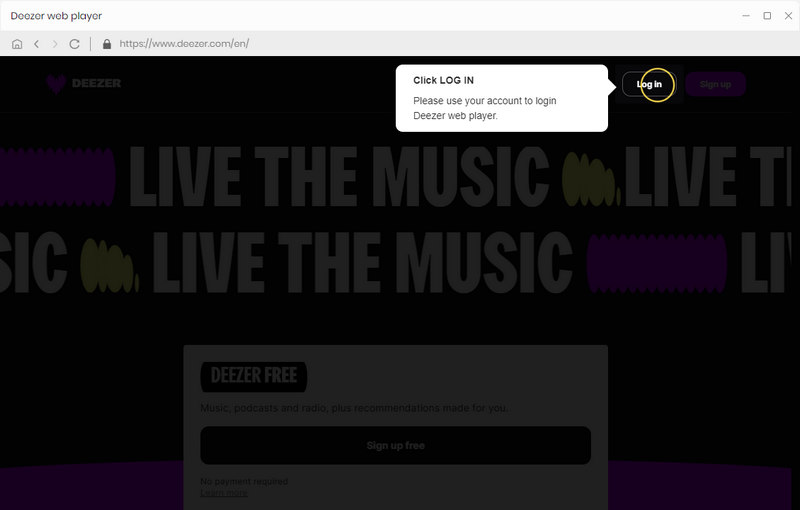 Step 2.Select Output Parameters as You Wish
To output Deezer music in a specific format or quality, you should do this step before downloading. Hit on the tab "Settings"

. Select the output format, and output path, and edit the output file name. You can adjust the bit rate and sample rate to get different audio qualities. Besides, you are also allowed to designate how the output files are classified with the option of Output Organized. Below are the details.
Output Format: MP3, AAC, WAV, AIFF, ALAC, FLAC, Auto.
Bit Rate: 128 kbps, 192 kbps, 256 kbps, and 320 kbps.
Sample Rate: 44.1 kHz, 48 kHz, 96 kHz, 192 kHz.
Output File Name: Track Number, Title, Artist, Album, Playlist Index, Year.
Output Organized: Playlist, Artist, Album, Artist/Album, Album/Artist, Playlist/Artist, Playlist/Album, None.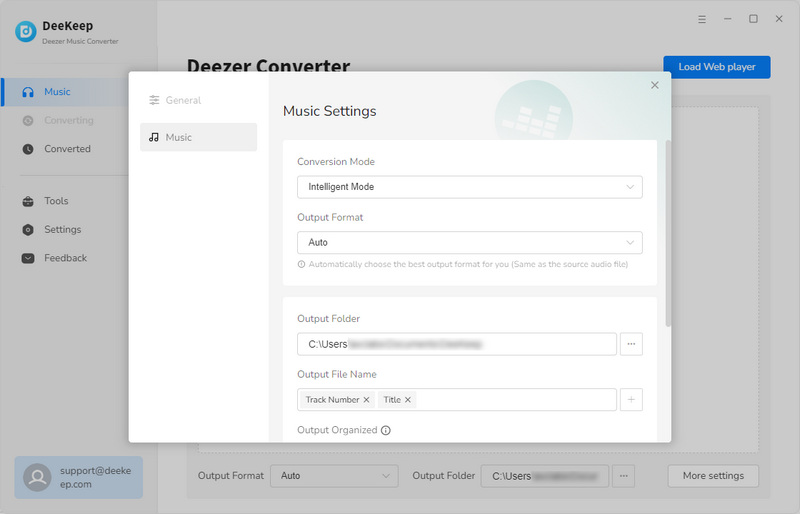 Step 3.Select Deezer MP3/FLAC Music with Cover Art
Go to the songs, playlists, albums, or podcasts that you wish to download and open one of them. Hit on the "Click to add" icon to open a window. All the available tracks are defaulted to be selected, you can undo this option and select the concrete tracks. Then just click the "Add" button.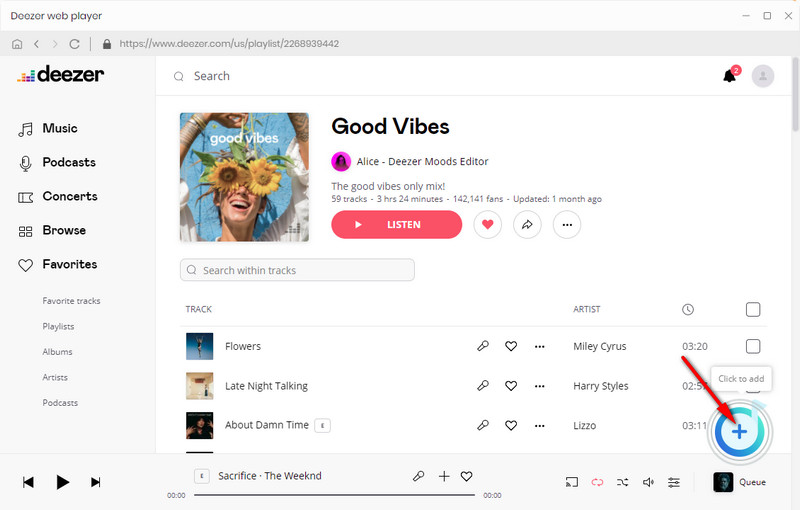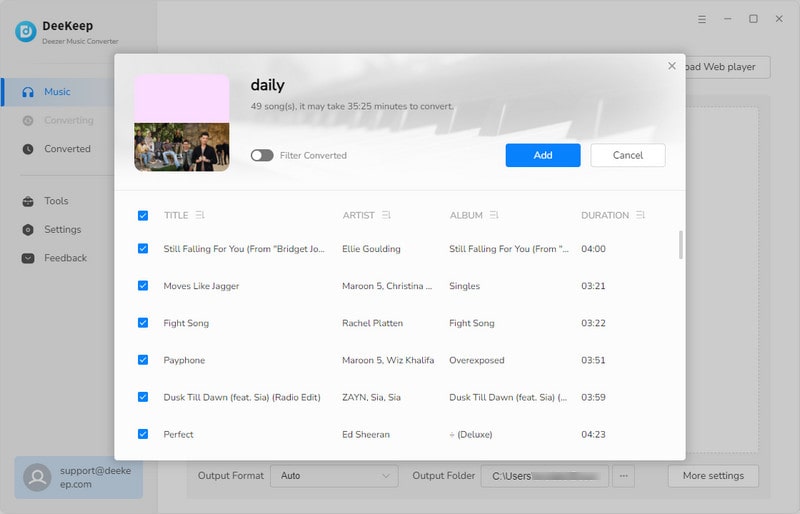 Step 4.Download Deezer MP3/FLAC Music with Cover Art
DeeKeep allows you to download songs in different playlists or albums in a batch. You can click on "Add More" after the previous pickings. Then open a new playlist or album to select more songs and save them to the list. After finishing all your pickings, hit on "Convert" to start the batch conversion at once.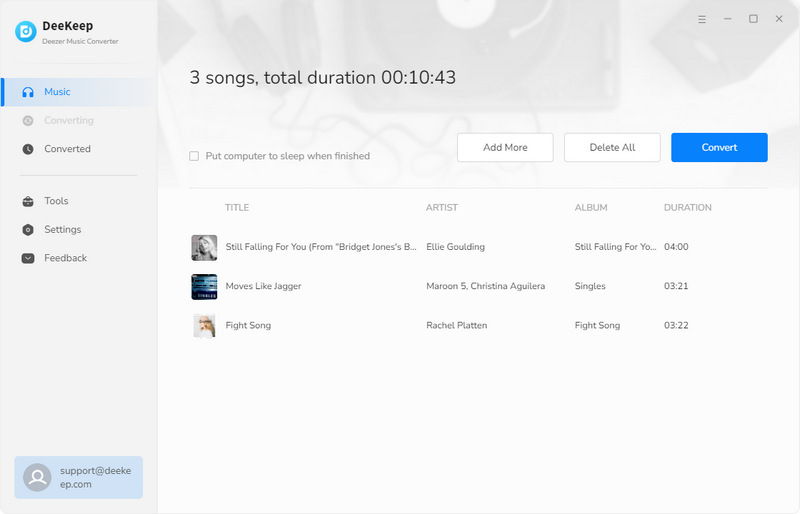 Step 5.Check Deezer Music with Cover Art on Local
It won't take too long for DeeKeep to save the selected music to the local computer. So you can quickly see a window pops up after the conversion is complete. Here you can check the properties of the output files. It is found that all your Deezer music is successfully downloaded to your computer in MP3/FLAC format with the cover art.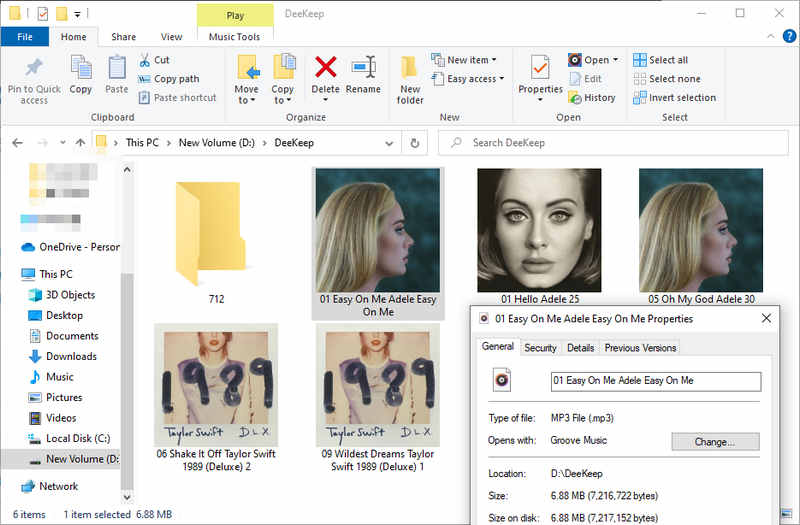 You can also check the downloaded file after the conversion by clicking the "Converted" section on DeeKeep, and can play them within the program.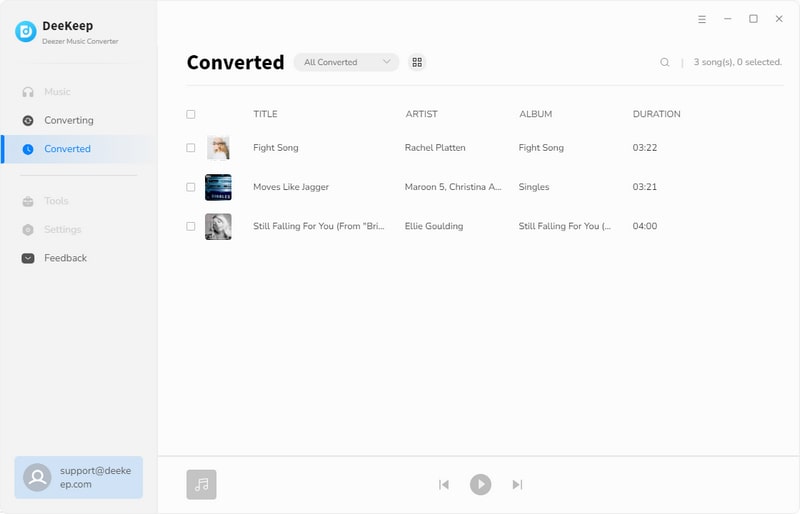 To this step, you have successfully downloaded Deezer music to your local computer. These common files can be stored on your device permanently. Even though your Deezer subscription is inactive, you can still listen to your favorite music. Besides, these downloaded Deezer music can be transferred to your other devices for convenient listening such as Android phones, iPhones, Sony Walkman, etc., and imported to Serato DJ, PowerPoint, Final Cut Pro, and more.
---
Part 5.

Change Deezer Music Cover Art

After downloading Deezer music cover art to your computer, you can change cover art with Groove music or iTunes if you wish. Read the below to get concrete steps.
Part 5.1 Change Cover Art via Groove Music on Windows
Step 1.Open Groove Music on your Windows computer.
Step 2.Select the settings part, click "Choose where we look for music", select the folder where you place the downloaded Deezer music files, and click "Done".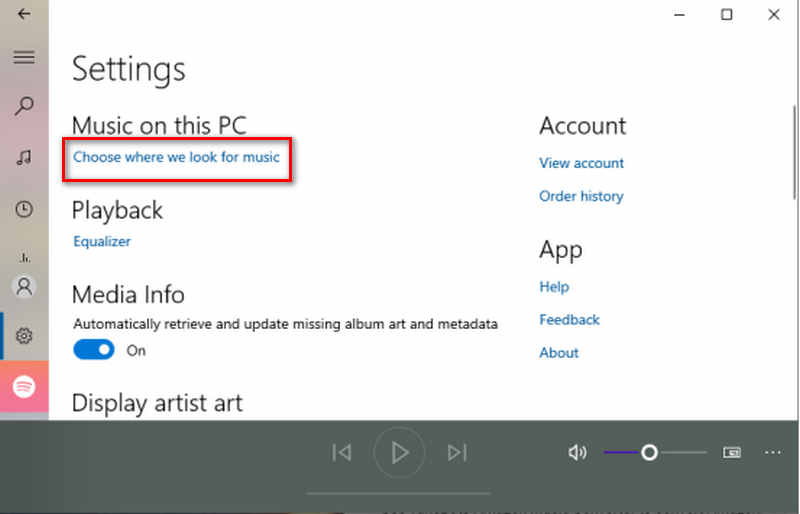 Step 3.Go to the music part, all songs are listed. Right-click on the song you are going to change and select "Show album".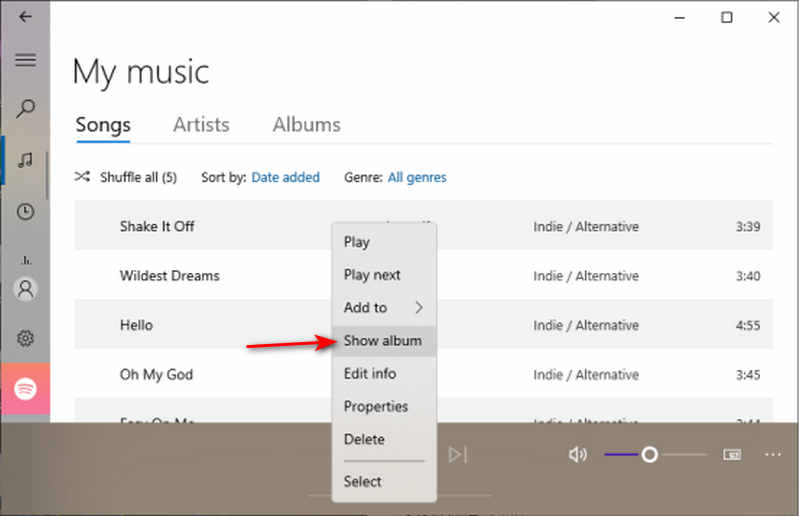 Step 4.Click on the three dots and select "Edit info". On the popup, you can click the current album cover art to open an image folder. Select another image you want to use and then hit on "Save" on Groove.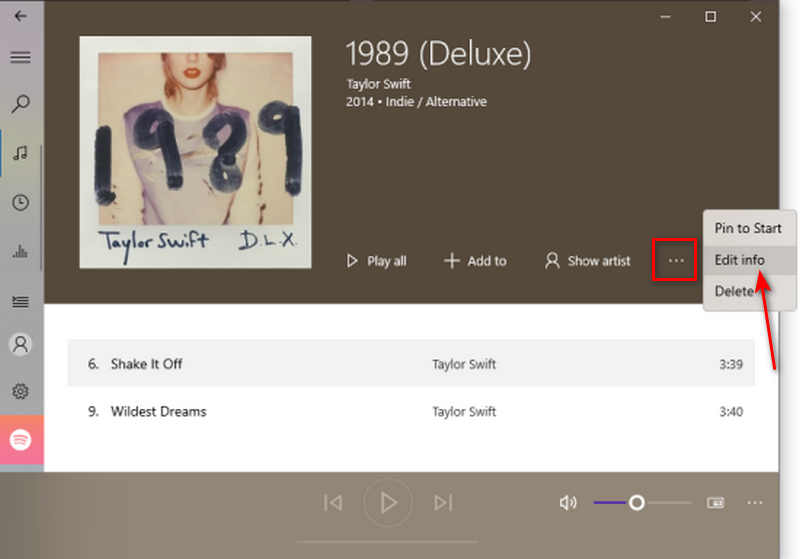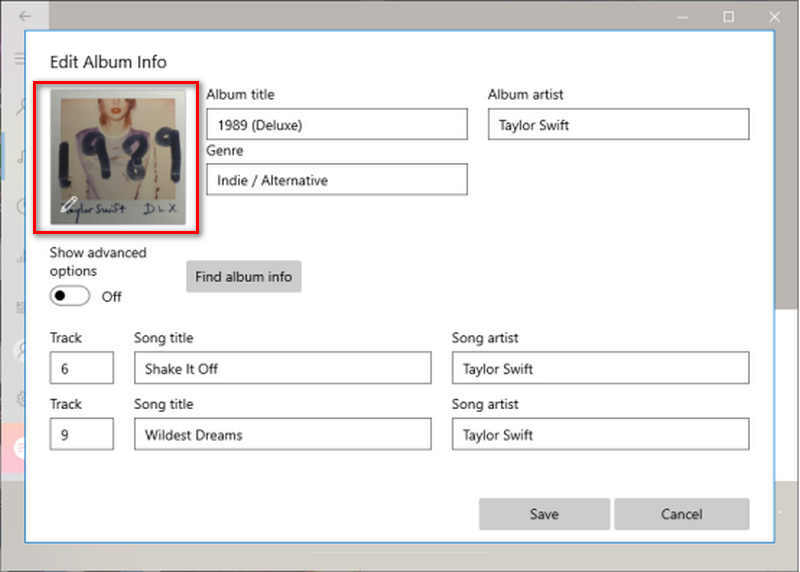 Part 5.2 Change Cover Art via iTunes on Windows/Mac
Step 1.Open iTunes on your computer. And add the downloaded Deezer music to your iTunes library by clicking "File" in the menu bar.
Step 2.Right-click on the song you are going to operate and select "Song Info".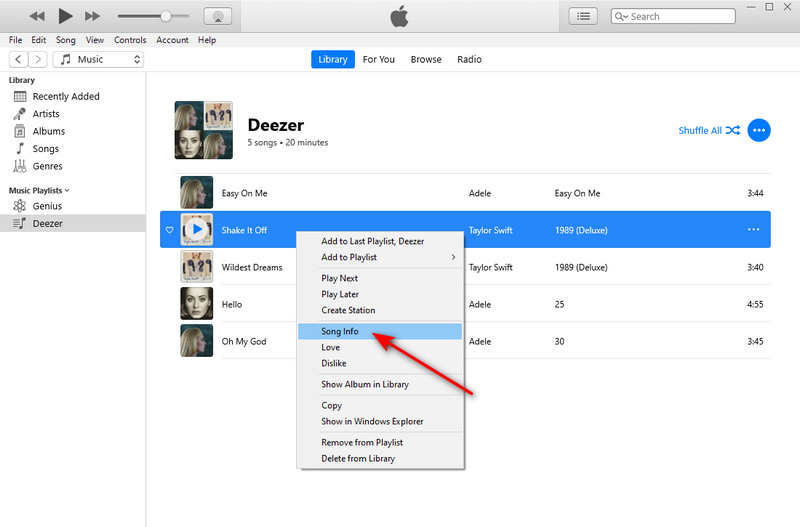 Step 3.On the popup, select the "Artwork" tab and click "Add Artwork".
Step 4.On the new popup, select the image you want, click "Open", and click "OK" on iTunes. Then the current cover art will be replaced.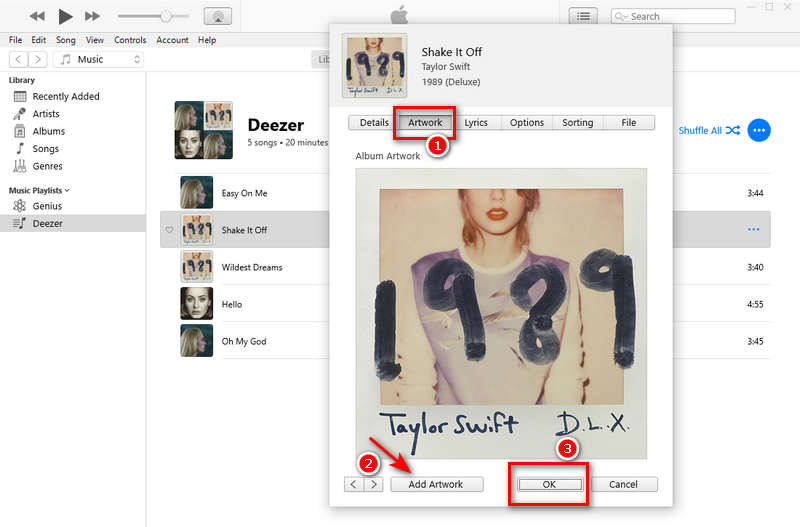 ---
Part 6.

Enhance Cover Art Quality

If you would like to improve the quality of cover art, images, or photos, try AVCLabs Photo Enhancer AI, which is a professional tool for increasing photo resolution from low to high with super-resolution, fixing the blurry photos by removing noise & grain and sharpening, and other photo enhancing purposes.

Step 1.Install and launch the program.

Step 2.Import the source photo that you wish to enhance.

Step 3.Select the concrete features in the upper right panel.

Step 4.Hit on "Save All" to start the process. You can preview the photo before starting.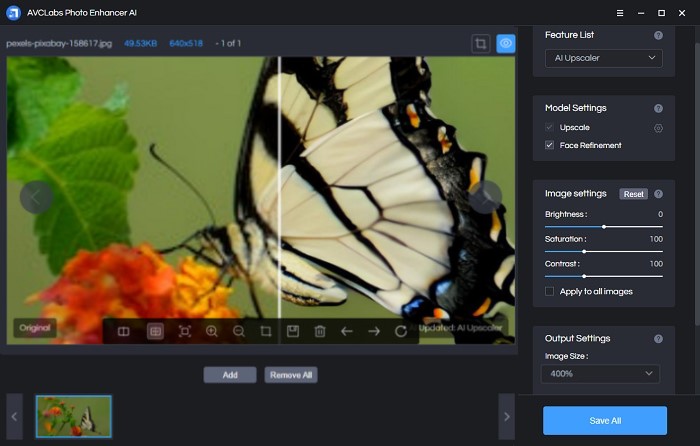 ---
Summary
Having read the six parts above, you should realize about three ways of getting Deezer cover art, download Deezer MP3/FLAC music with cover art saved to your local computer, two ways of changing cover art, and how to enhance any cover art or images. It is a comprehensive article that introduces how to obtain, change, and enhance the quality of cover art. You get lots of skills from this passage.
What should be mentioned again is that DeeKeep Deezer Music Converter is a very professional and powerful tool for downloading and converting Deezer music with ID3 tags preserved. It supports downloading Deezer music to six common formats, saving cover art, and preserving up to seven ID3 pieces of information! So, if you are looking for a Deezer music converter or downloader, then do not miss DeeKeep. It is your best partner. Try it now.
---