Deezer VS Apple Music: Which Is Right For You?
Among the many music streaming platforms, which one do you prefer? Spotify? Apple Music? Amazon Music? Deezer? Or TIDAL? Many people may use more than one music platform, but when switching to a new platform, they may always feel entangled because they don't know enough about the new platform. In this article, we will introduce you to a detailed comparison between Deezer and Apple Music in order to provide some useful references for readers who want to understand these two platforms or switch to these two platforms. Through this article, we believe you will find it easier to find the platform that is right for you.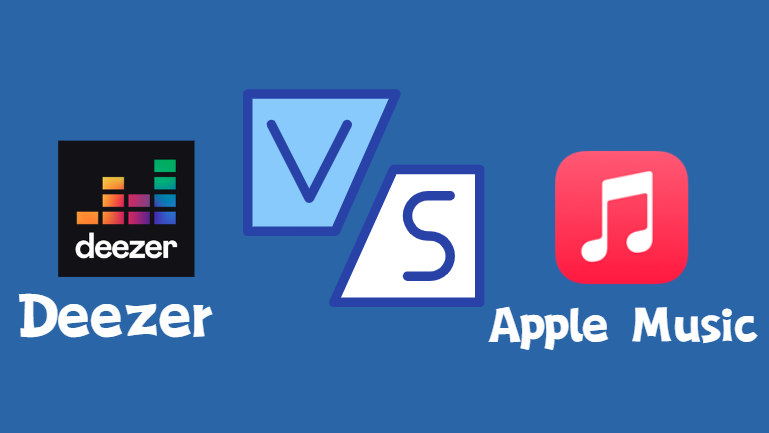 Part 1.

Deezer VS Apple Music: Subscription Plan

Deezer has three paid subscription plans and a free plan. The Free Plan allows users to listen to songs, but there are ads and you can only listen to the first 30 seconds. The advantage of paying is that you can get rid of this trouble and are not subject to advertisements and time restrictions. The three paid subscriptions provided by Deezer are: Deezer Premium, the first month is free, then $10.99/month or $98.91 per year; Deezer Student, the first month is free, then $5.99/month; Deezer Family, the first month is free, then $17.99/month or $196.99/year. It's also worth noting that Deezer HiFi is available with every paid plan. If you choose a paid plan, you can enjoy the service of downloading songs and listening to them offline.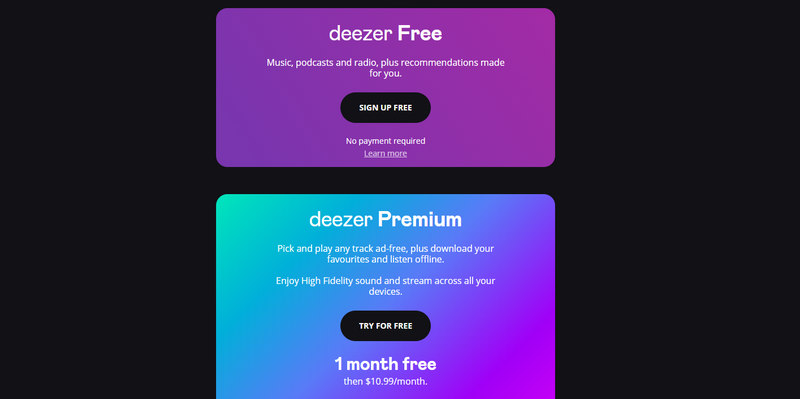 Apple Music offers 3 subscription plans: an individual plan for $10.99 per month, a family plan for $16.99 per month for up to 6 family members, and a student plan for $5.99 per month. These are pretty much the same prices as what most music streaming platforms on the market charge. However, for new users, Apple Music also offers a 3-month free trial, allowing them to fully enjoy the features of Apple Music before deciding which plan to purchase. Apart from the above, Apple Music has launched a unique subscription called Apple Music Voice Plan. It's a service designed to work with Siri, giving users access to over 100 million songs simply through voice control. The plan costs $4.99 per month.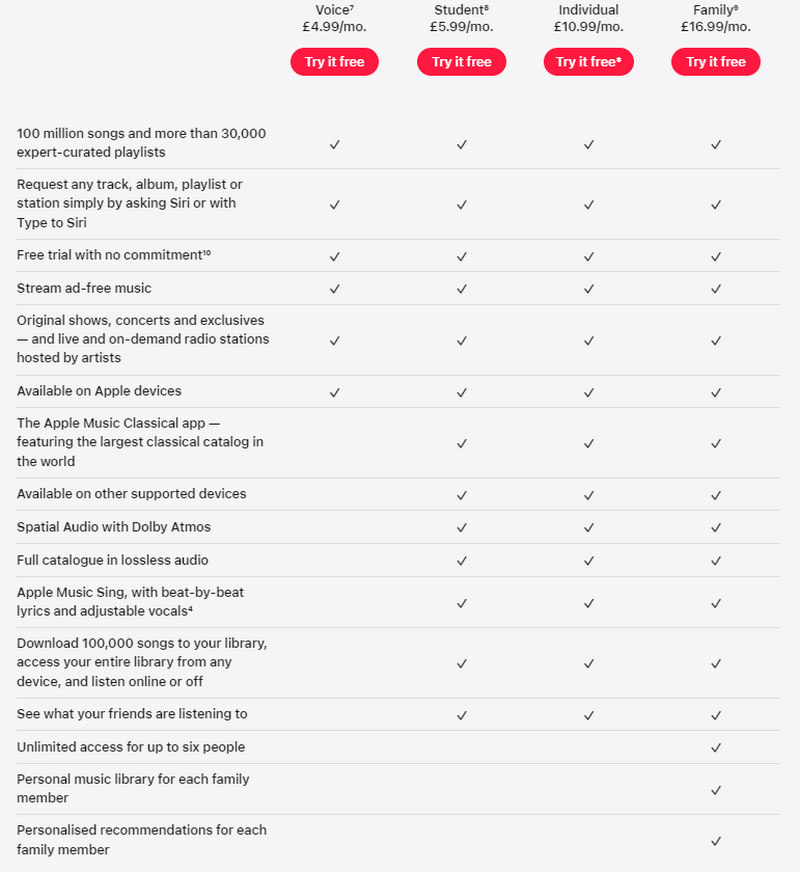 ---
Part 2.

Deezer VS Apple Music: Music Library

Deezer offers a wealth of audio content and has a library of over 120 million songs. Whether you want jazz, country, or rock, you'll find your favorite music here. In addition to music songs, Deezer offers a wealth of exclusive original foreign language podcasts you won't find on other music platforms. In addition, Deezer also has an exclusive content called Deezer Originals. This is a collection of music content including songs, albums, playlists, etc. carefully selected by the editor. It also includes some Live eps recorded by artists in Deezer studios that can only be played on the Deezer platform.

Apple Music has a library of more than 100 million songs and provides more than 30,000 personalized playlists. When you first sign in, Apple Music lets you pick some of your favorite artists, which it uses as the basis for creating playlists, daily mix, and For You. However, the users cannot listen to podcasts in Apple Music. If you need podcasts, you need to download another program called Apple Podcasts. In addition, Apple Music also launched Apple Music Classical, a software specially designed for classical music lovers. Here you can enjoy high-quality and comprehensive classical music.
---
Part 3.

Deezer VS Apple Music: Sound Quality

Audio quality is a key factor for users to choose a music platform. Deezer and Apple Music also differ in terms of audio quality.

Deezer's HiFi sound quality is included with every paid plan. As long as you purchase Deezer's paid plan, you can play 16-bit/44.1kHz lossless FLAC files. This music file, which can reach up to 1,411 kbps, is very attractive to sound quality lovers.

Apple Music provides 256 kbps AAC format, which is sufficient sound quality for most people. However, it has also developed its own unique compression technology, using ALAC format to store lossless audio files, with resolutions ranging from 16-bit/44.1kHz (CD quality) to 24-bit/192 kHz. This means that if you choose the ALAC format, the songs you listen to will be infinitely close to what the artist recorded live in the studio. Songs stored in ALAC lossless format can even reach a high resolution of 3730kbps.
---
Part 4.

Deezer VS Apple Music: Music Discovery

Deezer's main discovery feature is "Flow," a constantly updated playlist where users don't see the full list of songs before playing them. Each song is randomly arranged. For those who like to explore unknown surprises, this feature can fill them with anticipation and curiosity, while for those who want to know in their hearts, a completely unknown playlist may prevent them from relaxing and immersing themselves in the songs. But fortunately, you can adjust your listening preferences in real-time and blacklist songs or artists you don't like, and the system will update the playlist in time based on your listening tastes and adjustments.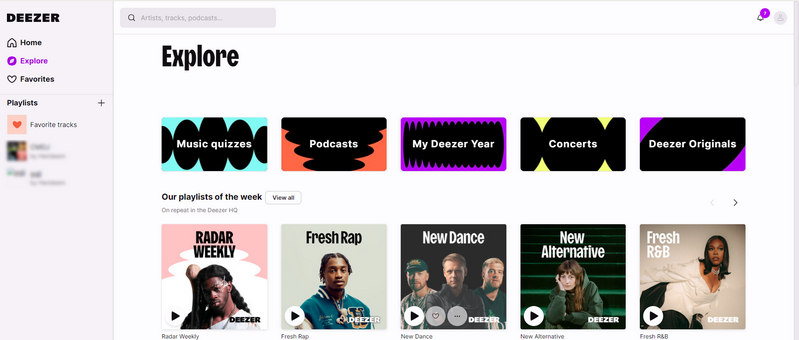 Apple Music has more powerful music discovery features than Deezer Music. First of all, it contains some classic recommendation modes that are available on most platforms, such as "New Music", "Best New Songs", etc. These lists can help you discover some new songs. Second, when you are worried about not knowing what music to choose, Apple Music also provides mood playlists. For example, you can listen to some quiet songs before going to bed to help you fall asleep. The last and most important aspect is that Apple Music provides users with Charts. The function includes 'City Charts' and 'Daily Top 100', giving listeners a wider range of options to learn about trends around the world and in their own region.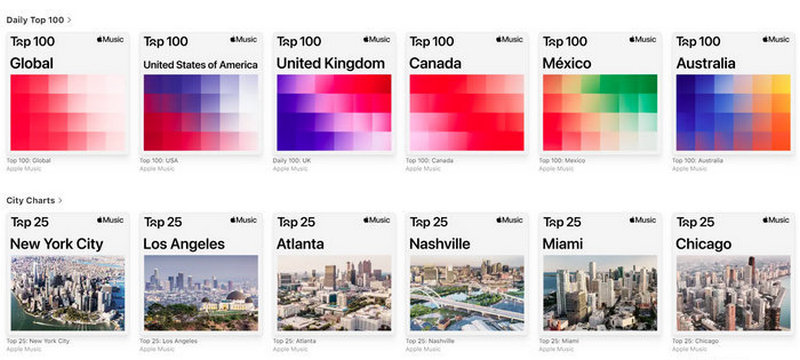 ---
Part 5.

Deezer VS Apple Music: Service Availability

In terms of service availability, Deezer is currently available in 185+ countries and regions, including Europe, the UK, North America, and other countries and regions. And as Deezer's popularity expands, you can use Deezer on many devices, such as Amazon Echo, smart TVs, wearable devices, etc.

Apple Music is currently available in 197 countries and regions, such as North America, South America, Europe, Asia, Oceania, and parts of Africa and the Middle East. At the same time, it is closely connected with other products in the Apple series. But you can also use Apple Music directly through a web browser or iTunes. In general, Apple Music has a wider scope of application than Deezer.
---
Part 6.

Deezer VS Apple Music: User Interface

Deezer's UI design is simple. It has two interface colors, dark and light modes. When you open the Deezer web page, you can see that there are five main options on the page, namely Music, Podcasts, Concerts, Browse, and Favorites. You can find recently listened to songs and various recommended playlists on the Music interface. Songs that have been downloaded or that you have marked as favorites are recorded under the Favorites tab. The Concerts section lists some recent performances for you. If you want to find new songs, you can find them through the Browse page. In addition, Deezer lists Podcasts separately to facilitate users to find their favorite podcasts according to different categories.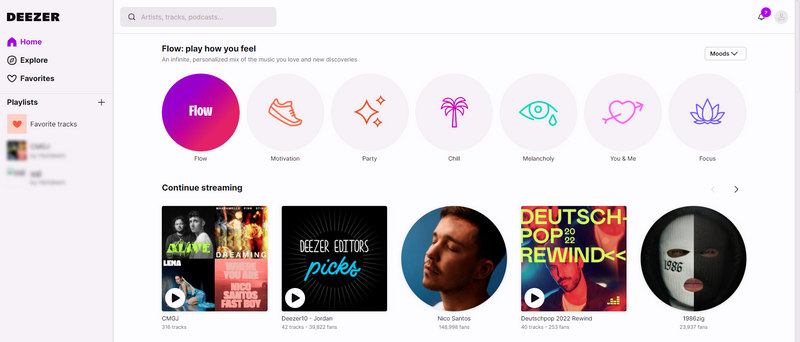 Apple Music's design is similarly clean and user-friendly. First of all, Apple Music only uses bright and simple white as the main background, plus some red icons as eye-catching reminders, making the entire page appear contrasting and clear. Similar to Deezer, it also sets the navigation bar on the left, listing "Listen Now", "Browse", "Radio" and playlists, etc., so that users can quickly find the list information they need. The design is different from Deezer in that Apple Music allows editing the side navigation bar, that is, users can add or delete lists whenever they want, while allowing the freedom to drag and drop the content they want to move into different lists, improving the flexibility of use.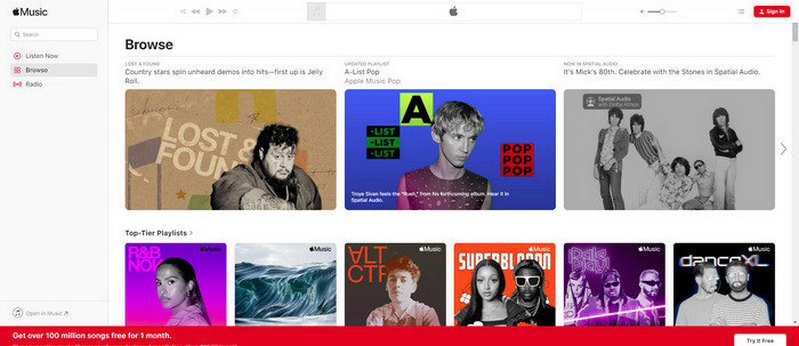 ---
Part 7.

Deezer VS Apple Music: Which is Right For You?

Through the above comparison, I believe you have a deeper understanding of the similarities and differences between Deezer and Apple Music. If you value more the platform's recommendation capabilities or service availability, then Apple Music will be more suitable for you. If you are a podcast lover and want to listen in the same software, Deezer will be a better choice. So if you want to choose a music platform that is right for you, you must first clarify your priorities, understand which functions you value more, and then make a choice based on the various outstanding advantages of the platform. Of course, choosing one does not mean giving up the other. You can try it later and choose the music platform you like more.
---
Part 8.

Extra Tips: How to Transfer Deezer Music to Apple Music?

If you want to switch between two platforms and transfer Deezer music to Apple Music, then we will introduce you to a simple method. Here we need a very useful music converter - DeeKeep Deezer Music Converter. This is a program specially designed to convert Deezer music to common formats, such as MP3, WAV, AAC, ALAC, FLAC, etc. With this software, you can permanently save your favorite Deezer music on your computer and transfer it to any program or device you want to play it, such as Apple Music, smart TVs, etc. Next, we will introduce you in detail how to transfer Deezer music to Apple Music.

Step 1.Open DeeKeep and Log In To Your Deezer Account

Click to open DeeKeep on your computer and then the Deezer web player will pop up at the same time. Follow the instructions to log in to your Deezer account.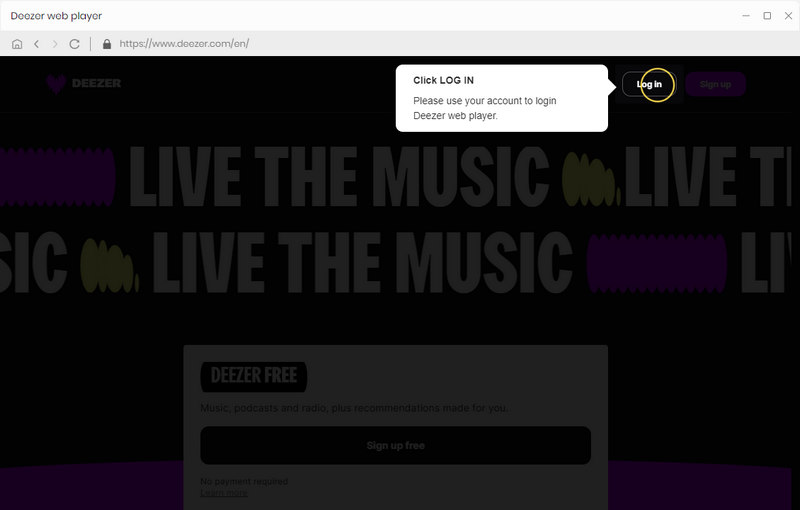 Step 2.Choose Output Settings As Needed
Go to the Settings tab and then select output settings as needed, such as output format, output folder, output file name, etc. If you want to save the original audio quality of the songs, you can choose Auto as the output format.
Conversion Mode: Intelligent Mode, Web Download, YouTube Download
Output Format: Auto, MP3, AAC, FLAC, WAV, AIFF, ALAC
Bit Rate: 128kbps, 192kbps, 256kbps, 320kbps
Sample Rate: 44.1kHz, 48kHz, 96kHz, 192 kHz
Output Folder: Can be modified
Output File Name: Track Number, Title, Artist, Album, Playlist Index, Year
Output Organized: None, Playlist, Artist, Album, Artist/Album, Album/Artist, Playlist/Artist, Playlist/Album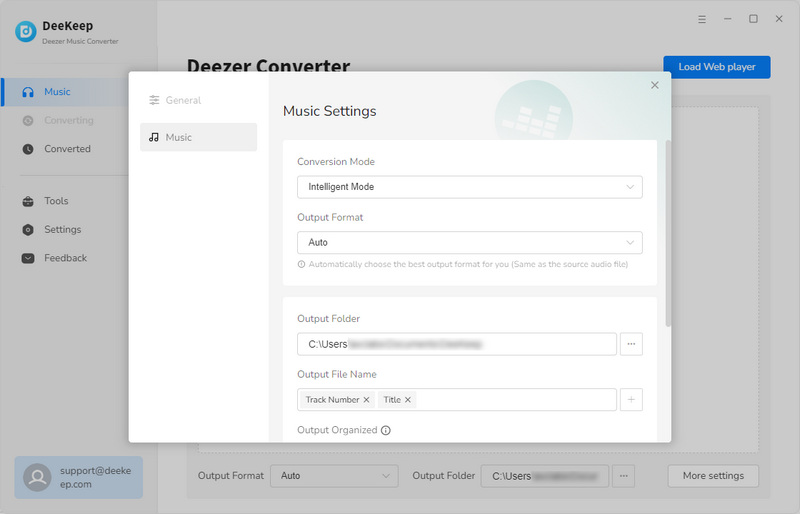 Step 3.Add Deezer Music You Want
Head to the Deezer web player and browse to find a playlist or album you want to transfer to Apple Music. Click to open it and tap on the blue Click to add button in the lower right corner. DeeKeep will list all the songs in the new window. You can pick up the specific songs and click Add.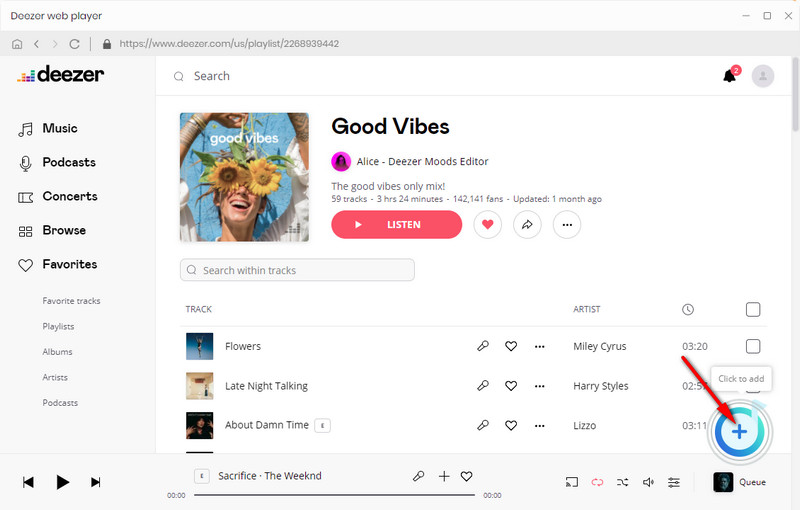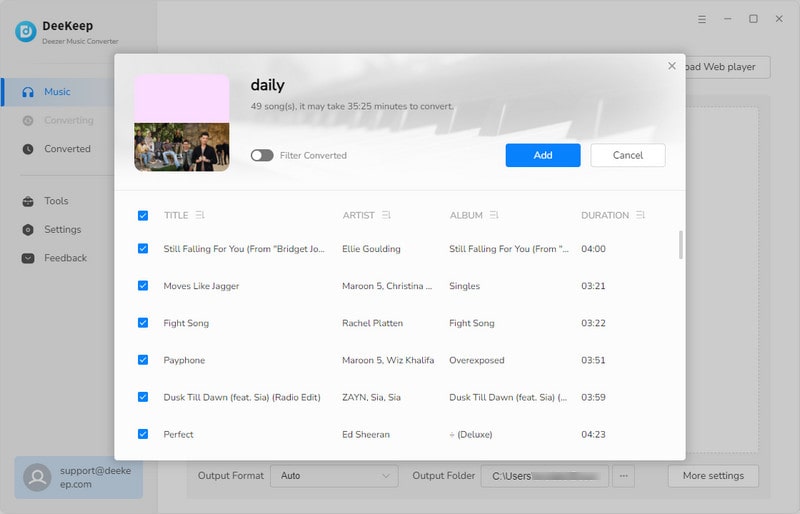 Step 4.Convert Deezer Music
In this step, you just need to click Convert to start the conversion. After a while, the conversion will be complete and you can check the downloaded songs in the Converted section.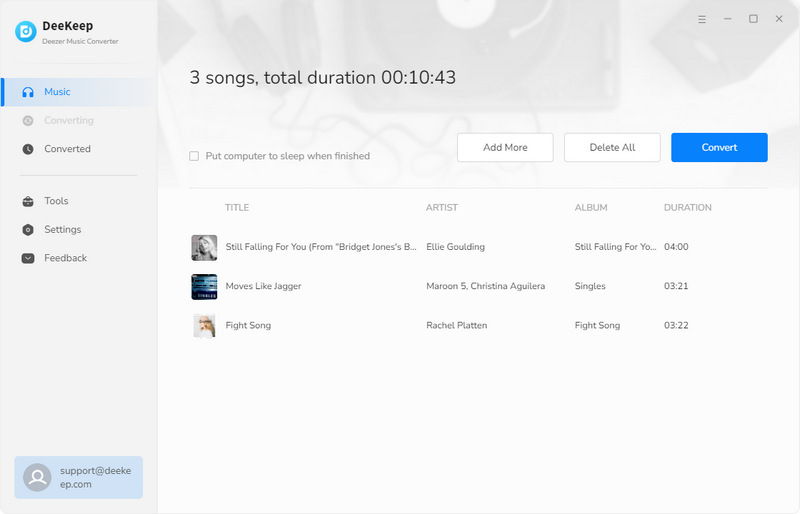 Step 5.Transfer Deezer Music to iTunes
There is a useful tool called Export to iTunes in DeeKeep and it can help users to transfer Deezer Music to iTunes library directly in the program. Check the converted songs in the Converted section. Then click the four-square box above the song and choose Export to iTunes in the drop-down list. Then a new window will pop up and you can alter the name of the playlist here. After that, tap on Start exporting and the downloaded Deezer Music will be transferred to iTunes successfully. And you can enjoy them on Apple Music freely.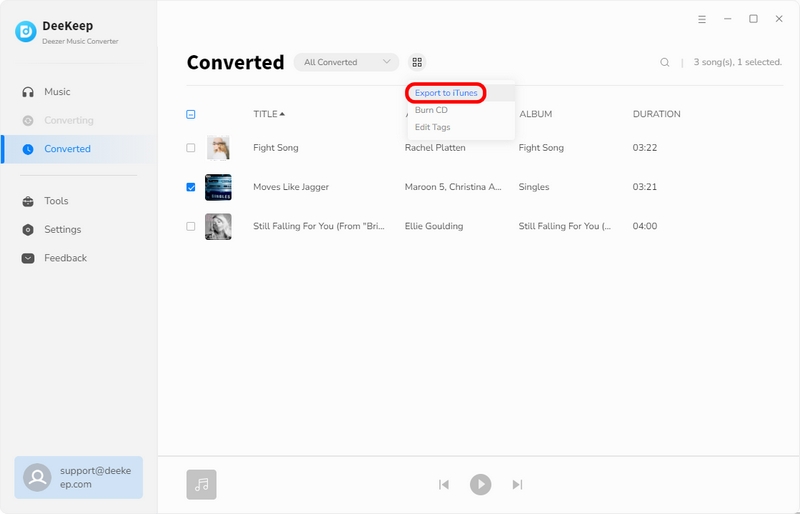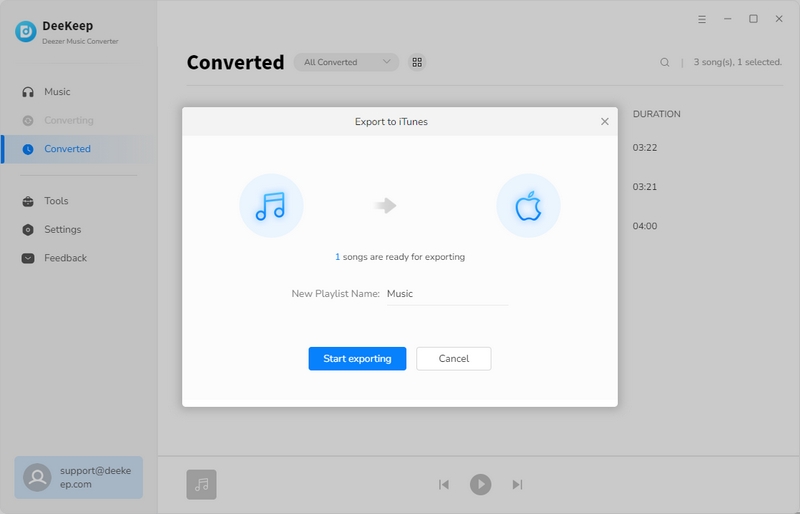 ---
Summary
This article compares the subscription plans, music library, sound quality, discovery capabilities, user interface, and other functional features of Deezer and Apple Music so that readers can have a better understanding of the respective advantages of the two platforms and make their own judgments on how to choose the platform. In addition, if you want to transfer Deezer music to Apple Music, using DeeKeep Deezer Music Converter can make the process simple and fast. If you think this article is helpful to you, don't forget to share it with more friends.
---